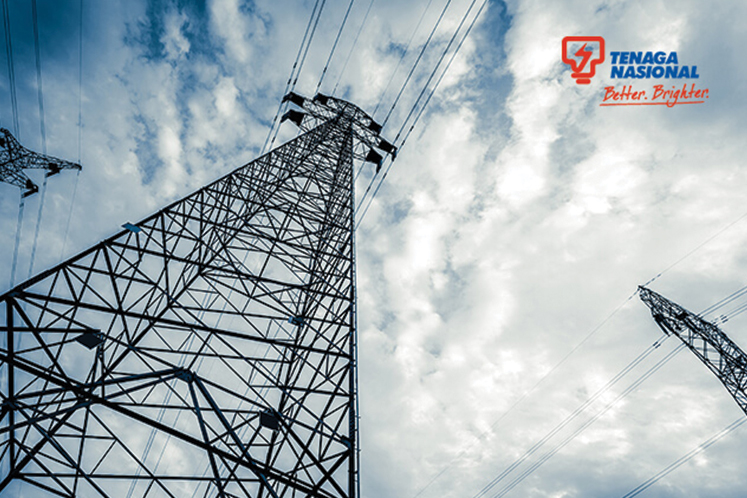 KUALA LUMPUR (April 1): Shares of Tenaga Nasional Bhd are currently trading 14 sen or 1.16% lower at RM11.88 as investors are still reacting to news of the utility giant setting aside RM150 million to support the government in offering tiered rebates on electric bills for six months.
CGS-CIMB Research in a note today said Tenaga's corporate social responsibility (CSR) initiative of setting aside RM150 million could lower its FY20 earnings by about 2%.
To factor in the CSR expenses, it said, CGS-CIMB is cutting Tenaga's FY20-FY22 earnings per share estimates by 0.4%-2.1%.
However, the research house maintains its "add" call with an unchanged target price of RM14.30 on the stock.
"The staggered discount of 15%-50% (amounting to RM532 million) will be jointly funded by the government (RM382 million via Kumpulan Wang Industri, KWIE) and Tenaga Nasional (RM150 million), as part of the electricity company's corporate social responsibility (CSR) initiative.
"We are surprised that the group is setting aside RM150 million for the staggered discount, as we estimate KWIE fund has sufficient buffer to absorb up to circa RM1.03 billion of discounts. Tenaga has also previously pledged RM10 million to [the] Ministry of Health (MoH) to fight Covid-19. We gather the group's CSR expenses ranged between RM36 million and RM40 million for FY18-FY19," it said.
Nevertheless, CGS-CIMB said it expects Tenaga's earnings to be relatively resilient to the movement control order as electricity supply falls under essential services.
"Most of its regulated earnings should be intact under the revenue-cap regime, except for consumer services which are under the price-cap framework," it said.