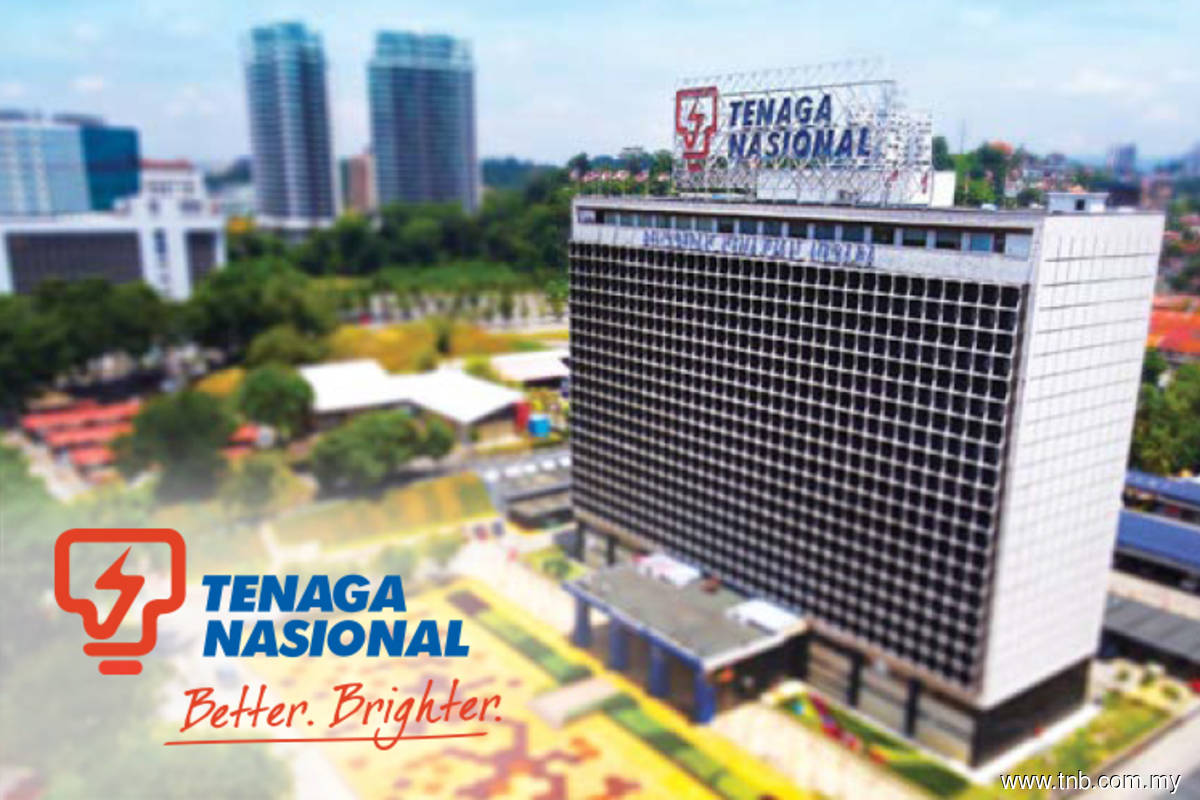 KUALA LUMPUR (Nov 26): Tenaga Nasional Bhd (TNB) reported today that third quarter net profit dropped to RM1.01 billion from RM1.2 billion a year earlier as the government-controlled utility's revenue fell due to a Covid-19 pandemic-driven decline in electricity sales. Profit after tax (PAT), however, rose in quarterly terms as the group recorded foreign exchange (forex) translation gain.
In a statement to Bursa Malaysia today, TNB said revenue fell to RM11.11 billion in the third quarter ended Sept 30, 2020 (3QFY20) from RM12.64 billion.
"PAT for the current quarter under review reduced by RM207.7 million, from RM1.21 billion reported in the same quarter last year to RM1.002 billion. This was due to higher finance cost, cushioned by the gain in forex translation and the non-cash fair value gain of RM143.8 million.
"(In quarterly terms,) the group reported higher PAT of RM1.002 billion in the current quarter as compared to RM676.0 million in the preceding quarter, an increase of RM325.9 million. This is mainly due to higher operating income coupled with forex translation gain of RM158.2 million in the current quarter under review," TNB said.
For 9MFY20, TNB said cumulative net profit fell to RM2.38 billion from RM3.88 billion a year earlier while revenue was lower at RM33.65 billion versus RM38.76 billion.
TNB said the decline in electricity sales during 9MFY20 was "largely due to the decline in certain customer segments, such as commercial and industrial, which were affected by the Covid-19 outbreak".
"Amid the challenging environment, the board of directors foresees a prospect of a gradual recovery on the group's performance for the remaining quarter of the financial year ending Dec 31, 2020, underpinned by the timely rollout of government's stimulus packages specifically the Bantuan Prihatin Rakyat and a sustained momentum of business activities. 
"The group has taken prudent measures in terms of its operational and financial requirements to ensure it remains resilient," TNB said.
In a separate statement today, TNB president and chief executive officer Datuk Seri Amir Hamzah Azizan, in his comments on the company's 3QFY20 performance versus the preceding 2QFY20 numbers, said electricity demand and sales had improved in 3QFY20 compared to 2QFY20 as most of the industrial and commercial sectors were allowed to run at full capacity under Malaysia's Recovery Movement Control Order to curb the spread of the Covid-19 pandemic.
"As a result, sales and collection are gradually improving. We will continuously monitor the trend as the country is currently facing the third wave of Covid-19.
"For the full year, TNB expects the overall electricity consumption to drop between 6% and 10% year-on-year. Nevertheless, this will be cushioned by the earnings of our regulated revenue cap entities that are guaranteed at demand growth of 1.8%-2.0% as stipulated by the Incentive-Based Regulation guidelines in the second regulatory period," Amir said.
At Bursa's 12.30pm break today, TNB's share price fell two sen or 0.18% to RM10.96, which values the company at about RM62.52 billion. The stock saw 482,200 shares traded.