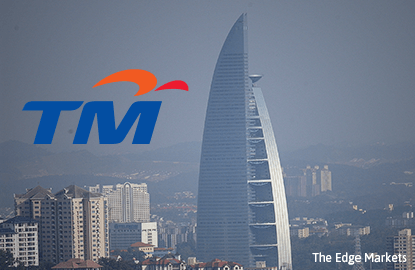 KUALA LUMPUR (May 25): Telekom Malaysia Bhd (TM) saw its net profit balloon 150% to RM322.44 million or 8.58 sen a share in the first quarter ended March 31, 2016 (1QFY16) from RM128.92 million or 3.47 a share a year ago.
The group attributed its performance on increase in operating profit and net finance income for the quarter arising from foreign exchange (forex) gain on group's borrowings with the strengthening of the ringgit against the US dollar in 1QFY16.
Revenue increased 3.25% to RM2.86 billion in 1QFY16, from RM2.77 billion in the first quarter of financial year 2015 (1QFY15).
In notes accompanying its results today, TM said the group reported a forex gain of RM104.5 million in 1QFY16 on its borrowings, compared with a forex loss of RM41.2 million in 1QFY15.
Finance income increased 20.57% to RM46.3 million in 1QFY16, from RM38.4 million in 1QFY15; while finance cost declined 28.06% to RM94 million, from RM73.4 million.
Operating profit before finance cost increased 36.1% to RM330.4 million in 1QFY16, from RM242.8 million in 1QFY15, mainly due to higher rate of revenue increase in 1QFY16, compared with increase in operating costs.
Group revenue increased mainly due to higher revenue from Internet and multimedia, data, other telecommunication and non-telecommunication related services.
"Net other gains were recorded in current quarter due to a decrease in the group's obligation on a put option over shares of Webe held by non-controlling interest," the filing read.
Webe is formerly known as Packet One Networks (M) Sdn Bhd (P1). It is jointly owned by Telekom Malaysia Bhd, Green Packet Bhd and South Korea-based SK Telecom.
TM said its internet and multimedia services registered a 7.7% increase in revenue to RM893.8 million in 1QFY16, from RM829.9 million in 1QFY15, mainly due to increase in UniFi customers at 877,000 in 1QFY16, compared to 756,844 in 1QFY15, as well as continued increase in the number of buys of premium channels and video-on-demand (VOD), despite decline in voice.
The higher revenue, coupled with lower operating costs, led to profit increase of 191.8% to RM149.7 million in 1QFY16, from from RM51.3 million in 1QFY15.
In a statement, TM group chief executive officer Tan Sri Zamzamzairani Mohd Isa said 1QFY16 was encouraging to the group, despite an overall challenging environment, as revenue increase was driven by higher contribution from Internet services revenue.
"We continue to strengthen our leadership position with a 4.3% increase in our total broadband customer base to 2.36 million customers," he said, adding that the increase was driven by sustained growth in UniFi.
He said UniFi stood at 877,000 customers as at March 31, 2016, with more than half of its customers being on packages of 10Mbps and above.
Of its total broadband customer base, 59% of them are now on packages of 4Mbps and above, he added.
He said total capital expenditure (capex) for 1QFY16 was RM318 million or 11% of revenue, out of which 50% was spent on access, 19% is for core network, and 31% for support systems.
TM had earlier announced its capex guidance for the year to be at 25% to 30% of revenue, excluding Webe.
Zamzamzairani said higher expected capex spend is mainly for the expansion of its high speed board brand (HSBB) footprint.
On prospects, he said the development of Webe's business and network services is on track for a commercial launch this year.
He said its partnership with Vuclip, a PCCW Ltd media company, will see the launch of Viu, a premium over-the-top (OTT), VOD service providing localised and personalised content from top studios.
"Viu will deliver more than 10,000 hours of premium Asian content in 2016, including those by Korea's top broadcasters," he added.
He said TM and a group of tier 1 global telecommunication operators announced the launch of the new Bay of Bengal Gateway (BBG) submarine cable system in April, which links Malaysia and Singapore to Oman and the UAE, with branches to India and Sri Lanka.
Zamzamzairani said the additional internet broadband capacity via BBG, will help to better prepare and mitigate any potential future congestion.
"TM has also revitalised its focus on the managed accounts segment, which it is re-branding as TM Business Solutions — providing a fully integrated suite of connectivity, ICT and BPO, as well as smart city and Internet of Things (IoT) solutions," he said.
"With all the above initiatives underway, TM is on track to become Malaysia's Convergence Champion, as we journey on towards delivering our promise of life and business made easier," he added.
At the midday break today, TM shares were unchanged at RM6.67, with a market capitalisation of RM25.07 billion.