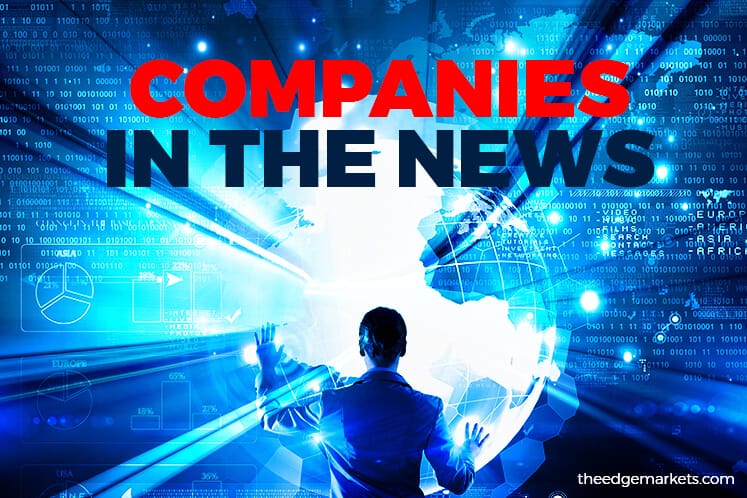 KUALA LUMPUR (Aug 9): Based on corporate announcements and news flow today, stocks in focus tomorrow (Aug 10) may include the following: Telekom Malaysia, ManagePay, MISC, Scientex, Straits Inter Logistics, BHIC, Minetech, Cepatwawasan and Reach Energy.
Telekom Malaysia Bhd will be offering its customers access to popular internet television network Netflix by October 2017, as the group expands its content proposition.
Those who subscribe for the service will become Netflix members and will be able to enjoy unlimited viewing of content of a huge library of licensed shows, TV series, films, documentaries and more.
ManagePay Systems Bhd (MPay) has entered into an agreement with Contracts Rise Sdn Bhd (CRSB) to set up a joint venture company (JVC) to procure Mobile Virtual Network Operator (MVNO) licence from Malaysian Communication and Multimedia Commission (MCMC) and to launch and promote self-branded MVNO Starter Pack to all Malaysians and foreigners in Malaysia.
MPay said CRSB would secure a project of 200,000 users for the JVC, while MPay would enable each user with e-Money capabilities via MPay E-Wallet, including issuing a MasterCard Virtual Card Number in each MPay Wallet. MPay will hold a 40% stake in the JVC, while CRSB the remaining 60%.
MISC Bhd's second quarter net profit fell 59% to RM556.5 million, from RM1.35 billion a year earlier, as petroleum shipping and oil and gas structure construction revenue dropped. Asset impairment loss also curbed MISC's profit.
Revenue declined to RM2.3 billion in the second quarter ended June 30, 2017 from RM2.39 billion.
MISC's cumulative 1HFY17 net profit fell to RM1.23 billion, from RM1.92 billion a year earlier. Revenue was, however, higher at RM5.29 billion, versus RM4.79 billion.
Scientex Bhd is buying a 26.44ha land in Rawang, Selangor, for RM85.38 million, marking the company's planned foray into the Klang Valley property market. Scientex plans to undertake a mixed development project on the tract located some 2km from the Rawang toll.
Scientex, via its wholly-owned unit Scientex Park (M) Sdn Bhd, had signed the sale and purchase agreement with seller Medius Developments Sdn Bhd.
Straits Inter Logistics Bhd, formerly known as Raya International Bhd, expects to start its oil bunkering services by the early fourth quarter of this year following the acquisition of its first two vessels for RM6 million.
The group said its priority will be its oil bunkering operations in Pasir Gudang Port, Johor, although it is also looking to expand to Kemaman, Kuantan, and Labuan Port.
Boustead Heavy Industries Corp Bhd (BHIC) reported a 5% dip in its net profit to RM23.94 million or 9.64 sen per share for the second quarter ended June 30, 2017, from RM25.26 million or 10.17 sen per share in the previous year's corresponding quarter.
The lower bottomline figure was amid a 37% drop in revenue for the quarter to RM43.77 million compared with RM69.75 million a year earlier.
For the first half of FY17, net profit surged more than four times to RM26.65 million from RM6.22 million in 1HFY16, while revenue was 9% lower at RM120.61 million compared with RM132.74 million.
The group said the revenue growth for the cumulative period was derived from defence-related maintenance, repair and overhaul (MRO) activities.
Minetech Resources Bhd has bagged another subcontract worth RM35.19 million for works at a Mass Rapid Transit 2 (MRT2) station.
Minetech, via its wholly-owned subsidiary Minetech Construction Sdn Bhd, was awarded the subcontract by MMC Gamuda KVMRT (UGW) Joint Venture. It is for the construction and completion of excavation works, rock strengthening, steel strutting and other associated works for station box, entrances and paid link at the Chan Sow Lin station.
Works will commence on Aug 15.
Cepatwawasan Group Bhd's net profit jumped 91% to RM9.68 million or 3.13 sen per share in the second quarter ended June 30, 2017 from RM5.07 million, or 1.64 sen per share, a year earlier. Quarterly revenue ballooned 37% to RM70.35 million from RM51.28 million in the previous corresponding quarter a year ago.
For the first half of FY17, net profit grew 241% to RM15.9 million or 5.15 sen per share from RM4.67 million or 1.51 sen per share a year ago as a result of an increase in average selling prices of crude palm oil, palm kernel and fresh fruit bunches. Revenue jumped 43% to RM129.41 million from RM90.17 million.
Reach Energy Bhd has decided not to go ahead with the RM180 million private placement it proposed in May 2016 due to "prevailing market conditions".
The group had proposed the private placement — of up to 305.08 million new shares — as a means to repay shareholders who voted against its qualifying acquisition of a 60% stake in Palaeontolol BV for US$175.9 million (RM754.44 million). Netherlands-based Palaeontolol BV owns the Emir-Oil fields in Kazakhstan.