This article first appeared in Digital Edge, The Edge Malaysia Weekly, on September 6, 2021 - September 12, 2021.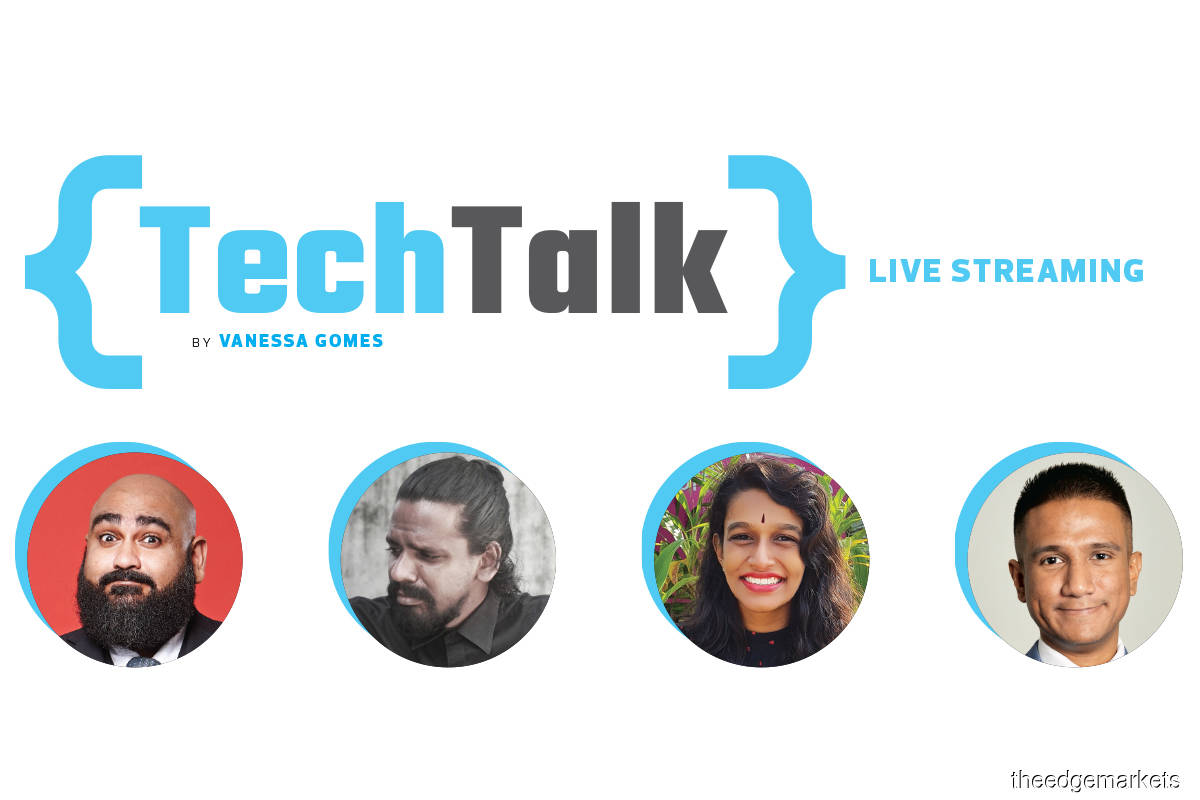 The pandemic has forced entertainers to rethink their craft and look for new ways to reach their audiences. While social media and other platforms have been useful to keep them in the public eye, many entertainers have turned to live streaming their performances. Here is how the entertainers have pushed their creative boundaries, proving that the show must go on, lockdowns notwithstanding.
 1  Understanding the difference between performing offline and online
Virtual stand-up comedy is not the same as live shows. That was one of the biggest problems stand-up comedian Kavin Jay faced when the first MCO was imposed. But Kavin and many others in the industry had no choice but to look for online solutions.
"Without the audience interaction and the ability to see people's body language, I find it difficult to do stand-up comedy. It feels very disconnected," he explains.
Kavin does several online shows. On Facebook, he and his fellow comedian Papi Zak have a weekly show called The Papi & Grumpy Show. Meanwhile, on Spotify, he has a show called The Macha Men with Keren Bala Devan, where the pair share their perspectives on many topics. He also has a Netflix series, Everybody Calm Down!.
Despite his strong online presence, Kavin says these shows are a means to stay relevant, as opposed to a proper revenue stream. It also helps him keep in touch with the craft.
"For each show, I wear a very different hat. Offline and online, the hats are very different because of the audience interaction. I had to learn what it took to do these shows online."
Kavin says he picked up a lot of tech skills when he ventured into podcasting, especially when it came to sound and video quality. He did not have a webcam at that time, but after doing some research online, he learnt how to connect his phone to his computer, so that his phone could act as a webcam as its lens quality was significantly better.
The learning curve was steep, he says, but the comedian community pulled together, supporting each other. Whenever any of them learnt something new, they would update the others, especially about software they had discovered or devices that might help.
Just like many in the entertainment industry, Kavin believes the show must go on eventually. Now may not be the best time to allow physical events and shows to take place, but the community has been keeping an eye on what is being done in the West and countries that are easing Covid-19 restrictions.
One of the options that can be considered is the possibility of open-air events, which is said to allow for less transmission of the virus than enclosed spaces. Vaccinated individuals should be able to attend these shows, as long as they follow appropriate standard operating procedures (SOPs).
"In the UK, some of my comedian friends are going on tours already. Their country is fairly [well]-vaccinated as well. But we're also looking to see if there are repercussions to easing in these places because we don't want to go back to square one."
 2  Keeping the open mic scene alive
During the first Movement Control Order (MCO) in March last year, Malaysian artists Az Samad and Zee Avi started Nada Music, a place for people to perform live music. Shortly after its inception, local independent artist Brendan James de Cruz was brought on board when open mic sessions started to be held on the live audio app Clubhouse.
At the height of it all, Nada Music saw about 200 people joining the Clubhouse room to perform and support other local artists. Now, the platform has grown to become a safe space for seasoned and budding musicians to hone their craft as well as a community space for musicians nationwide.
"A lot of the participants said they miss performing. It doesn't take a lot to perform on Clubhouse; all they need is their instrument or backing track to sing. The focus is not audio quality; it is to just create a space for music," shares de Cruz.
"As the sessions were hosted on Clubhouse, there was no video to see, which took the pressure off."
De Cruz says right now, the focus is on everything to do with music, whether it is song writing or composing music as many of the participants have rekindled their love for the art. Nada Music has also brought together artistes to collaborate. "We have a lot of things we're planning, but many of them are for when we're allowed to gather again and do things at physical venues as opposed to online," he says.
As for de Cruz's personal musical journey, he ventured into live streaming "concerts" at the end of last year. With different MCOs imposed nationwide, he decided to upgrade his equipment to accommodate live stream performances.
"I was pretty blessed last year. A bunch of friends and family got together and got me a CPU. I already had a laptop, webcam and mic, but I now have a much more powerful system to do a live stream show smoothly," he says.
He eventually discovered Peatix, a ticketing and events company that introduced Peatix Live, where event organisers can create secured and paid online live experiences. The platform also allows users to link third-party software to control audio and video.
De Cruz has done close to 10 shows over the past year. Attendees paid RM20 a ticket and he received 70% to 80% of ticket sales.
"That's still a good deal, I think. I understand that Peatix is a company that needs to generate income as well and it has been very encouraging and accommodating to artists that use the platform," he says.
While de Cruz believes the ability to have physical events and concerts is still a big element for musicians, he is considering the possibility of hybrid events in the future, where his physical concerts will be simultaneously streamed online for those who prefer to tune in remotely.
"It depends on so many factors like how soon we will all be vaccinated and the rules that are going to be put in place. I definitely want to perform at physical events but I also want to make sure it is safe to do so."
 3  Refining the art of online teaching
Singer-songwriter Heerraa Ravindran was gaining popularity just before the pandemic and when the first MCO was imposed, she had to cancel several live shows. Her friends and partners at the youth movement group Ascendance advised her to get online and engage with people through features such as Instagram Live.
Her online shows were a means to keep busy as well as promote her music online, but her main source of income at that time was from teaching music performance. Since she could not carry out physical classes, she had to find a way to conduct classes online.
It was not as easy. Heerraa explains that with music, a level of coordination is needed for certain lessons, but the unstable internet connection caused lags during virtual classes, which were done via Zoom.
"I tried to make do with the time lags or block them out to continue teaching, but it was not easy. I needed to change my mindset as well on how I conducted my classes," she says.
"This was when I realised that when I did the physical classes previously, I was trying to be the music teacher that everyone wanted me to be. But during the pandemic, I had to switch it up and with that, I got to experiment and do a lot more things with my students. It made me a better teacher."
Heerraa's classes are her main source of income, on top of contributions that she receives from Patreon, the US membership platform that provides tools for content creators to run a subscription service.
The children she teaches are aged 6 to 16 and she is looking to develop the next generation of musicians, singers and performers.
Parents have also been encouraging their children to continue attending Heerraa's class, especially since it provides them with a means to occupy themselves at home during the pandemic. Heerraa says her students always look forward to the end-year performance they get to put together.
"Some parents have said that their kids look forward to my class, which is very heartwarming. I've tried so hard to make sure the classes are fun, interactive and engaging for them. It's also very nice to see how excited the kids get about their performance, taking the time to dress up and whatnot."
As for her skills and songs, Heerraa says she had to learn how to adapt to live streaming shows on Facebook, Instagram and any other platform that hosts virtual shows. It took a lot of trial and error, she admits.
"I did my first UK show performing for 15 minutes before someone pointed out that no one could see me. We troubleshot the live video and eventually figured out what the problem was, and the show continued," she says.
"I'm not the best with technology and I had to understand it because of my work. Thankfully, I had a lot of people around me who were willing to help where they could."
Her hard work has paid off. Heerraa says since she started doing more online performances, more people, both locally and internationally, have followed her music. She has also won several international awards.
"I was surprised at the feedback I got. There were adults who were telling me about how they discovered my music and how they relate to it. These kinds of things are why I do what I do, which is to inspire and connect with people."
Heerraa recently enrolled in a degree programme at Harvard University for a Bachelor of Liberal Arts. Since the pandemic is still ongoing, Heerraa attends online classes from Malaysia, but says she will eventually need to travel there to complete her five-year course, which she hopes will be beneficial for her students.
 4  Finding a virtual performing niche
One of the first few things stand-up comedian Gajen Nad did when the pandemic hit was upgrade his streaming equipment. This is because he did not like watching live streams or virtual meetings with poor video and audio quality. He invested in a good mic, webcam and lights so that he could experiment with performing online.
He started exploring ways to do stand-up comedy online and the first question he asked himself was, "Would I want to watch stand-up comedy online?" Gajen says his answer was no because audiences cannot react instantly.
He then ventured to do a series of experiments; the first being conducting a show via Zoom where everyone was unmuted. Unfortunately, due to audio and video lags, the audience's reaction was simply distracting.
Gajen tried getting the participants to react through the chat box function in Zoom and, surprisingly, that worked well. He says his jokes were conveyed better without audio distractions. People also preferred laughing through the chat box.
He then created his own weekly virtual improv comedy show, You Tell, I Joke. "What I like about improv is that I don't have to prepare much, compared with stand-up. In my show, I got the audience to answer my questions by giving suggested answers and I would then make a 'joke' out of it, on the spot. There were hits and misses but it was a free show," he says.
"I also sent my audience a donation link if they wanted to donate, but the donation wasn't for me to earn money, but to pay off the fees of the streaming software."
He continued to experiment on different platforms and eventually decided to take a leap of faith by approaching companies to do events. However, not many companies were receptive to the idea. Gajen says he believes at that time that companies were still figuring out how to carry out virtual events. He eventually landed his first virtual corporate gig with HSBC Bank.
After a while, Gajen started gaining traction among corporates and he was doing an average of three virtual events a month. Apart from virtual comedy and emceeing, he also embarked on virtual training for presentation skills and motivational talks.
"Virtual corporate shows have become my main source of income. I think it's also because of my branding; I'm a clean comedian who doesn't swear or do crude jokes, which fits in well with the corporate world," he says.
Gajen also concentrated on his social media accounts, with a significant presence on Facebook, Instagram and TikTok, doing short skits and comedy commentaries on current events. He says it helped him market himself as well as build his followers as a content creator, which is another income source.
"People need to know you. You can have the best product or best service but if people don't know you, they can't purchase it. That's where social media comes in very handy. This was what I was trying to do with my work too."
Gajen says his biggest challenge last year was when he had zero income for a period of time. However, he chooses to put a positive spin on it and is thankful that the pandemic forced him out of his complacency.
"I really needed something to push me to do better, greater things and I think the pandemic was my test. Every success story by prominent figures have a moment of struggle and I think this was mine."