This article first appeared in Enterprise, The Edge Malaysia Weekly, on September 10, 2018 - September 16, 2018.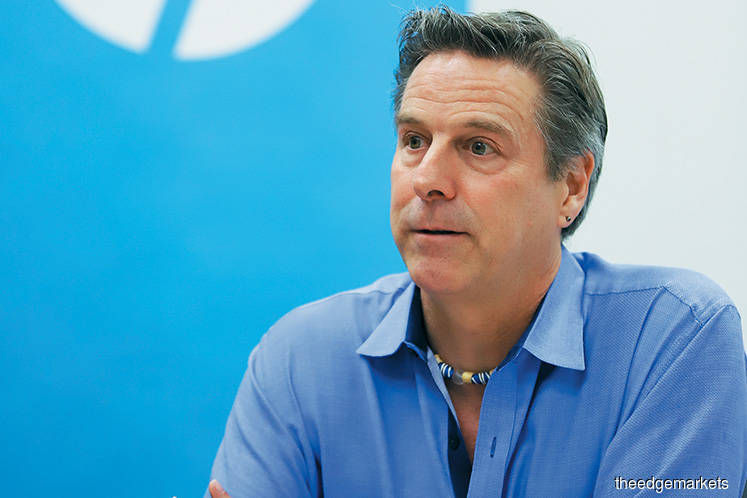 Hewlett-Packard (HP) is known as a hardware manufacturing company. Most people associate it with computers, printers and mobile devices, but the company's vision goes way beyond that. In fact, it is actively investing and creating partnerships in what it considers "whitespace areas", or those with unrealised potential or opportunity.
In addition to advanced manufacturing and robotics, one of the company's biggest focus areas at this time is edge computing, says HP Tech Ventures global head Andrew Bolwell. Defined as the practice of processing data near the "edge" of one's network, where the data is being generated (instead of in a centralised data-processing warehouse), the technology presents immense opportunities for companies such as HP.
Market intelligence company International Data Corp (IDC) has predicted that at least 40% of Internet of Things-created data will be stored, processed, analysed and acted upon close to — or at — the edge of the network by 2019.
According to Bolwell, edge computing allows smart applications and devices to respond to data almost as quickly as it is being created, eliminating lag time. The opportunity lies in bringing artificial intelligence (AI) to the edge, he says.
IoT and AI have traditionally worked together in cloud computing as the vast computing power required to train machine learning models is only available in the cloud. Data from IoT devices is transmitted back to a central hub in the cloud, where it is analysed and stored, and actionable insights are sent back to the device.
"However, since there is so much data being created at the edge, there is not enough bandwidth to send all of it to the cloud — the pipe is just not big enough to transport it. That is why going forward, we think AI will move from the cloud to the edge. It will move where the data is generated because that is what it learns or works with. And by doing that, less internet bandwidth usage will be needed," says Bolwell, who was speaking on the sidelines of the recent HP Imagine 2018 conference in Singapore.
"Currently, there are many start-ups developing something that could bring AI to the edge. So, we are paying very close attention to them. HP has 100 million edge devices around the world and we ship three devices per second. That is why we think we could significantly benefit from this."
But HP has a finger in many pies. Its venture capital arm HP Tech Ventures, which was founded in 2016, co-invests between US$1 million and US$5 million in series A funding rounds of companies with disruptive technologies involving smart machines, virtual reality, wearable technology and hyper-mobility, among others.
The future of 3D printing
While the other units of HP are busy working on improving the company's 3D printer hardware itself, HP Tech Ventures is focusing on investments or partnerships with start-ups in the 3D printing ecosystem. This includes those involved in security, content management and design tools.
"To take full advantage of 3D printers, we need new tools that can be used not just by designers but also normal people like you and I. Coupled with lowering the cost of manufacturing, we believe there will be a day when anyone at all can be a designer or manufacturer — a true industrial revolution," says Bolwell.
3D printing is not a new technology. However, various developments have led to the democratisation of these printers, making them affordable enough for the masses. Even middle-income households could afford 3D printers today, although not the state-of-the-art devices.
Shortly after the hype, HP released its Multi-Jet Fusion 3D printers, which can mass-produce 3D-printed products for manufacturing purposes. Soon, the company will even announce metal 3D printers.
"I remember people asking us, 'Where is HP? Why isn't it launching any 3D printers?' Little did they know, we had been working on the printers for a very long time. We just needed to make sure that we had something disruptive to launch. Not only do we want to make it able to print faster and cheaper, we also want it to be able to print final products, not just prototypes," says Bolwell.
He adds that the printers leverage HP's 2D printing technology called PageWide Technology to print 3D objects up to 10 times faster than normal 3D printers. Instead of ink, the printer shoots out transforming agents to fuse the laid-out 3D powder material, allowing the printing process to be done in layers at a time, compared with only lines at a time by typical laser 3D printers.
3D-printed objects are created from individually addressable volume elements called voxels (volumetric pixels). Each voxel is 21 microns long, about a quarter the width of human hair. HP's 3D printer currently prints 300 million voxels per second.
Bolwell says a unique feature of HP's 3D printers is their capability to control the properties of each voxel. "Our technology allows us to deposit the transforming agents voxel by voxel across each layer. We can create parts with different mechanical and physical properties within and across a single part or separate parts printed simultaneously in the build unit.
"We can change the rigidity of the materials. It can be opaque or see-through and it can even allow us to print conductive materials. Imagine being able to print radio-frequency identification (RFID) tags and circuit boards that are a lot cheaper than 2D."
This technology is now available to Malaysian companies. At the HP Imagine conference, HP announced that its first partner in distributing 3D printers in the country was market expansion services provider DKSH.
Robert Puschmann, managing director of technology for Singapore, Malaysia and Vietnam at DKSH Holdings (M) Bhd, says that although there is a lot of interest in 3D printing technology in the country, more needs to be done to educate small and medium enterprises (SMEs) on what the machines can and cannot do for their businesses.
"Most 3D printers in the market are currently used for R&D. HP's 3D printer, on the other hand, is for production. So, we think it will be interesting to talk to manufacturers in Malaysia. For certain manufacturers, investing in such a printer would definitely make financial sense," he adds.
"For example, mould forms are expensive and cannot be reused for anything else. If buying four or five of these mould forms cost almost the same as one of the printers, won't it make more sense for them to buy the printer?"
Puschmann says the return on investment may take six months to two years, depending on the type of parts printed and the volume. "For some companies, their return on investment is a lot faster. For example, there is a company in the US that 3D prints the mould for dental braces. Its volume is high, so it lets the machine run 24 hours a day. Gradually, the demand rose so high that it could not keep up. So, it had to buy a second printer. Thus, it really depends on the volume and part size to justify the investment."