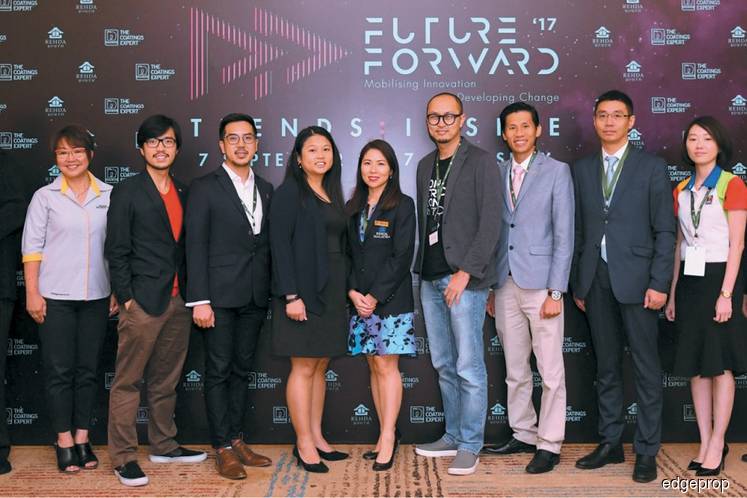 PETALING JAYA (Sept 10): The concept of building a smart city is not about constructing a new city from scratch but how to improve the daily lives of city dwellers through technology, innovative ideas and sustainable design. And to achieve that would involve the participation of both the private and public sectors.
This was a key takeaway from the Future Forward Forum 2017 held on Sept 7. Themed "Trends: Insite", the forum was organised by Rehda Youth, the youth division of the Real Estate and Housing Developers' Association Malaysia, in partnership with Nippon Paint Malaysia. TheEdgeProperty.com was the official media partner of Future Forward Forum.
Over 170 participants from the building and construction, green technology and property development industries attended the forum, which featured six speakers of distinct specialisations who took part in active discussions on topics related to sustainability in master plan design, building and practices as well as the usage of big data and technology in building smart cities.
In her welcome remarks, Rehda Youth chairperson Carrie Fong noted that the forum could be a platform for industry players to exchange ideas, discover hidden opportunities and broaden their knowledge as well as help them inject new ideas into their businesses.
"The theme of Future Forward Forum this year, 'Trends: Insite', is a wordplay of what we have seen (insight) and what we could implement in our businesses (on site)," she said.
The one-day forum was divided into two sessions, with the first titled "Future-Planning: Emerging Trends in Sustainable Projects" while the second was titled "Digital Disruption: Programming the Property Industry".
The speakers in the first session were Hong Kong-based Ho & Partners Architects Engineers & Development Consultants Ltd deputy managing director Nicholas Ho, IKEA Southeast Asia (Singapore) head of sustainability Dr Lee Hui Mien and SPARK Architects (Singapore) director Stephen Pimbley.
The speakers for the second session were Builk Asia Co Ltd (Thailand) principal and CEO Patai Padungtin; Shanghai Distrii Technology Development Co Ltd (China) founder and CEO Dr Hu Jing; and Panasonic Malaysia strategic B2B development general manager Tan Chee Hon.
In his session "How SMART can you AFFORD to be?", Ho from Ho & Partners shared his views on how smart design in the construction process could also be affordable and accessible to most people.
He said Design For Manufacturing and Assembly (DFMA) will be the future trend in the construction sector as it could help reduce cost and dependence on labour, as well as shorten building time.
"Research also showed that the implementation of DFMA could reduce the building of double concrete wall and ceiling, and overall construction time could shorten about 30%," he added.
IKEA Southeast Asia's Lee then shared the ways in which the company incorporates sustainability into its development process.
She pointed out that sustainability in the retail business starts from product design as a well-designed long-lasting product could help individuals have a better lifestyle by improving their living environment.
Meanwhile, in his session titled "Connected Architecture", Pimbley from SPARK touched on the importance of incorporating cultural elements in architectural design.
The first session speakers — Ho, Lee and Pimbley — also participated in a panel discussion where they shared more of their views on sustainability in city planning and architecture design. The session was moderated by TheEdgeProperty.com managing director and editor-in-chief Au Foong Yee.
Forum participants were also invited to join in interactive online polls on current issues such as China's "One Belt One Road". To provide a visual summary of each session, the organiser had also invited sketch post artist Chan Wai from Scribbilicious to visualise the essence of every session through his sketches. Home-grown cafe operator The Whisk was also on hand to serve participants with fresh brewed coffee.
This story first appeared in TheEdgeProperty.com pullout on Sept 8, 2017. Download TheEdgeProperty.com pullout here for free.