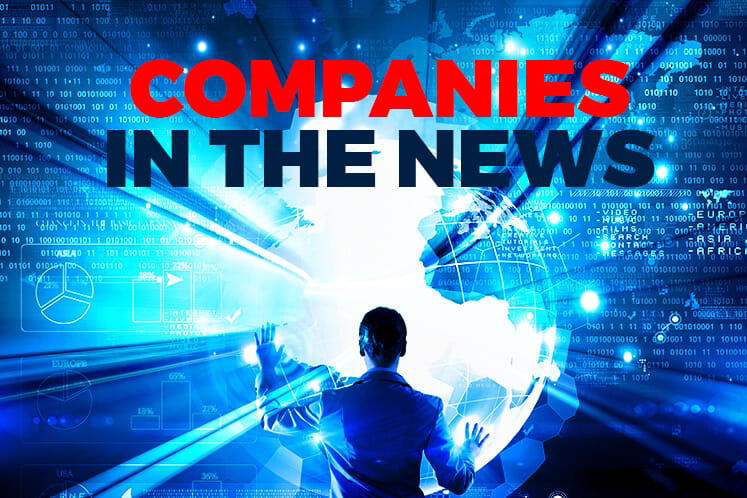 KUALA LUMPUR (June 22): Based on corporate announcements and news flow today, stocks in focus on Tuesday (June 23) may include: Techbond Group Bhd, YNH Property Bhd, Daibochi Bhd, Bina Darulaman Bhd (BDB), Genting Malaysia Bhd (GenM), Magni-Tech Industries Bhd, Tiong Nam Logistics Bhd and Supercomnet.
Techbond Group Bhd has been appointed as the exclusive distributor for a cleaning and disinfecting chemical product in Malaysia for general and industrial usage. The homegrown manufacturer of industrial adhesives and sealants today signed an exclusive distribution agreement with Calvatis Asia Pacific Co Ltd (Calvatis AP). Based in Thailand, Calvatis AP is part of Calvatis GmbH, one of the world's leading independent manufacturers of detergents and disinfectants headquartered in Germany. Calvatis' products are used in many industries such as F&B, dairy processing, agriculture, device & systems technology, water treatment, and contract manufacturing.
YNH Property Bhd posted a lower net profit of RM3.01 million for 1QFY20, down almost 59% from RM7.28 million a year earlier, on slower project progress and impact on the group's hospitality arm as a result of the Covid-19 pandemic. Quarterly revenue shrank to RM66.59 million from RM74.8 million previously. Going forward, YNH said the local and global economic climate remains challenging due to the uncertainties caused by the Covid-19 crisis. The group has taken countermeasures to lessen the impact of movement curbs amid the pandemic.
Daibochi Bhd chalked up a net profit of RM10.84 million on RM151.98 million revenue for its 3QFY20. There were no comparison figures available due to a change in the group's financial year end from Dec 31 to July 31. Daibochi continued to operate during the Movement Control Order (MCO) period as its operations were deemed essential. For 9MFY20, the packaging materials manufacturer raked in a net profit of RM36.45 million on revenue of RM463.50 million. On prospects, Daibochi said it remains focused on its long-term strategy to provide innovative and sustainable flexible packaging solutions through enhancing its capacities, capabilities and efficiency.
Bina Darulaman Bhd (BDB) posted a net profit of RM418,000 for 1QFY20, compared to a net loss RM5.85 million a year earlier, on the back of higher sales to clear its existing stock as well as steady construction progress in its Bandar Darulaman and Bandar Sejahtera townships. Revenue for the quarter rose 17.6% to RM46.22 million, versus RM39.28 million previously, on higher contributions from its property, road building and quarry divisions. On its prospects, BDB said limited business operations in only the essential sectors, as well as restrictions on or closures of non-essential property, construction and quarry businesses, are expected to impact the group's profitability in 2QFY20.
Genting Malaysia Bhd (GenM), which lost at least RM160 million a month during the MCO period, continued to see dividends as its main way of rewarding shareholders. This was announced during the group's annual general meeting today. GenM, however, did not directly commit to paying a dividend for FY20 or FY21. No further details were disclosed. Separately, the group said it plans to open its outdoor theme park — which will be named "Genting SkyWorlds" — in the second quarter of 2021. Despite the called-off deal with "20th Century Fox", GenM's new outdoor theme park will still feature movies from the American film studio as well as other unnamed "international class" movie-themed attractions.
Tiong Nam Logistics Holdings Bhd registered a narrower net loss of RM4.32 million for 4QFY20 against a net loss of RM10.34 million a year ago, on improved utilisation of warehousing services and higher deliveries for essential products, namely food and beverage as well as other consumer goods and medical equipment supplies. Quarterly revenue grew by 4% in 4QFY20 to RM141.58 million versus RM136.47 million a year ago. For FY20, Tiong Nam returned to the black with a net profit of RM719,000 compared with a net loss of RM1.4 million previously, backed by higher revenue of RM603.04 million versus RM589.87 million a year ago. The group said it experienced a surge in customer deliveries from its clientele and the increase in activity will help to sustain the group's performance moving forward.
Magni-Tech Industries Bhd's net profit rose to RM121.81 million in the financial year ended April 30, 2020 (FY20), from RM102.63 million in FY19. Revenue jumped to RM1.21 billion from RM1.07 billion a year ago, driven by garment revenue, which grew 15.2%, mainly due to higher sale orders and a positive forex impact. Packaging revenue, however, decreased by 13%, mainly due to lower sale orders, said the group. Moving forward, the group expects the operating environment in FY21 to be challenging as the Covid-19 pandemic and MCO measures at home and lockdowns globally have greatly impacted global economic activities and consumer behaviour.
Bursa Malaysia Securities Bhd has issued an unusual market activity query to Supercomnet Technologies Bhd, as its share price jumped 36 sen or 29.03% today. The gain pushed the share price of the wires and cables manufacturer to a fresh record high of RM1.60, making it the third biggest gainer among Bursa stocks today. It later pared some of that gain to settle at RM1.50, still up 26 sen or 20.97%, for a market capitalisation of RM964.5 million. The counter's trading volume surged to 37.45 million shares, over 16 times its 200-day average of 2.3 million shares. Its five-year warrants expiring 2024 similarly saw a strong 25.5 sen or 34.23% jump to as high as RM1.01, before settling at 92 sen, with a gain of 17.5 sen or 23.5% for the day.