This article first appeared in The Edge Malaysia Weekly, on February 15, 2021 - February 21, 2021.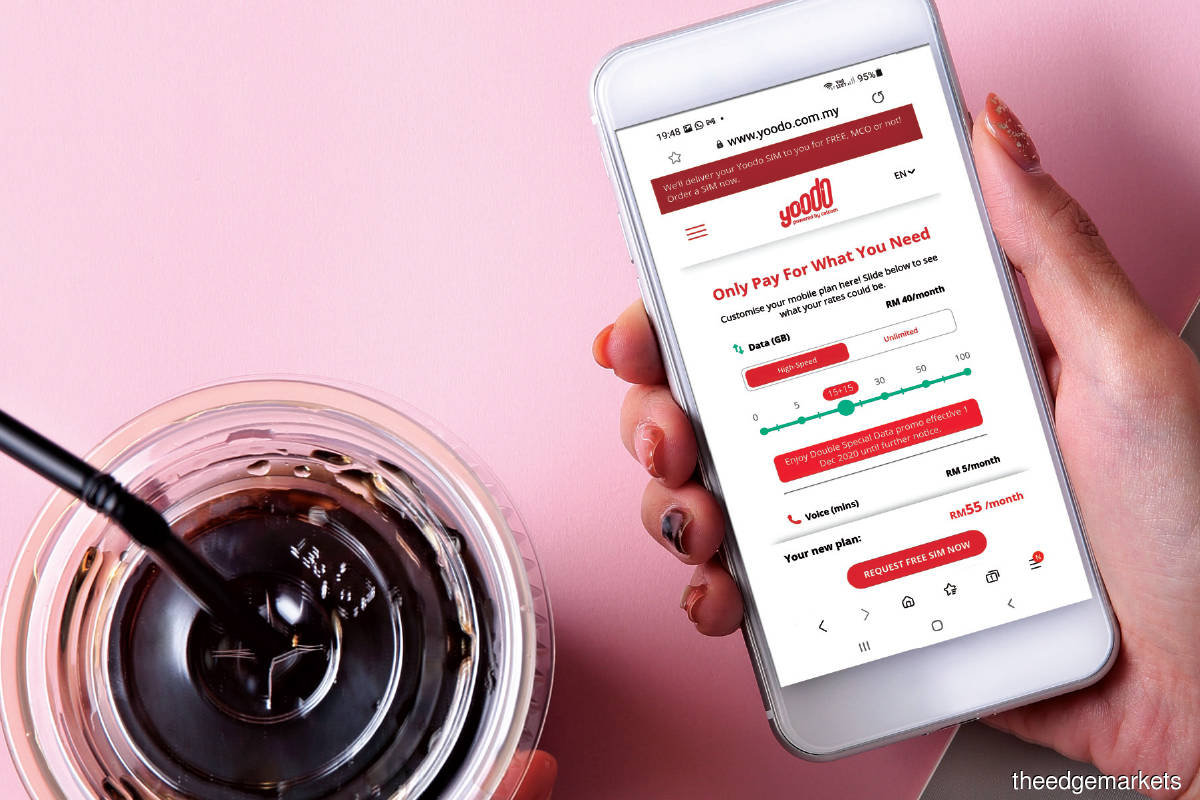 2021 will be all about building the Yoodo brand. The digital mobile start-up, which is owned and operated by mobile operator Celcom Axiata Bhd, turned three on Jan 29 and its head Chow Tuck Mun is ready to make the brand more visible in the mainstream market this year.
With Yoodo having gone past the infancy stage, he describes it as a company now in the teenage phase "where certain issues are popping up and our competitors are starting to take notice of us and target us".
Until recently, Yoodo (pronounced "you-doo") had been busy promoting its brand and products among modern customers and digital natives. "The modern customers are connected and discerning. They have a mind of their own; they don't listen to what the company says, and they really know what they want," Chow tells The Edge in an interview.
"They are also known as digital natives, who grew up in the era of technology and they are most likely Gen Y or millennials, and Gen Z. Members of these generations are into things like eSports and K-pop music, and that's where we will get involved. Someone who is familiar with e-commerce and mobile payment apps is the customer that we want."
It's easy to understand why. Everything about Yoodo — from the point of registration and users being able to choose their own mobile plans to payments — is done on its app.
"Basically, without the Yoodo app, you won't have a mobile line. So, customers must be comfortable with using our app to be able to manage their phone line and services," says Chow.
The 42-year-old says the company differentiates itself from the competition by being a fully digital mobile service provider. It also allows customers to customise and build their mobile plan according to their own data, voice and SMS needs.
"For example, users can opt to purchase 20GB of data this month and then reduce their data plan to 10GB the next month if they think they are going to be in the house all the time and will be using their home broadband service. At the same time, Yoodo offers data buckets or add-ons that allow users to get more out of platforms like Netflix, TikTok, Instagram, Facebook and YouTube. (Add-ons are data packets in addition to the users' main data plan.)
"Yes, most telecommunications companies also offer many types of data plans to match the customers' usage. But in our case, it is really up to the customer what combination [of data, voice and SMS] he or she wants. We have more than two million combinations in our system. I believe other telcos can't offer this kind of flexibility," he says.
Revenue, subscriber numbers to double in 2021
Yoodo performed well last year despite the challenges posed by the Covid-19 pandemic, says Chow. Its revenue grew 52% year on year, while its total subscriber number was up 59% from 2019.
He declines to give the revenue figures except to say that Yoodo's average revenue per user (ARPU) is "along that" of its peers' prepaid segment. In the third quarter ended Sept 30, 2020, Maxis Bhd recorded prepaid ARPU of RM40 per month while Digi.Com Bhd's was RM33.
To give an indication of its subscriber numbers, Chow points out that the Yoodo app has surpassed the 500,000 downloads milestone on Google Play. "Of course, not all downloads will turn into our customers, and also some customers may move [to another telco]."
The company expects to continue showing good growth this year. "We expect our revenue and subscriber numbers to double from 2020. We are still in the strong growth period. We believe we have the potential [for more growth]," he says.
To achieve this, Yoodo will continue to hold new product launches and introduce add-ons. "Last year, we launched about 15 new products and add-ons, including Astro Go, TikTok, Google Meet, Zoom and Microsoft Teams. While it's difficult to say for sure how many products we will be launching as some will take longer to develop, we definitely want to launch at least five to eight new products and add-ons," says Chow.
The company will also enhance the availability of its physical SIM cards this year, introducing more places and ways to get them. Currently, Yoodo SIM cards are delivered to its customers or purchased at 99 Speedmart stores nationwide.
Yoodo will also continue to engage with its customers through its lifestyle segments of eSports and music. It will continue to sponsor Malaysia's top two mobile games, PUBG Mobile and Mobile Legends. It will also step up efforts to build a presence among the K-pop community in Malaysia and continue its support of the local indie scene through its Yoodo Presents interactive online concert series.
Even a young start-up like Yoodo has not been left unscathed by the Covid-19 pandemic, having had to change its plans in 2020 as a result of it.
"We were planning to celebrate our second anniversary in March 2020 with a big physical event involving new product announcements such as new eSports team and tournament sponsorships and new lifestyle sector involvement, and inviting an international K-pop artist to perform. We also wanted to relaunch our brand to include that of 'Yoodo powered by Celcom!' All these activities couldn't happen [due to the Movement Control Order]," says Chow.
Nevertheless, it did not stop Yoodo from moving its events online. "We still continued with our new product launches, announcements and events that we were going to hold, but all these were done virtually. We moved everything to the internet and social media," he adds.
The company had also planned to hold physical community events last year for its forum users, which currently total 303,576. However, it had to switch to a virtual event instead.
Last year, the pandemic also caused a setback to its brand building, as well as its activities targeting the key lifestyle segments of eSports and gaming, music and entertainment, digital tech, sports and travel.
"We are still a young company and need to build brand awareness. While we have been strong in our digital presence, we wanted to go to the ground and promote ourselves through traditional advertising and road shows. But we couldn't do that due to the MCO. Again, we shifted to digital platform use and continued to build our brand online," says Chow.
Yoodo was the official sponsor of the Malaysia Premier Futsal League last year, and participated in online gaming events like the FIFA 20 Challenge.
Telecommunications now an essential industry
"Overall, Yoodo has been growing and continues to do so pretty fast. We believe that our value propositions — fully digital and customisable — are unique and that is what attracts customers to us," says Chow, adding that the company's staff strength has grown to 50 from 20 at inception.
"But whether the pandemic has helped to grow our subscriber numbers or not, we can say that it has, in terms of customers who need a mobile line [not needing to] go to any physical store during MCO as we are able to provide that service online. On the other hand, we didn't have the opportunity to go to the ground to engage with the people directly. We wanted to build our physical presence, so that part [of the market] was missing and we continue to miss a bit of that," he says.
Chow believes the country will grapple with Covid-19 for some time to come. "The pandemic has changed how we view the telecommunications industry. The industry has always been important for communication. But now, it has become essential because it is the link to the outside world. Everything that we do now is over a phone call or a video call. So, the telcos must ensure that their network can cope with it," he says.
"There will also be a lot of focus on telcos in providing the same customer and data experience even though consumption has increased as more people are using more data. Telcos will have to figure out whether they are providing enough connectivity. For example, the normal peak data usage has changed from night time to day. That would shape how telcos design their network and serve the data services to their customers going forward."
According to Chow, the pandemic has accelerated digital adoption. "In 2021, you will see more telcos having to digitise further their internal processes, like how they serve their customers. For Yoodo, we are lucky because we started off as a digital telco.
"Also, telcos will have to start realising that they have a social purpose. Because these are difficult times, they need to make it simpler for customers to get their services, providing special plans or rates or free data with subscription of their data plans, for example," he points out
"Pricing will remain a challenge for telcos. On our part, we try to be competitive. We don't necessarily target to have the lowest or premium [prices]. We give customers combinations, so they have the opportunity to design their own plan, which results in different pricing."
For Chow, his biggest challenge is building and growing the Yoodo brand, as well as a strong team. "There is still so much more to do. As we continue to grow, while the focus is still on our key lifestyle segments and digital natives, we will spend a bit of money and time to target the other segments because we need [to capture these] to grow. [For example,] there are Gen X consumers who are increasingly spending more time online as they work from home."