This article first appeared in The Edge Malaysia Weekly, on May 14, 2018 - May 20, 2018.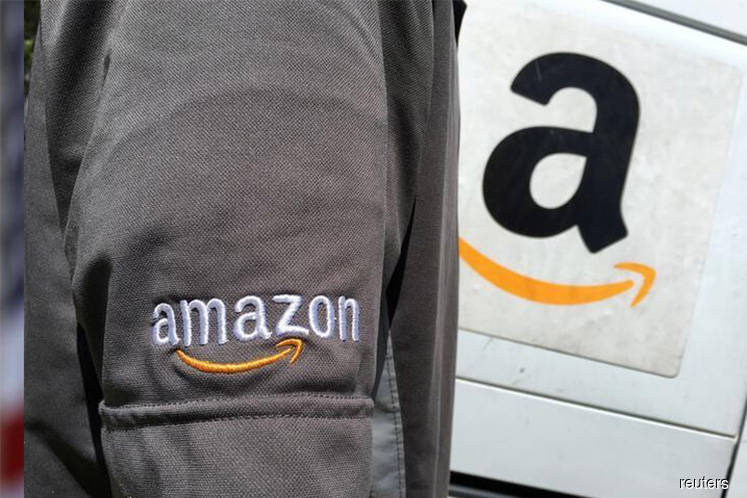 IN his recent annual "Letter to Shareholders", Amazon.com CEO Jeff Bezos highlighted the strength of the e-commerce behemoth's Prime membership base of more than 100 million now, its Amazon Web Service cash cow, the phenome­nal success of its Echo home devices powered by virtual assistant Alexa and its sprawling ecosystem. Yet, for some reason, he left out one of the fastest-growing segments of Amazon's business that has been flying just under the radar: ads.
To be sure, there are two main business models — subscription and advertising, or a variation or hybrid of the two. The internet has helped consolidate advertising into just two large players — Google and Facebook — but it has also helped revive the subscription model. Investors these days put a premium on burgeoning subscriptions because it shows users are willing to put their money where their mouth is. So, when Amazon first officially disclosed the number of its Prime members last month, investors chased its shares to new heights.
Shares in video streaming giant Netflix, which has 125 million subscribers, sell at stratospheric valuations as do those of music streaming pioneer Spotify, which recently reported that its paid subscribers grew to 75 million in March from 71 million in December. The New York Times has survived the print advertising slump by boosting its paid digital subscriber numbers to 3.6 million. Indeed, even Apple, which once attracted investors for its iPhone sales growth, is increasingly transforming into a services business, with 270 million accounts (up 60% over the past year) paying monthly subscription for iCloud and Apple Music.
Digital ads were a war supposedly won years ago by Google and Facebook, which harvest data from users like you and me, whom they consider their main product. The duopoly together accounts for just under 57% of combined US digital ad spending. That is down from 63% in 2016. Twitter, Snap, Microsoft, Facebook's Instagram and Verizon Communications' Oath, which last year bought Yahoo!, are among some of the other major players that have been chipping away at the market share of the duo that dominates global advertising.
The ads opportunity
US Research firm eMarketer notes the combined US digital ad market share of Google and Facebook fell for the first time last year, even though overall digital ad spending in the US is still growing robustly — with an estimated 19% growth forecast for this year. Google's digital ad revenues are forecast to grow 15% this year and Facebook, 17%. Yet, the most watched player in the space is the fastest-growing Amazon,
which currently has just 2% of the digital ad market but, at more than 65% annual growth, is expanding at a faster clip than all of its peers.
Just how big is the global ad opportunity? Bank of America Merrill Lynch estimates that the global digital advertising business will exceed US$239 billion this year. In January, Citigroup touted advertising as Amazon's next new big growth driver. Citi's internet ana­lyst Mark May estimates that the e-commerce giant's advertising revenues could grow fivefold, or 17% annually, over the next decade to more than US$50.6 billion in 2028 from US$10.2 billion currently and generate US$12 billion in incremental free cash flow that year.
"If those forecasts are met, [just] Amazon's ad business could be worth over US$90 billion," May writes in a Jan 23 report. That is more than the current market capitalisation of Gene­ral Motors and Ford Motor combined. Amazon's humongous ad opportunity is underappreciated by investors, he argues.
Clearly, some of that is hyperbole from a sell-side analyst pushing a stock that is trading at 110 times its 12-month forward earnings in a market that is looking increasingly challenging. Yet, Amazon also has a track record of focusing on a business segment and then ruthlessly executing, often beating even the most optimistic of all forecasts.
But, why is Amazon, which already has its hands full making a business out of the challenging retail segment, suddenly jumping into ads and taking on Google and Facebook? And why now? For one thing, large global advertisers have long been seeking an alternative to break the dominant Facebook and Google duo­poly, mainly to help make ad pricing more competitive. Little wonder, then, that big brands and their media buyers have poured huge sums of money into nascent platforms such as Snapchat in a bid to enhance choice in the digital media landscape.
In recent months, Facebook's data privacy scandal has heightened concerns about how the dominant duo extract personal data, harvest and sell it to boost their own bottom line and how they target their "products" or people like you and me, adding a sense of urgency for new alternatives to Facebook and Google. Moreover, the fact that neither Snapchat nor Twitter has made much headway despite receiving ads far in excess of what they deserve in view of their small audience has forced large advertisers to focus elsewhere, and Amazon has emerged as a key beneficiary of that re-look.
It may still be a minnow in adver­tising, but Amazon is no pushover. It is the world's largest e-commerce platform, with 370 million monthly active users and more than 100 million Prime members. When Americans want to shop for something — household goods, groceries, electronics, video games, books — they do not just Google it. More than half of them actually go directly to the Amazon website and look for it. Of the other half that use Google, or for that matter another search engine, many invariably find their way to the Amazon platform.
The other thing is, even the world's domi­­nant search engine, Google, is not what it used to be. Increasingly,Amazon is seen as a go-to source for product information and shopping. The e-commerce giant has a huge trove of valuable data on shoppers and their buying habits. Nearly a quarter of all homes in North America now have some form of virtual digital assistant speakers like Amazon's Echo, which is used to do the actual search for whatever they are buying.
So, these days, if you are looking to buy, say, avocados or eggs or sneakers or former FBI director James Comey's best-selling book A Higher Loyalty, more often than not you probably will not open a browser on your PC or an app on your tablet or smartphone, but speak directly to Echo: "Alexa, I want blue-striped Nike sneakers." And you would probably use voice-enabled search powered by Alexa, not some search engine like Google, because it probably knows your sneaker size and style. Voice ads on Amazon's Echo, Google's Home and Apple's HomePod are likely to be the next big frontier for advertising. So, as you are looking at Nike sneakers on your Echo Show, it might also show more economical, possibly better, options from Under Armour or Adidas.
Moreover, Amazon not only has your credit card details on file and will easily walk you through a vast selection of sneakers, it also knows what kind of sneakers you like and where to ship them because it uses artificial intelligence, deep learning and some of the best data analytical tools. Amazon probably has the largest high purchase intent audience.
"Advertisers are aware that Amazon's core advantage compared with other digital advertising businesses is that customer purchasing intent is highest on Amazon, with shoppers further down the funnel when using Amazon than on Google or Facebook," notes Bank of America Merrill Lynch in a recent research report. "Amazon offers a high relative [return on investment] for advertisers, given the estimated low relative cost of clicks, high intent of shoppers on the platform and still relatively early stage of advertiser adoption."
Largest revenue contributor
To be sure, Amazon's ad business is already fairly sizeable. The e-commerce behemoth does not actually break out ad revenues in its quarterly earnings report. They are currently bundled under the "others" category, in which Amazon chief financial officer Brian Olsavsky concedes that ads are by far the biggest item. Late last month, Amazon reported that its "others" category jumped to US$2 billion in the quarter ended March, a 72% increase from the previous year. Analysts estimate that nearly US$1.9 billion of that was ad revenues. That may be small compared with what Google and Facebook rake in from digital ads every month, but it is still nothing to be sneered at.
Moreover, an accounting change, which went into effect in the last quarter, now makes Amazon's nascent but fast-growing ad business look up to 80% bigger, making investors and analysts sit up. Under new rules, some first-party advertising services have been reclassified as revenue rather than a reduction in cost of sales, Olsavsky explained recently. The impact of that in the last quarter was a US$560 million benefit to the top line, he noted. Citigroup expects Amazon's ad revenues to top US$14.5 billion next year under new accounting rules. The e-commerce behemoth's total ad revenues could reach 1.8% of its gross merchandise value this year, and analysts estimate that its total advertising revenue opportunity could balloon to nearly 4% of gross merchandise value in 10 years.
Top global ad agencies Omnicom, GroupM and Publicis have in recent months announced plans to increase spending on Amazon by 40% to 100% this year. Among the brands already advertising on Amazon, 63% planned to increase their budgets on the platform over the next year, compared with 54% for Google and 53% for Facebook, according to a recent study by ClickZ Intelligence and Group M's Catalyst. "I see advertising creating halo effects for Amazon's core e-commerce business, while also providing yet another higher-margin revenue stream for Amazon," Brent Thill, internet analyst for Jefferies & Co in San Francisco, tells The Edge Singapore.
Focus on ads
For now, Amazon is focused on strengthening its ad platform. It recently began selling video ads on the Amazon Advertising Platform for its owned properties, including Twitch, IMDb, its homepage as well as Fire TV. It has also begun offering premium space for product ads focused on things being sold on its own platform by third-party sellers.
Amazon is also developing programmatic ad capabilities to capture advertisers that do not sell products on its site,  such as airlines and hotels, which can help expand its advertising reach beyond its core retail focus. So far, Amazon has been fairly conservative in its ad load but, sooner or later, it is likely to use its huge reach and vast shopping data to ramp up ad placements across an array of platforms.
How long before Amazon becomes an advertising powerhouse rivalling Facebook and Google? When CEO Bezos focuses on something, he keeps throwing money and attention at it until it becomes formidable. It took Amazon just a few years to become a major force in the cloud computing space and it is quite likely that, in five years or so, it would be a major player, particularly in retail search advertising.
Analysts expect Amazon to scale up its ad business fairly rapidly and turn it into one of its higher-margin segments. The money will come in handy to bankroll its mammoth efforts in the retail space, particularly groceries, as well as building up its logistics capabilities. Citigroup's May believes advertising will drive a greater share of Amazon's growth and profitability in coming years. He estimates that 10% of Amazon's incremental gross profits this year will come from ad revenues.
Yet, despite Amazon's growing forays in advertising, Google and Facebook will remain far and away the leaders in the segment for the foreseeable future. Citigroup estimates that Amazon's total share of the global ad market will increase to more than 6% in 2028. That is because Amazon will remain focused on retail search, which currently accounts for just 20% of total global ad spend.
Even as Alexa and voice search propel Amazon to leadership in retail search advertising, its ad revenues might be a quarter of Google's total ad revenues. E-commerce and retailing will remain the core of Amazon. As such, it would need to grow its Prime subscribers' numbers, but cash cows such as its web services and its ads business will continue to provide additional fuel for that journey.
Assif Shameen is a technology writer based in North America
Save by subscribing to us for your print and/or digital copy.
P/S: The Edge is also available on Apple's AppStore and Androids' Google Play.