This article first appeared in The Edge Malaysia Weekly, on March 11, 2019 - March 17, 2019.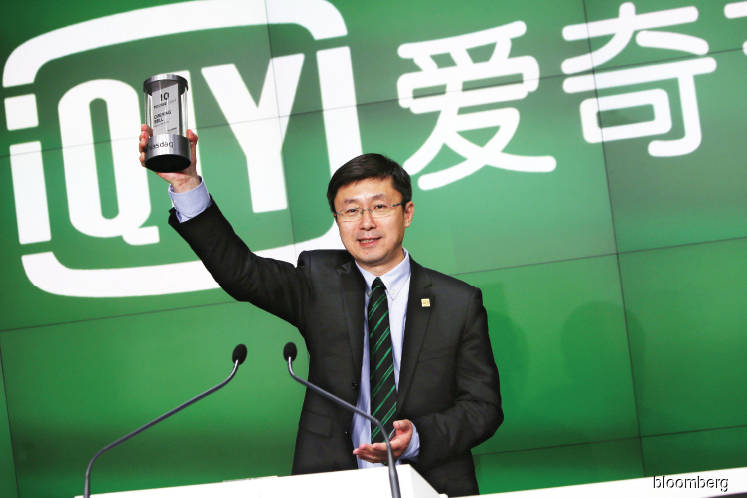 CEO Gong Yu at iQIYI's IPO last year. The company now has 87.4 million subscribers, up 72% from a year ago.
THE most successful global tech company over the past seven years, at least from investors' viewpoint, was neither Apple nor Amazon.com but video-streaming giant Net­flix. Even though its stock is down 13% from last year's peak, the video-streaming pioneer is up more than 4,200% from its 2012 lows. Before Netflix, the mantra in film entertainment was "content is king". These days, even ardent fans of the old Hollywood business model will readily concede that distribution and, of course, technology are as important as content, if not more.
So, it is not surprising that investors who missed the disruption that the streaming play wrought and the huge rally in its stock are now trying to find the next disrupter in entertainment. What better place to look for something akin to Netflix than in China, where the internet "Walled Garden" keeps global power­houses such as Facebook, Amazon, Netflix, Google parent Alphabet, or the FANGs, from challenging home-bred champions such as Baidu, Ali­baba Group Holding and Tencent Holdings, or BATS. While there are plenty of online video players in China, including upstart platforms such as Huya and Douyu, the real battle is between Baidu's Nasdaq-listed streaming subsidiary iQIYI, Alibaba's YouTube lookalike Youku Tudou and Tencent Video.
Chinese stocks have been on a tear this year in anticipation of a US-China trade deal later this month. Yet, few can beat iQIYI, which is up a whopping 85% since January (in comparison, Netflix is up 52% over the same nine-week period). Much of iQIYI's gains have come over the past three weeks since it reported results for the last quarter, with revenues up 55% to US$1.04 billion (net losses narrowed to US$505.7 million, from US$612.4 million). Never mind the flood of red ink, iQIYI's Netflix-like subscriber and revenue growth has been more than enough to propel its stock higher.
New holy grail of entertainment
Subscription-based video streaming is the new holy grail of entertainment. There are nearly 400 million paid video-streaming subscribers worldwide and players such as Netflix and iQIYI have barely penetrated the market for filmed entertainment. Despite years of cord-cutting, pay TV still has 700 million subscribers worldwide. Streaming companies are not just trying to take a share of the pay-TV market or reach the 600 million global households that have broadband access. Their main game is to take as big a chunk of the three billion smartphones and hundreds of millions of tablets. Like Netflix, iQIYI provides on-demand video contents, mostly TV programmes and movies, to its subscribers across multiple platforms — desktop PCs, smartphones, TVs and tablets. It has also imitated Netflix in its widespread use of artificial intelligence tools to make content recommendations.
Ironically, the market has blown hot and cold on the Chinese streaming play since Baidu spun off iQIYI in an IPO, which raised US$2.25 billion exactly a year ago. The stock experienced a massive run within weeks of its listing, at one point surging 165% from its IPO price only to pull back after consecutive disappointing earnings reports and mounting concerns over a consumer spending slump in China. From its peak in June, the stock tanked 66% in late December.
So, why is the market suddenly craving for more of iQIYI? For one thing, the official narrative has changed. iQIYI is now aggressively marketing itself as the "Net­flix of China" that is 69%-owned by Baidu, the "Google of China". Whether you look at a press release or an analyst's report, the first thing that jumps at you is subscriber numbers and subscriber growth.
iQIYI now has a total of 87.4 million subscribers, up 72% from 50.8 million a year ago. Of those, 98.5% are paying subscribers (Netflix has 139 million subscribers worldwide, of which 60 million are in the US.)
Rising subscriber numbers do not tell the whole story because nearly 40% of reve­nues are from advertising, which is declining. Despite iQIYI's spectacular growth last year (rival Tencent Video also grew at a similar pace), it is unlikely to become China's Netflix anytime soon, says David Dai, China internet analyst at Sanford C Bernstein & Co in Hong Kong. For one thing, unlike Net­flix, which pioneered the streaming business in the US and still holds the dominant market share there despite looming competition, China has three large streaming players.
iQIYI and Tencent Video have nearly 90 million subscribers each whereas Alibaba's Youku Tudou has about half as many. Dai estimates that, at the current rate of growth, the number of video subscribers in China will reach the ceiling of 580 million by 2022, or 2.7 times today's size, assuming eventually 85% of Chinese households subscribe to online video, and each household has 1.5 accounts. Indeed, he expects the growth in China's streaming market to start to taper off in 2021 or perhaps even as early as late next year.
The way he sees it, the three fiercely competitive streaming players are focused on only the Chinese market and investing in Chinese language TV programming and movies. For Netflix, however, the world is its oyster. Not only does it have plenty of room to grow in its home turf, by investing hugely in local content around the world — in French, German, Spanish, Italian, Japanese, Hindi, Arabic and other languages — it is constantly growing its market.
Moreover, in its home market and Europe, Netflix has shown it has pricing power. An average American subscriber paid US$11.50 a month for a Netflix subscription in the last quarter. With the recent Netflix price hike, Americans will be paying nearly 10% more a month for streaming subscription this year. In contrast, the average revenue per streaming subscriber in China is still less than 13 yuan (US$1.90) a month. In Malaysia, for example, Netflix subscribers now pay about RM17 a month for a slightly more limited mobile-only service or RM33 a month for a basic package. That leaves room for it to market a premier service at a higher cost.
Netflix is expected to roll out a cheaper service in India as well this year, with its own Bollywood-produced programming. Even as Netflix expands globally and has to price its services in some developing markets at about half of what its US subscribers are paying, it is still likely to command much higher overall subscription rates and margins than any of the three Chinese players.
Charging a premium for quality
The ability to charge a premium for content depends on the quality of the content being offered. The reason Chinese viewers are paying just US$1.90 a month compared with the US$13 that Netflix subscribers are paying as at last month is that the content is worth the price. There is a huge difference in quality between the content that Netflix is delivering, including some of the top Oscar-nominated stuff, and what Tencent Video and iQIYI are producing. Affluent customers in Shanghai, Beijing and Shenzhen would happily pay more than US$2 a month for streaming service if they could access better programming.
Yet, iQIYI's average revenue per subscriber has actually fallen over the past two years. To attract new subscribers, Tencent and iQIYI are outdoing themselves in marketing expenses and subscriber rebates, but that is not helping them nudge closer to profitability. Dai argues that with three equal-sized players in China and their current content not much superior to existing TV channels, Chinese streaming players are likely to struggle to raise their subscription fees in the foreseeable future.
Content drives subscriptions, but high-quality content costs money. Top Chinese TV series such as Burning Ice or widely acclaimed award-winning Story of Yanxi Palace cost US$600,000 an hour to make compared with the US$6 million to US$10 million an hour for US prime shows such as The Crown or Narcos. Netflix will spend US$15 billion on making movies and TV programming this year. If Chinese streaming companies are scrimping on content costs and they have 1.3 billion potential subscribers to sell to, surely they would have higher margins and thus a quicker path to profitability than Netflix.
Unfortunately, making movies is not like soap manufacturing. Content cost accounted for 84% of iQIYI's total revenue in 2018, far higher than 48% for Netflix. Bernstein's Dai notes that content cost in China is likely to go up over time, even though iQIYI maintains that it is now paying less in celebrity compensation than before.
Chinese streaming companies are unique in that, apart from subscription fees, they also derive some of their revenues from selling advertising on their platform. Netflix, on the other hand, has always been ad-free. One reason subscribers are willing to pay a lot of money every month is they are spared from having to watch ads so they can focus on binge watching a TV serial or a movie.
Online advertising last year made up just under half of the three major streaming players' revenues in China. But advertising as a percentage of streaming firms' revenues has been declining as subscription revenues grow. Ad revenue softness should also be seen in the context of e-commerce players such as Alibaba increasingly muscling in on a business that was once mainly dominated by search engine operators such as iQIYI's parent Baidu as well as social media platforms such as WeChat and Weibo, because advertisers are seeking more bang for the buck.
As ad revenues decline, content costs rise and iQIYI, Tencent Video and Youku Tudou are unable to dramatically lift subscription fees, they are likely to rack up further losses over the next several years. For now, their cash-rich parents Baidu, Tencent and Alibaba see video streaming as just another business that allows them to harvest a ton of personal data from subscribers, which ultimately adds to the stickiness of their larger e-commerce, search advertising or online gaming platforms. What differentiates Netflix from its Chinese imitators is that, as a standalone company, it is focused on making money rather than harvesting data for its parents.
Assif Shameen is a technology writer based in North America
Save by subscribing to us for your print and/or digital copy.
P/S: The Edge is also available on Apple's AppStore and Androids' Google Play.