This article first appeared in The Edge Malaysia Weekly, on February 7, 2022 - February 13, 2022.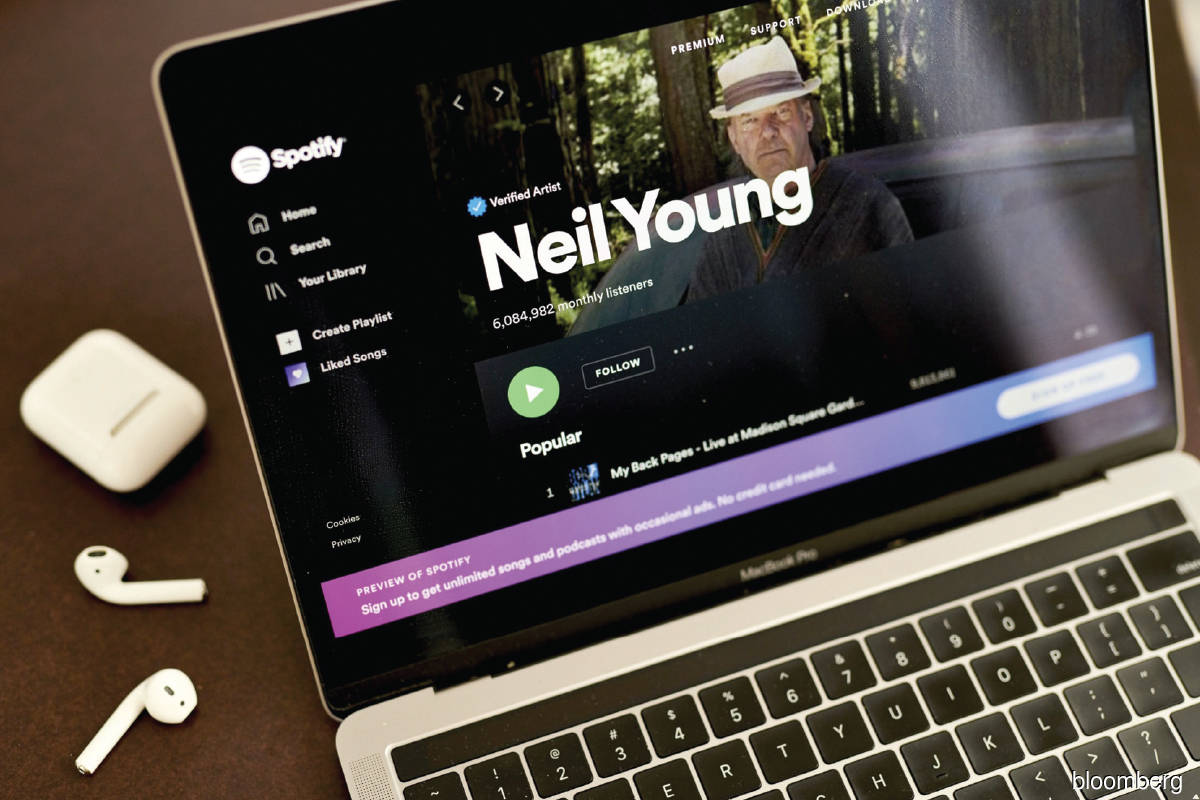 IF you are a music fan, you probably have the Spotify app on your smartphone. Stockholm-based Spotify Technology SA is the world's most popular music streaming service ahead of iPhone maker Apple Inc's Apple Music, e-commerce giant Amazon.com's Amazon Music and Google's YouTube Music. Over the past two weeks or so, Spotify has faced an existential threat in the form of a boycott by the musicians and artists it needs on its platform to survive. On Feb 2, Spotify reported that while it grew its user base and revenues in the last quarter, its growth is slowing. Wall Street wasn't amused and the music streaming firm's stock was hammered by more than 10%, wiping out nearly US$4 billion (RM16.7 billion) in market value. Spotify shares are down over 56% from their peak a year ago.
The hammering on Wall Street comes just as the music streaming pioneer is facing an identity crisis. Is it merely a platform to distribute recorded music and podcasts, or is it really a media company in disguise? And if it is indeed a media firm, why doesn't it police its own content creators and stop them from spreading lies about Covid-19, vaccines, climate change and other toxic commentary? How Spotify wiggles out of the current crisis will determine whether it can carve a profitable future for itself. If it doesn't, it might eventually need to tie up with another tech firm to stay afloat.
Spotify, which debuted on Nasdaq through a direct listing rather than an initial public offering or IPO four years ago, has never been profitable because it is in a fiercely competitive market and is head-to-head with Apple Music and Amazon Music. Spotify, which pioneered music streaming, pipped Apple in music because it had a superior user interface that appealed to a younger audience. Through slick marketing, like discounted plans, lower prices in smaller markets, tie-ups with telcos and internet access providers around the world, and its ability to wring concessions from music firms such as Sony, Universal Music Group and Warner Music whom it pays about half of what Apple, Amazon.com and Alphabet Inc's YouTube pay for the same music, Spotify built a formidable market share lead over its rivals.
Last week, Spotify reported that it had 180 million paying subscribers on its music streaming service and 226 million subscribers on its free service at the end of 2021. Closest rival Apple hasn't published an update on its total music subscribers in two years but analysts estimate it now has about 100 million paid streaming music subscribers. Spotify has an average revenue per paid subscriber of just under US$5 a month. Analysts estimate that Apple's average revenue per music subscriber is slightly more than twice that of Spotify. However, Spotify also makes money from advertising, which makes up about 14% of revenues while subscriptions account for around 86% of total revenues. Apple Music does not carry any ads and does not have a free music service tier.
The Covid-19 pandemic drove digital media consumption to new heights, while traditional media stagnated. American adults spent more time on smartphones accessing digital music and podcasts and less time on devices like radio and linear television as well as other traditional media like newspapers and magazines. Music streaming was a key beneficiary of the pandemic's digital boom.
US$100 million purchase
Spotify's latest woes emanate from its forays into podcasting. In 2020, at the height of the pandemic, it purchased the exclusive rights to YouTube podcaster Joe Rogan for an eye-popping US$100 million. (Spotify also has a US$25 million deal with Prince Harry and Meghan Markle for podcasts). The Joe Rogan Experience is now the No 1 podcast on Spotify's network.
What is Spotify getting for that kind of money? How does a music streaming company ever make any return on betting US$100 million on a podcaster? Spotify needed to diversify its revenue base away from its traditional dependence on a low-margin, commodity music streaming service to differentiated content like podcasting. That's a tried and trusted model. Video streaming giant Netflix, which started out as a DVD distributor and pivoted to streaming old movies and TV serials, lost boatloads of money until it realised that viewers were actually willing to pay for premium differentiated content. That led to a hard pivot to Netflix producing its own TV serials, movies, documentaries and other original content. This year, the video streaming pioneer will spend a whopping US$19 billion on original content, up from US$17 billion last year.
Let me put this in a proper context: Film and TV production firms are forecast to spend over US$100 billion this year on new content as they rush to produce more shows and films to feed the ever-growing video streaming services, according to MoffettNathanson, a Wall Street research firm. Netflix's monthly subscription fees have risen from US$4.99 in 2008 to US$15.49 in the US. Netflix, which carries no advertising, now has 222 million subscribers worldwide, though subscriber growth has slowed since last year.
Video streaming is, however, very different from music streaming. Netflix can make its own movies and TV shows because movies are a team effort. Stars like Taylor Swift and Ed Sheeran, Drake and Adele would rather make their own music and put it on a distribution platform like Spotify than sign a billion dollar deal with a streaming service. Being a market share leader in low-margin music distribution is different from being a profitable platform.
In 2019, a year after its listing, Spotify pivoted to podcasts as a way to differentiate its content from Apple and Amazon. It paid US$230 million to buy podcasting firm Gimlet Media and nearly US$200 million for another podcast producer, The Ringer. It has since bought other smaller podcast producers. Spotify now has 3.6 million podcasts on its platform and user engagement is growing 20% year on year. It still remains the No 2 player in podcasts behind Apple even though it leads the ­iPhone maker in music streaming.
So far, all the money Spotify has thrown on podcasts hasn't helped put it on a clear pathway to profitability. The global podcasting market was worth US$11.46 billion in 2020 and is forecast to grow at over 30% per year over the next five years. That includes all the money in the podcast economy — creating podcasts, subscriptions and advertising. At least 35% of Americans listened to at least one podcast over the past year. The podcast advertising market in North America alone was worth over US$1 billion last year and estimated to exceed US$1.3 billion this year. Analysts expect podcast advertising revenues in North America to grow 25% annually over the next five years. Both Apple and Spotify now have a premium subscription-based podcast service, though most of their podcasts are still free to download.
In late December, Spotify's star podcaster hosted a show with Dr Robert Malone, a virologist who touts himself as one of the architects of mRNA, a type of vaccine that uses a copy of a molecule called messenger RNA to produce an immune response. Malone had been banned from Twitter for promoting Covid-19 and vaccine misinformation, and had been making the rounds on conservative media like Fox News undermining the efficacy of vaccines. Among other things, he said young healthy adults did not need vaccines and he was critical of masks. Rogan did not correct his guest. Indeed, he helped him fan conspiracy theories and lies. As word of Rogan's podcast spread, musicians such as Neil Young, whose songs include Heart of Gold and Harvest Moon, and Joni Mitchell who sang Amelia and A Case of You, urged Spotify to pull their music. Half a dozen other musicians followed in calling for the removal of their songs from Spotify.
Controversial Rogan
Who is Rogan and how did he become one of the most powerful people in America? He is a former comedian who built a strong fan base and parlayed it for one of the earliest podcasts over a decade ago, getting a first-mover advantage. Long before Spotify came calling, Rogan had the biggest following in America for a podcaster. In September 2018, electric vehicle pioneer Tesla Inc's CEO Elon Musk famously smoked marijuana on one of his YouTube podcasts. But it isn't just right-wing libertarian types or eccentric billionaires whom he has interviewed in his podcasts over the years. Left-wing senator Bernie Sanders was on his show three years ago.
Rogan still calls himself "a comedian who is just asking questions" rather than a journalist interviewing well-known figures on his podcasts. But he is nothing if not controversial. Indeed, controversy is a key part of Brand Rogan. The more controversial he is, the more listeners he brings to the Spotify platform and the more money he and Spotify make from new subscribers and advertisers. Over the years, he has been accused of providing a megaphone for a range of right-wing figures and conspiracy theorists and spreading misinformation of all sorts, more recently on Covid-19 and vaccines.
Here is the thing: Rogan does not need Spotify or the US$100 million that music streaming service is giving him. As a controversial broadcaster with a huge fan base, he could join former President Donald Trump's new social media platform Truth Social, which is expected to launch over the next few weeks, and command twice as much. Trump Media and Technology Group, which is merging with a SPAC, or special purpose acquisition company, called Digital World Acquisition Corp (DWAC) in a reverse takeover, is recruiting people whose audience and reach could help relaunch the former president's return to the White House. DWAC, which raised US$300 million in a blank cheque listing last year, has seen its stock soar from US$10 to US$80 even though the merger hasn't gone through. Spotify, for its part, can't afford to lose Rogan because without him, or someone as famous and controversial like him, its advertising platform just won't work.
Spotify waited nearly two weeks before it stepped in to mollify its angry users and musicians on its platform. It said that it will force podcasters to adhere to its rules. Ironically, until now, Spotify's podcasters have been unaware that there were rules. Any company that is paying US$100 million to a podcaster, even one that claims it is a merely a platform rather than a media company, has the responsibility to fact check all its podcasters as well as their guests and reprimand anyone who claims young adults do not need vaccines or that a pandemic like Covid can be cured by taking Ivermectin, an anti-parasitic drug.
If the Rogan controversy has revealed ­anything, it is that Spotify's Achilles heel are the musicians whose music it distributes and who control its fate. "There's no doubt that the last several weeks have presented a number of learning opportunities," Spotify CEO ­Daniel Ek said last week. "We believe we have a critical role to play in supporting creator expression while balancing it with the safety of our users." But Rogan's podcast has put the spotlight squarely on Spotify. The music streaming giant needs to be more of an editor than a mere platform. That means hiring people who listen to every word that is uttered on the 3.6 million podcasts in its library before the next musicians' boycott begins or the next lawsuit is filed. It also means taking responsibility for all the content that its podcasters produce. That will cost money and distract management's attention from the more immediate task of finding a sustainable path to profits. It will also make advertisers think twice before putting an ad on a platform that hosts podcasters like Rogan and his ilk. Spotify clearly has its work cut out.
Assif Shameen is a technology writer based in North America