This article first appeared in Enterprise, The Edge Malaysia Weekly, on July 8, 2019 - July 14, 2019.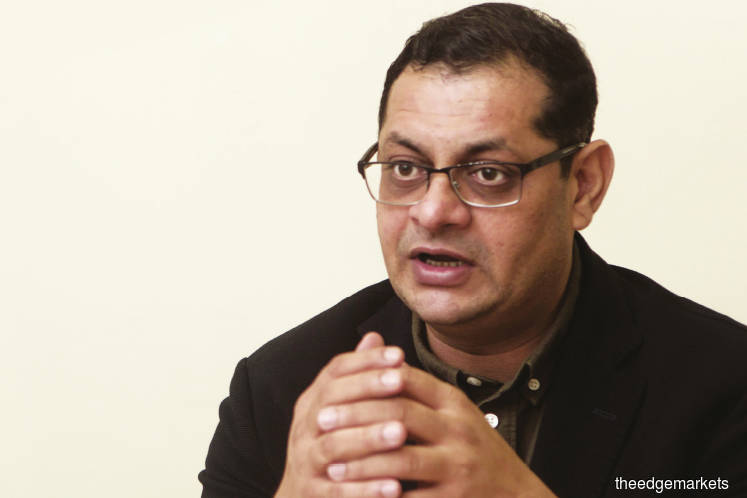 Small and medium-sized enterprises (SMEs) that are transitioning from being purely bricks and mortar to becoming omni-channel businesses usually have a steep learning curve when it comes to managing their inventory, processing orders and integrating with third-party marketplaces.
However,  Anchanto Pte Ltd founder and CEO Vaibhav
Dabhade has an answer: Automation. Towards that end, and after having seen the teething problems of small companies trying to hop on the e-commerce bandwagon, Anchanto came up with a product — the SelluSeller — to help them.
Vaibhav and his team identified the problems faced by smaller e-commerce players who were also its customers. The start-up has been providing an e-commerce warehouse management software called Wareo for their customers' back-end operations for about five years before coming up with a product solution.
"Many of our customers who are using Wareo were manually importing orders from various online marketplaces, such as Lazada, Shopee and Zalora,  which usually involves using a lot of Excel sheets to process these orders," Vaibhav says.
It was basically too much fuss and the team immediately identified it as a problem to be solved and, therefore, an opportunity to create a product.
"When we did a deep dive, we realised that on top of processing orders, online sellers were also updating their inventory manually. So, whenever there is a promotion, there is usually more work to be done. For example, for a Hari Raya promotional campaign, they would have to update product prices one by one on different marketplaces and channels," he adds.
The start-up wanted to address a real need to automate these tasks so the team built a software for it. This observation, coupled with the "Job To Be Done" (JTBD) concept, were the key ideas for the start-up's second product — SelluSeller — which was launched in January 2017.
SelluSeller is a multi-channel e-commerce "selling management" software for vendors, brands, distributors and service providers. The program manages end-to-end e-commerce operations on multiple sales channels in the Southeast Asian region.
Meanwhile, the JTBD concept is a starting point for innovation, where products and solutions are viewed in terms of the customer's to-do list. To put things in perspective, Vaibhav says Anchanto's customers wanted to connect and update their inventories in an automated way, instead of doing it manually.
"Malaysia has a very fragmented e-commerce market as there are many e-commerce websites as well as the convenience of social media shopping. So, we provide a single platform for sellers to manage their e-commerce content and product information.
"SelluSeller is our flagship product. Our customers have processed close to 20 million orders on the platform in the last 12 months. People know SelluSeller more than they know Anchanto. It is above and beyond our expectations," he adds.
The company recently launched a "Free Forever" plan across Asia-Pacific except for Indonesia and Korea. It allows merchants and sellers to connect to any number of local marketplaces and process up to 50 orders for free. Vaibhav says, being a small entrepreneurial company, he strongly believes in creating rather than consuming — the same way he believes that small-time online sellers and SMEs are out there doing something rather than just being consumers.
"They contribute to the digital economy and when they are at nascent stages of becoming an omni-channel e-commerce business, it is very challenging. We are hopeful that Anchanto can provide a tool for them at no incremental cost to increase their chances of being successful," he says.
He adds that small retailers who are going online for the first time need to be trained and in the beginning, things will not go so smoothly. Anchanto wants to be part of the growth and learning process.
"Sellers may use it for free when they are very small and we can grow with them. Once they get the hang of the e-commerce model using our software, we will charge them a small free, which is a small percentage of their revenue," he explains.
What is in it for Anchanto? Vaibhav says the company is creating more and more high-volume sellers who will eventually pay to use its software because they trust its capabilities.
How does the company determine the maximum number of orders a particular seller may process for free on SelluSeller? If they are making more than what would constitute a fair salary to anyone living in the Klang Valley, which is about RM4,500 a month, they have to pay.
"RM60,000 a year is a sizeable online revenue for micro SMEs. That is why our cut-off amount for online revenue is between RM60,000 and RM75,000," he says.
Edging out the competition
A very common challenge among SMEs is trying to stand out in the market, according to Vaibhav. Many do not even realise that they have to make their presence felt, thinking that all they need to do is list their products in as many places as possible.
He adds that many purely bricks-and-mortar merchants lack an understanding of how to connect their online and offline operations.
"These businesses are losing to their e-commerce counterparts because they have yet to figure out how to transform into an omni-channel one. The challenge is to train them, generate success stories, and share these with other businesses, category by category," he adds.
When an e-commerce merchant wants to run a promotional campaign across multiple channels, Vaibhav opines that it requires help from several people. However, using SelluSeller, they can start planning their campaign in advance.
"For example, you can plan a campaign two months in advance using the software by doing all the configurations and when the time comes, the promotion will be automatically launched.
"In terms of inventory, a merchant may have thousands of stock keeping units or SKUS, which are the numbers that retailers assign to products to keep track of the stock. Checking the expiry dates and which ones are about to run out of stock requires manpower but with the software, it can be done with a few clicks.
"On top of that, the software can also predict how long before certain products run out of stock, instead of having to manually check your stock," he adds.
Vaibhav points out that automating these processes help micro SMEs grow their businesses by improving the quality of their listings online and their inventory management without having to hire more people. It also reduce errors so they can maintain their ranking.
"They are able to save money by limiting the manpower needed to do the checking and cross-checking. It is about reducing their chances of failing their service-level agreements because if they fail a few times, their ranking in marketplaces would drop," says Vaibhav.
The moment their ranking goes down, they are no longer as visible. Marketplaces, he says, tend to showcase sellers with higher rankings because they want to provide customers with a good experience. "So, it is not in their interest to highlight sellers who underperform operationally."
The power of ranking does not only affect small or medium-sized e-commerce businesses, he adds, but also "the big boys" who are "doing a few million in terms of revenue a month". He points out that their rankings would take a dive when their operations are unable to keep up with the demand.
"When their ranking goes down, they are no longer part of, for example, the Shopee mall and this strips them of the 'free shipping' privilege. When there is no free shipping, the order volume would immediately drop.
"We have seen this happen but we also saw them regain their good rankings after using our platform," Vaibhav adds.