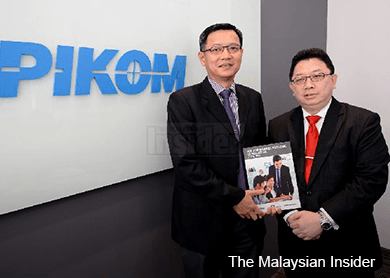 SALES of ICT products are expected to dip by 30% after the goods and services tax (GST) is enforced on April 1, due to the rising cost of the electronic goods, the National ICT Association of Malaysia? (Pikom) said yesterday.
It said it expects price hikes across a large number of hardware, software and service offerings once GST is implemented, as technology products are not taxed under the current sales and services tax regime.
"We estimate that the next six months will see a general 'dip' in the purchase of hardware and gadgets such as smartphones, personal computers (PC), laptops, printers and other peripherals by households and consumers," Pikom chairman Cheah Kok Hoong said n a press release.
"We expect smaller companies, particularly small and medium enterprises (SMEs), to be more affected by the GST with most delaying their ICT investments for now. Overall, we anticipate a drop of up to 30% in the market."
Pikom's survey on "GST Impact on Business" also found that more than 60% of local ICT organisations acknowledged GST will significantly impact their revenue.
But Cheah said the new consumption tax would not have a great impact on larger enterprises and corporates which had registered under the GST, as the 6% charged by suppliers could be claimed as input tax from the Royal Malaysian Customs Department.
He added that the market would eventually accept the new tax regime, and sales would recover in the long term.
Cheah suggested that ICT retailers adapt to the drop in sales by increasing their competitiveness.
"Besides trying to reduce internal costs through improving business efficiency or providing additional services to maintain their customer base, retailers are encouraged to consider leveraging on emerging and fast-growing ICT trends that are perforating the market and to position themselves strategically so they can benefit when the market picks up," said Cheah.
He said ICT retailers should try to look beyond pricing and switch to higher-margin products and services, such as value-added consultancy, ancillary services, as well as offering strategic bundling or packages to complement sale of hardware and gadgets.
Pikom said it believed that despite the initial slowdown due to the market's reaction to GST, Malaysia's ICT sector was still poised to generate RM95 billion in revenue by 2017.
"It is perhaps the mind-set that requires changing and acceptance of such a tax.
"With the continuous education and 'road-shows' throughout 2014 by the government, associations and NGOs, the confusion and misconceptions of GST by the market, especially among companies and consumers have been hopefully addressed to a certain degree." – March 25, 2015.