This article first appeared in Enterprise, The Edge Malaysia Weekly, on October 14, 2019 - October 20, 2019.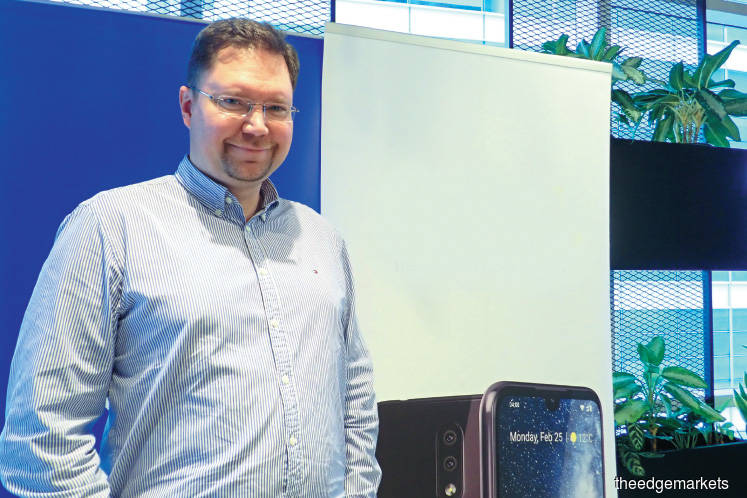 When Microsoft Corp acquired Nokia's devices and services division in 2013, Finland's proudest export all but disappeared from the market. Just two years later, after a series of losses, the US technology juggernaut decided to exit the mobile device business. And the year after that, it sold the Nokia feature phone line and trademark rights to Finnish start-up HMD Global.
Andrej Sonkin, the company's general manager for global enterprise business, says HMD was founded on Dec 1, 2016, when it took over the assets that Microsoft no longer wanted from its Nokia acquisition. This means that from the beginning, it was a global company with distribution partners in more than 80 countries and its phones were used in 200 countries (as well as the Antarctica).
"HMD has been evolving the Nokia brand and the two major businesses that we have — Nokia feature phones, of which we are No 1 globally, and the new Nokia Android smartphones, of which we are No 9 despite the fact that we only started two years ago. In multiple markets, we are already in the top five," says Sonkin, who was in Kuala Lumpur recently.
Before HMD reintroduced Nokia in the smartphone market, it took a long, hard look at what the market really wanted. "This was 2½ years ago and almost a decade of work had been put into the Android platform. We saw that there was very little value we could add by duplicating something that was already there or by putting in skins or bloatware to the product," says Sonkin.
Bloatware refers to applications that duplicate functionality and do not really add value but take up memory and use up the battery.
"We wanted to focus on giving a pure Android experience, which then gives the power to the user or enterprise to use the device as they see fit, and also optimise the battery life," he says.
Sonkin points out that 16 of the Nokia devices have already been upgraded to the latest Android version. "This means we can offer the latest and greatest innovations and benefits to all consumers. Also, that pure Android experience allows us to provide updates quickly to all our devices worldwide. So, our devices just keep getting better and better and that is how we want to differentiate ourselves in the market."
HMD country manager for Malaysia and Myanmar Vijay Thangavelu points out that the updates Sonkin is referring to has to do with security. "We are a pure Google platform and Google releases security patches on a monthly basis. Those devices on pure Android receive the patches without fail. But those with another layer on top of their Android operating system receive it on a quarterly basis [for the brand's flagship devices] or not at all [if they are lower-end devices].
"That is why Sonkin says our phones keep getting better. Because even if you bought your device two years ago, it will be on a par with the devices launched today in terms of security and the operating system. For instance, if our 2017 model came out on Nougat, today it would be on a par with Pie [the latest release] devices."
Google names its operating systems alphabetically after desserts, from Cupcake (version 3) to Pie (version 9), he adds.
Sonkin says, "What the security patch means from a user or enterprise perspective is that they can sleep soundly knowing that their devices are protected. When there is a potential threat, we are the fastest player in the industry to provide them with a patch."
He adds that when HMD asked its enterprise customers about their key criteria for selecting smartphones, their most important criteria was frequent security patching. "The more IT-led organisations, the ones that have a large fleet of devices deployed and want to make sure that their data is protected, really value security and the fact that the devices are kept up to date."
The second most valued feature was the operating system upgrades, says Sonkin. "We provide two of those during the lifecycle of a device and three years of monthly security patches for any device that is part of the global flagship Android One programme."
The company wants to do things differently from other smartphone companies out there, he adds. "We launched our smartphones using three key words that symbolise what we stand for — pure, secure and up-to-date. This means we use pure Android. We keep it secure through security patching and up-to-date through the Android operating system upgrades."
The upgrades deliver a host of benefits, says Sonkin. "The device that was launched with Android 7 (Nougat) two years ago was a great smartphone experience. But the world has evolved a lot since then when it comes to things like artificial intelligence (AI). So, now the same device that received two operating system upgrades has evolved into a full-blown AI device. And that has added battery performance because you have an adaptive battery, which understands what functions can be shut down if they are not needed."
Because the underlying security and operating system upgrades are across the board, it allows consumers or enterprises to select the right devices for themselves based on their specific needs, without paying for something they do not need, he says. "For instance, senior management may want a more high-end device like the Nokia 8.1 or 8.0 while a Nokia 6 or 7 would be perfect for someone at manager level. Then, if you equip your fleet with phones and they only need to use it for one function, then a Nokia 2 or 3 would suffice without jeopardising on security or upgradability."
The strategy seems to have worked because out of nowhere, Nokia has caught the attention of enterprises. "When we launched our Android smartphone with the tagline 'pure, secure and up-to-date', we started to get a lot of calls from enterprises, large and small. These enterprises have access to any brand, so they know what works and what does not," says Sonkin.
"If there was no need for change, they probably would not have been interested. But they were, which shows that there were issues out there in terms of unfulfilled needs. And that was how our enterprise business took off even though we are a very young company."
As the company only started two years ago, it did not have any legacy issues to worry about. "We were able to start with a clean sheet of paper. We were able to look at the real needs to be solved and focus our strategy on actually solving them," he says.
It was also a matter of affordability. "There is a Nokia device for every price point. That is another thing that was not really there. Consumers have a certain budget, they are willing to spend and they want a good experience with that money. It is very much the same for enterprises. Not everybody can afford to get a high-end device because that is the only option," says Sonkin.
Another factor for consideration among enterprises is the total cost of ownership, he adds. "It is not only the purchase price. It is a device that fulfils your needs but does not make you pay for anything you do not need — a lifecycle cost."
The company also found that pure Android devices without extra complications are more valued in the market because there are fewer things that can go wrong and create additional costs, says Sonkin.
Taking all the feedback it received from its survey, HMD came up with a package for its enterprise customers. "When we launched the package while participating in the Android 1 programme, which is Google's flagship programme for pure Android devices, we announced that any device from the Nokia 3.1 upwards would be part of that programme," says Sonkin.
"Now, we even have the Nokia 2.2 as part of that programme. This gives consistency across the whole portfolio. And that is one of the key things users and enterprises are looking for. They do not want to always have to start from scratch when they evaluate what they are going to select. They want to have consistency over product generations, which translates into ease of use, ease of deployment and cost savings."
The other programme the company participated in was the Android Enterprise Recommended programme. "There are over 7,300 Android devices. How do you select the right one from such a large number? Google took this feedback and came up with the Android Enterprise Recommended programme, first for smartphones and then, for other devices. This programme was intended to make the selection of Android devices for enterprises easier," he says.
Google did that by defining the minimum criteria for the device in terms of hardware, ease of use and a minimum set of update requirements that the manufacturer needed to provide, says Sonkin. "That kind of combination is available for any manufacturer to apply to be part of. But they are always evaluated on a product-by-product basis."
There are fewer than 100 smartphones in the Android Enterprise Recommended programme, but HMD accounts for 50 of them. "We are the biggest manufacturer in the programme and we have only been in the market for two years. We started in Europe and are now expanding to Malaysia and a few other markets. In Europe, about 10% of our sales is from the enterprise segment," he says.