This article first appeared in The Edge Malaysia Weekly, on August 27, 2018 - September 02, 2018.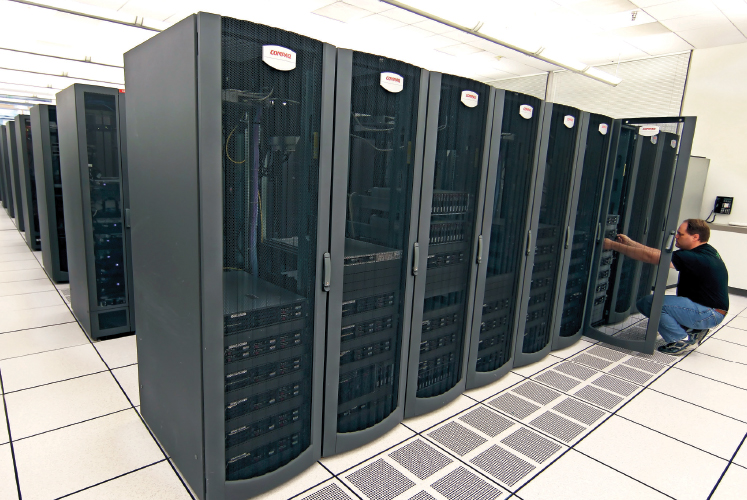 The boom in cloud infrastructure is boosting demand for storage servers. Photo by Bloomberg
OVER the last 60 seconds, 40 million instant messages were sent over either WhatsApp or WeChat; four million Google searches were conducted around the world; a million Facebook logins were done; and 2.5 million Snapchats and half a million Tweets were sent. Indeed, more than 90% of the data in the world was created over the last two years. All that data is being stored somewhere, ready to be sliced and diced using data analytics tools powered by artificial intelligence (AI). Cisco Systems estimates that data centre storage will grow to 2.6 Zettabytes (or 2.6 trillion Gigabytes) by 2021.
At the centre of this phenomenon is the rise and rise of cloud computing, which provides a simple way to access servers, storage, databases
and a broad set of application services over the internet. By accessing the "cloud", companies save money by avoiding large upfront investments in servers on their own premises and spending a lot of time and money maintaining them. Basically, they get the ability to access resources in the cloud as and when they need it, and pay for only what they use. "Cloud is a massive, still expanding market that will reach US$300 billion [$410 billion] by 2021," says Brent Thill, internet analyst for investment bank Jefferies & Co in San Francisco.
There are three kinds of cloud services — Infrastructure as a Service (IaaS), Platform as a Service (PaaS) and Software as a Service (SaaS) — although RBC Capital Markets' Amit Daryanani argues that there is no limit as to what can be delivered "as a service". Think of things such as "Storage as a Service" or "Desktop as a Service".
Until recently, though, the focus has been on the fierce battle between the high-profile IaaS trio — Amazon.com's Amazon Web Services (AWS), the dominant player; Microsoft's Azure; and the Google Cloud Platform — where big money has been made in recent years. Investors trying to make the next big bet on the cloud might want to focus on the most lucrative and fastest-growing market in cloud now: SaaS, where players such as Adobe Systems, ServiceNow and DocuSign are making waves.
What has made Amazon, Microsoft and Google's parent Alphabet the three most valu­able companies in the world behind Apple and the next contender for the trillion-dollar valuation crown is their dominance of cloud infrastructure. IaaS players such as AWS offer automated on-demand services to companies, such as computing, storage, networking and other capabilities.
The cloud infrastructure market is estimated at US$30 billion and projected to grow to beyond US$85 billion by 2021. AWS had a 70% share of the market last year, Azure 22%, and Google 8%, among the top US players. Thill forecasts AWS' revenues will grow 30% annually to reach US$68 billion by 2022, from US$17 billion last year, with operating margins continuing to expand from the 30% achieved in 2016 to more than 34% in 2022. AWS added more than 1,430 new features and services in 2017 and over 800 this year alone, Thill notes.
He expects Google's cloud services revenues to grow more than 70% annually over the next five years to US$30 billion by 2022, from over US$2 billion in 2017 and US$4 billion this year. In comparison, Azure is forecast to chalk up US$10 billion in revenues this year and expected to grow more moderately at 40% to 50% annually over the next five years.
Almost every major company in the world uses some kind of cloud service or other. The roster of Amazon, Microsoft and Google reads like the Who's Who of business. AWS customers include Gene­ral Electric, Netflix, Airbnb, Workday, Expedia Group and Comcast. Yet, retailers and Amazon competitors are avoiding AWS because they do not want to hand over the competitive advantage to their key rival. Apple, for example, uses Google Cloud, as does Spotify Technology, in part because both compete with Amazon in music streaming. Netflix, which competes with Amazon in on-demand movies and videos, has been gradually moving some of its business to Google as well. Among Google's other cloud customers are Colgate-Palmo­live Co, Walt Disney Co, Home Depot, Snap, eBay and HSBC Holdings. Microsoft cloud customers include Amazon's top retail customer Walmart, Ford Motor Co, entertainment giant NBCUniversal Media, Warner Brothers, Daimler, insurer Geico, Japanese electronics firm Hita­chi and No 3 US cellular player T-Mobile US.
Massive capex
If cloud infrastructure is so profitable, why don't other companies invest in it and capture some of the humungous profit pool? The biggest barrier to entry for challengers of AWS or Azure is capital. Data centres are not cheap. Some of the larger facilities can cost up to US$2 billion and are the size of several football fields with more than 300,000 servers. Moreover, spending on cloud services is still accelerating, which means even a new player with tens of billions to splurge would still take years to scale up to effectively compete with the giants. RBC Capital's Daryanani estimates global capex on cloud services will grow 21.9% this year to more than US$74.9 billion, following 17.2% growth last year.
Few companies can outmatch the cloud giants' spending spree. Jefferies' Thill estimates that Amazon has invested US$19 billion in equipment purchases and real estate over the past three years alone and probably tens of billions more in the decade prior. Google, for its part, has spent US$15 billion on its own cloud facilities in recent years. Some years ago, Microsoft disclosed that it had invested more than US$15 billion in global data centre infrastructure until end-2015. It has presumably invested billions more since then to catch up with AWS.
As they have scaled up in recent years, the cloud infrastructure trio have drastically cut prices in their attempt to lure more companies to move to the public cloud or away from their own servers. Last December, Amazon reported its 64th price cut since its forays in cloud services. Cloud service prices have fallen up to 8% annually every year for the past several years, and analysts expect prices to fall more rapidly over the next five years, enticing an even bigger number of companies to move their data to the public cloud.
In Amazon's recently released quarterly results, AWS accounted for just 10% of revenues but 42% of the company's earnings before interest, taxes, depreciation and amortisation. Over the past two years, AWS revenues have grown at an ave­rage of 45% annually, with an enviable 30% operating margin. Competitors have battled Amazon with their cloud productivity applications suites, with Microsoft pushing its Office 365 and Google its G Suite, taking advantage of AWS's lack of its own bundle of productivity applications — although Amazon is reportedly looking to offer a similar suite to retain its competitive edge. Microsoft CEO Satya Nadella noted recently that customers who use Office 365 tend to use more cloud services from its Azure business.
Although Google is a distant third in the cloud infrastructure space, it is well positioned to close the gap with the other two because of its ability to leverage data analytics, AI and machine-learning capabilities. Microsoft, which has catered to corporate customers for decades, has an advantage with enterprises, as does Amazon, which has been providing spare cloud capacity to corporates for more than a decade. But Google has used its edge in AI to build its cloud services business. Increasingly, companies are finding Google's AI cloud services and data analytics useful in all sorts of applications.
The Big Three are being challenged by Chinese giants such as Alibaba Group Holding, Tencent Holdings and Baidu, which dominate the cloud services business in their domestic markets and have built a strong business in Southeast Asia. Alibaba recently overtook Inter­national Business Machines Corp to take fourth place behind AWS, Micro­soft and Google in cloud computing. The Hangzhou-based e-commerce giant has been winning major clients in Europe and making beachheads in US markets. In Europe, Alibaba has won clients such as accounting behemoth KPMG, food giant Nestlé, consumer electronics firm Philips, German software giant SAP and InterContinental Hotels Group. Singapore Airlines is a big Alibaba customer, and other large Asian companies are turning to Alibaba or Tencent for their cloud infrastructure needs. Tencent, which has a large cloud infrastructure business in China, has been in talks with Google to bring some of its cloud services such as Drive and Docs through local data centres and servers. Chinese search giant Baidu has also become more aggressive in rolling out its own cloud services.
Unlike the US and Europe, China is relatively underpenetrated as regards cloud services and Chinese companies are only now using remote public servers. Alibaba cloud services revenues are likely to top US$3 billion this year (up from US$1.67 billion last year) and Tencent about US$2 billion — compared with the US$24 billion that AWS is expected to rake in. But Chinese cloud players are ramping up fast. RBC Capital estimates Tencent will see US$2.9 billion in cloud capex this year, up 51% over last year, and Alibaba is pouring US$4 billion into cloud capex this year, up 38% over 2017.
'Everything as a Service'
RBC Capital's Daryanani believes public cloud vendors such as AWS, Azure and Google Cloud are likely to see the most leverage from AI and machine learning, given the massive amounts of raw compute power needed as well as large and growing data being generated. "Being able to run continuous analysis on large data sets requires an amount of compute power and storage capacity that makes public or hybrid infrastructure an attractive value proposition," he says.
Increasingly, Amazon, Microsoft and Google are expanding beyond cloud infrastructure to offer middleware, or PaaS, which includes application platform, integration, business process management and database services. The PaaS market is estimated at US$12 billion a year and is projected to grow to US$28 billion market by 2021. Other PaaS providers include IBM, Oracle Corp, Red Hat and SAP.
The fastest-growing and most attractive part of cloud services is Software as a Service. Software is owned, delivered and managed remotely by one or more providers. The SaaS market is estimated at US$59 billion currently and projected to grow to US$115 billion by 2021. Players in SaaS include Microsoft, Salesforce.com, Adobe, Workday, Intuit and DocuSign.
Investors in the cloud are switching away from Amazon and Microsoft, whose cloud revenues are slowing from lofty 70% annual growth to a more moderate 30% to 40% annualised growth over the next three years. Amazon's stock is up 61% this year and 554% over the past five years; Microsoft is up 21% this year and 207% over the past five years versus faster-growth SaaS players such as Salesforce.com, whose stock is up 43% this year, and Adobe, which is up 45% this year and 240% over the past five years. Google, whose stock is up a more modest 15% this year, is angling for a seat at the SaaS table with a slew of new applications.
Among other hot stocks in the SaaS space are Workday, which sells cloud-based finance and human resources software to small and medium-sized firms. Workday stock is up 45% this year. Another is finance and tax software firm Intuit, which is up 32% this year, and digital signature firm DocuSign, whose stock is up 115% since its IPO in late April.
IT services firm ServiceNow, whose earnings have been growing 60% annually, is another good play in the segment. Its stock is up 39% this year and 299% over the past five years. The cloud infrastructure growth story may be getting long in the tooth, but there is plenty of runway left, particularly in Software as a Service or, indeed, "Anything as a Service".
Assif Shameen is a technology writer based in North America
Save by subscribing to us for your print and/or digital copy.
P/S: The Edge is also available on Apple's AppStore and Androids' Google Play.