This article first appeared in The Edge Malaysia Weekly, on May 6, 2019 - May 12, 2019.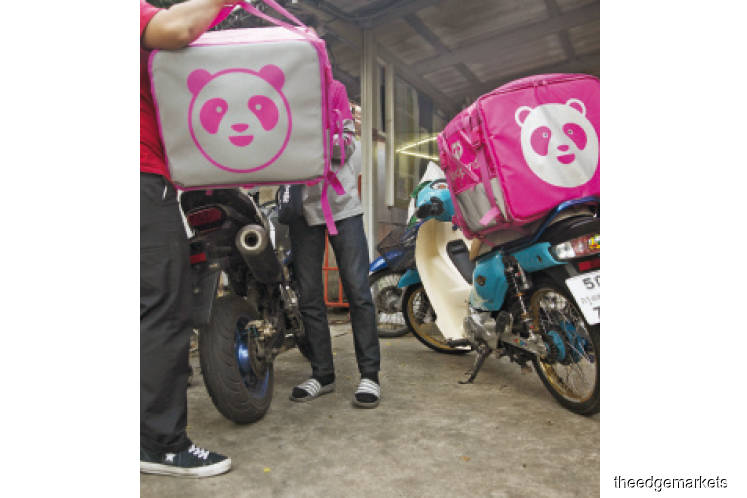 Delivery-ready at foodpanda … nobody is making money delivering food anywhere on earth. Photo by Bloomberg
EVEN as algorithms, and the artificial intelligence that underlies them, these days decide what news stories we read or what we should buy or watch on TV or, indeed, what we should wear, state-of-the-art Machine Learning still has not advanced enough to beat home-cooked meals.
Yet, how many of us have time to prepare meals every day. Clearly, where, what and when we eat is fundamentally changing. Food delivery apps on our smartphones have put an array of menus from affordable restaurants within our reach. Tap on your phone a few times and wait half an hour, and a warm meal will be at your doorstep even in the roughest weather.
Here is the ugly truth about food delivery: Nobody is making money delivering food any­where on earth. Although some of the larger players in the space may have been doubling revenues every two years, they are as far from profitability as they were when they first started delivering meals.
So far, even blitzscaling, the much-hyped lightning-fast path that Silicon Valley firms have used to build massively valuable companies such as Facebook or Google's parent Alphabet, has not worked with food delivery. Not surprisingly, the only large listed food delivery player, Grubhub, has seen its stock plunge 55% from last September's high. In the aftermath of Lyft's recent IPO and Uber's impending listing, short sellers have aggressively targeted Grubhub as its revenue growth slows from 30.6% last year to 20% this year.
To be sure, neither food delivery nor meal kits are a new phenomenon. Pizza and burger chains have delivered their own fare for decades and we all know of a neighbourhood restaurant that delivers. In the 1970s, frozen TV dinners were in vogue in the US. Now, smartphone-enabled connectivity and algorithms that help you find your favourite dishes at affordable prices are helping drive a boom in meal delivery.
The online food delivery market is worth more than US$35 billion a year globally and forecast to grow to US$365 billion by 2030. No wonder everyone wants a slice of the on-demand food business pie. More than US$20 billion in start-up capital has been raised for food delivery firms over the past five years. On April 30, the world's largest tech investor, Japan's SoftBank Group Corp, announced it was investing US$1 billion in Colombian delivery firm Rappi.
The most popular on-demand food business model is purely logistics-based delivery such as Grubhub, Uber Eats, DoorDash, Postmates or Caviar in North America or Just Eat and Deliveroo in the UK, and foodpanda, GrabFood and Go-Food in Southeast Asia. These firms basically sign up restaurants, which pay them a commission of between 15% and 35%. Food delivery players also charge customers separately. Yet, margins are thin, competition is fierce, barriers to entry are low, and promotions and discounting are aggressive. On a US$30 average meal order, a delivery firm earning a 25% commission and US$3 delivery fee takes in US$10.50, but its costs could be as high as US$16. The smaller your meal order, the higher the subsidies. 
Cut-throat competition
In North America, where there are hundreds of food delivery players, the top five — Grubhub, DoorDash, Uber Eats, Caviar and Postmates — have a combined 90% share of the total market in big cities. The top three have a 22% to 25% share each. Nasdaq-listed Grubhub remains the leader, with an 85% share of the market in New York, 61% in Philadelphia, and 60% in Chicago and Boston. Grubhub has expanded by buying up smaller local or regional competitors such as LevelUp, Tapingo and Eat24, paying US$1.1 billion for 10 acquisitions over the past five years.
No 2 player DoorDash, which like Uber has SoftBank as a key investor, is big in California and Texas (with a 77% share in San Jose and 38% in Houston), although Uber Eats is catching up nationwide. DoorDash has differentiated itself by doing exclusive deals with many restaurants and offering subscription services. Its DashPass costs US$9.99 a month for customers to receive unlimited, no-fee deliveries on orders of at least US$15. Once you have a monthly subscription with one firm, and your favourite restaurant is on only its app, you are unlikely to order from another one.
Globally, Uber Eats is the largest meal delivery platform outside of China, connecting 220,000 restaurants in more than 500 cities. In its recent IPO filing, Uber says it intends to further leverage its platform to expand to a further 200 cities where it currently offers only ride hailing.
No 5 player Postmates is not strictly a meal delivery firm. Its business model is more like honestbee, the cash-strapped beleaguered Southeast Asian outfit that is struggling to keep afloat, in that it delivers not only meals from restaurants but also groceries, drinks or just about anything you want delivered. San Francisco-based Postmates, which recently filed for IPO, is often unfairly compared with China's delivery giant Meituan Dian­ping.
Pierre Ferragu, an analyst for NewStreet Research in New York, says the fierce cut-throat competition in the global food delivery business is clearly unsustainable. He predicts sooner or later there will be consolidation in most markets. Eventually, he argues, a duopoly in food delivery will emerge in key cities or, at best, possibly three major players in most markets, with Uber Eats being among the best positioned globally.
Fine dining is experiential. Famous chefs and top-notch restaurants in your city do not want to hand over their food to some delivery guy. They want you to come to their restaurant and enjoy the food there. Moreover, not all restaurants want delivery firms to take your favourite meal to your door. Pizza chain Domino's delivers its own pizzas and has vowed that it will never allow Grubhub or Uber Eats to deliver its pizza. Domino's, which has wafer-thin margins on its crusty pizza, makes money from selling dough and toppings to its franchises, not from delivering pizza to your doorstep.
CloudKitchens
One business model combines logistics with kitchens — the two key ingredients of food delivery. Increasingly, logistics players are investing in large central kitchens as well as food warehouses, buying meat, vegetables and other stuff in bulk, hiring chefs to prepare meals in a central place, often shared, and then shipping it out to homes, offices, factories or wherever their customers are. There are no restaurants attached to the kitchens that are geared only to deliver food. This model has better economies of scale and a leg-up in logistics, as its kitchens and delivery centres are more centrally located.
A variation on the theme is CloudKitchens, which builds kitchens for chefs who want to start food-delivery businesses. Uber's co-founder Travis Kalanick, who will be worth nearly US$14 billion after the ride-hailing giant's IPO, bought the firm last year. CloudKitchens also develops software to help run the food-delivery-only kitchens. It does not support restaurants, nor is it a food delivery firm directly competing with Uber Eats (Kalanick remains Uber's second largest shareholder). Several European food delivery firms, including Deliveroo, have built shared-kitchen services or "dark kitchens". CloudKitchens has opened kitchens in Los Angeles, San Jose and London, and is looking to open more around the world.
Another model is prepared meal kits that are ready to be cooked or, in the case of salads, eaten. Meal kits are not pre-cooked, ready-to-heat-up frozen TV dinner lookalikes. They include ready-to-cook, pre-portioned fresh ingredients and recipes for a nutritious meal. Venture capital firms poured US$500 million into meal-kit start-ups, which promised a subscription meal model in 2015. Between 2016 and last year, another US$600 million was poured into meal-kit firms.
Disruption in food space
The best-known player in the meal kits space is Blue Apron, which rushed its IPO in July 2017 at US$10 a share, valuing the firm at around US$2 billion. Blue Apron had been valued by venture capitalists at US$3.2 billion just months earlier. Among its competitors are HelloFresh and Home Bistro.
By last December, its stock had plunged to 66 US cents. Last week, it was hovering just above US$1, or a market capitalisation of US$200 million. Blue Apron's revenues peaked in 2017 at US$881 million. Last year, they were down to US$667 million. Analysts have been busy cutting revenue forecasts, and analysts' consensus is that Blue Apron will barely sell US$550 million worth of meal kits this year.
Yet, even as meal-kit firms struggled or — like Chef'd, which had raised US$40 million from Campbell Soup and other investors — went bust, meal kits have found new life as marketing tools for grocery chains, which are stocking them to help provide shoppers with additional convenience. US grocery chain Kroger acquired meal-kit start-up Home Chef and rival Albertsons bought Plated. Walmart has tried a different tack, signing up deals with several smaller firms to buy their meal kits and sell them in its stores.
The elephant in the room, of course, is Amazon.com, by far the most efficient logistics player on earth. Amazon has built up substantial market share in a handful of cities, including its hometown Seattle; as well as Austin and Dallas in Texas; Phoenix, Arizona; and Columbus, Ohio in meal delivery.
With its Whole Food acquisition two years ago, Amazon is now a major player in groceries. Just as Americans use their Alexa-powered Echo devices to order groceries, they could soon be ordering meals or meal kits from Amazon. No tech company has ever won by underestimating Amazon as a challenger.
While any reports of the impending death of the kitchen may be — to borrow a quote from Mark Twain — greatly exaggerated, and any talk that we might just tap on our smartphone and wait for a drone to deliver a robot-cooked meal a bit premature, the food business has already been upended.
Assif Shameen is a technology writer based in North America