This article first appeared in The Edge Malaysia Weekly, on April 8, 2019 - April 14, 2019.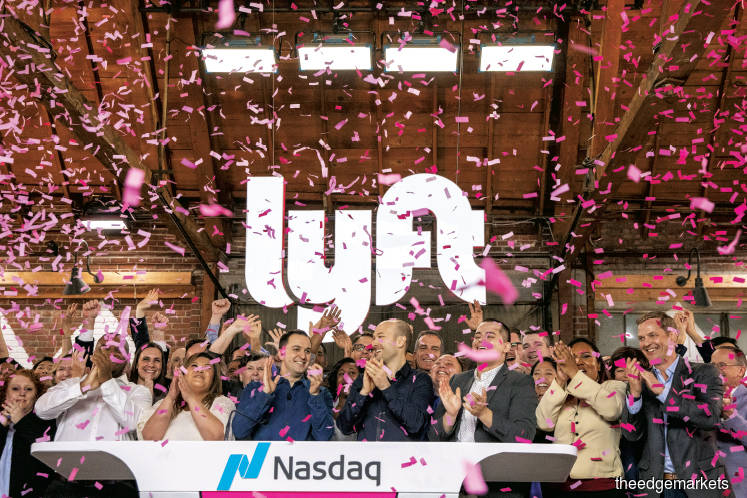 Lyft co-founders Logan Green and John Zimmer cheer as they ring Nasdaq's opening bell at its IPOPhoto By Bloomberg
ON March 29, Lyft, the No 2 US ride-hailing player behind giant Uber Technologies, began trading on the tech-heavy Nasdaq bourse. As it entered the final stretch to its listing, Lyft had raised the price range of its IPO to between US$70 and US$72 a share, above the US$62 to US$68 range that its investment bankers had been marketing. The final price was US$72, which meant Lyft was raising as much as US$2.46 billion ­(S$3.3 billion) in all from the listing, giving it a valuation of over US$24 billion.
Lyft shares opened at about US$87 — nearly 20% above the IPO price — and surged to a high of US$88.60. By the close of trading on the first day, the stock was US$78.29, or 9% higher. By any measure, it was a respectable IPO.
Much to the chagrin of IPO investors, however, the stock did not get the lift they were hoping for when trading began on April 1, its second day of trading. Lyft shares fell 11.8% to US$69.01, or way below their IPO price — an ominous sign for a growing number of Silicon Valley darlings queueing up to leap into the waiting jaws of the public markets. At one point on the second day, the stock fell as low as US$67.78, or 22%, from its highs on the previous trading day.
2019 is being billed as the big year of tech IPOs on Wall Street. There is a long pipeline of more than 230 IPOs with an estimated total valuation of over US$1 trillion awaiting listing this year. If all the companies in the IPO queue actually list, it will be the best year for IPOs since 2000, the height of the dotcom boom, when 406 new companies were listed on the Nasdaq and New York Stock Exchange.
About 30 companies in this year's IPO pipeline are unicorns, or venture capital (VC)-funded private tech companies with valuations of over US$1 billion, compared with 19 unicorns that listed last year. What is different this year is that at least 11 — including Uber, Lyft, CIA-funded big data giant Palantir, hospitality and home sharing firm Airbnb, photo sharing site Pinterest, messaging and productivity app provider Slack and shared workspace provider WeWork — are actually decacorns, or private firms with valuations of more than US$10 billion.
Much anticipated IPOs
One reason investors are so eager to partake in tech IPOs is that there is a dearth of listed, high growth firms. Tech start-ups funded by VCs have been choosing to stay private for longer, which means retail investors have not enjoyed the upside they have been used to from high growth players in recent years.
It took Apple four years from being an idea in Steve Jobs' garage to IPO; Amazon.com three, Google six and Facebook eight years after it was founded in Mark Zuckerberg's dorm room. When they finally list over the next few months, Uber, Slack and Pinterest would have spent more than 10 years as private firms. VC firms that enjoyed a huge payday with Facebook and other tech listings over the past decade have been happy to keep funding start-ups for years, patiently waiting for a much bigger payday down the road.
Yet, Lyft, Uber or Southeast Asia's Grab, China's Didi Chuxing and India's Ola are no Google, Facebook or even Amazon, says Paul Meeks, who runs the Wireless Fund in Bellingham, Washington. "Ride sharing firms do not benefit from the network effect that has underpinned the rise" of the Facebooks of the world. "For technology to be successful, you need to have some network effect so increasing numbers of users beget even more users, and the service becomes more valuable over time."
Indeed, "with surge pricing and traffic, ride sharing firms might actually have a negative network effect", he argues. "As Lyft gets larger, they may have some cost synergies, but I don't see them making money anytime soon." There is a reason why ride ­sharing firms shunned IPOs for a decade. They needed a ton of capital to keep funding driver incentives and rider discounts. "You just couldn't have funded ride sharing in the public markets," Meeks tells The Edge Singapore.
The rise and rise of ride sharing can be ­attributed to the ubiquity of smartphones and connectivity. Tom White, analyst at D A ­Davidson in New York, says ride sharing is not merely a substitute for taxis but also part of a larger phenomenon of disruption of ownership models as increasingly more people share rather than own music, software and now cars. The rising cost of car ownership is driving the adoption of the on-demand "Transportation as a Service" (TaaS) model. Car ownership and usage in the Western world has been declining for years, particularly among millennials but also among other age groups. Aware that used-car values are likely to fall dramatically over the next three to five years as the world transitions from internal combustion engine vehicles to electric vehicles (EVs) and vehicles that are increasingly more autonomous, or AVs, fewer buyers are kicking tyres in car showrooms these days.
Americans spend US$1.2 trillion annually on personal transportation, including cars, maintenance, assorted taxes, insurance, gasoline and parking fees. The US taxi, car hire and limousine market is valued at US$24 billion a year. White believes that by 2029, the total market opportunity for ride sharing companies will grow to over US$105 billion, or more than four times last year's total traditional taxi and hired car business in the country. In the meantime, the ride sharing industry, the Davidson analyst argues, will have plenty of growth runway, with its advantages in convenience, value and payments.
The North American ride hailing market is split roughly 60:40 between Uber and Lyft, though Lyft had been gaining market share ahead of its IPO. Many drivers drive for both Uber and Lyft, toggling between the two apps on their smartphone. Lyft is a pure-play American ride hailing firm while Uber also operates outside North America and has diversified into Uber Eats and Uber Freight. Grab and Go-Jek are dabbling in financial services, including payments, though that has not nudged them any closer to profitability.
Is ride sharing model sustainable?
Last year, Lyft had revenues of US$2.2 billion, up 100% from US$1.1 billion in the previous year, with bookings rising 76%. Net losses totalled US$911 million, much more than the US$688 million that it lost in 2017. (Uber reported adjusted losses of US$1.8 billion on revenues of US$11.4 billion in 2018.) Lyft's prospectus is fairly upfront in stating there is no quick or clear path to profitability in ride sharing. Moreover, the firm is now investing in last-mile transportation such as bike sharing and scooter rentals, which are becoming increasingly popular in many American cities. White estimates Lyft revenues will rise 55% this year to US$3.35 billion and another 30% next year to US$4.37 billion.
So, why is Lyft's stock in free fall? For one thing, investors are not sure if the current ride sharing business model is sustainable. Boosting ridership with hefty promotional discounts and foregoing surge pricing ahead of their respective IPOs was the easy part for Lyft and Uber. How much price elasticity is there in ride hailing? How fast can ride hailing firms grow without the rider discounts and driver incentives? Consider this: If you pay US$12 for a Lyft ride, it costs the company US$17. If Lyft is currently losing 42% on every ride, its losses will certainly increase as it slashes those discounts because fewer riders would be willing to pay 50% more for it to make a decent margin.
Pierre Ferragu, analyst at New Street Research in New York, believes that ride sharing is a natural duopoly and that at some point over the next three or four years, Uber and Lyft will cut discounts and incentives, which in turn will help them to break even and eventually turn a profit. D A Davidson's White says higher prices will actually make ride hailing less — not more — profitable because for many, it will simply become unaffordable. For the TaaS model to take hold, pricing for a ride on Uber or Lyft needs to fall another 30% to 40%, he argues.
Clearly, ride hailing firms are unlikely to reach scale until they become so affordable that most people realise that owning a car makes little or no sense. That might require eliminating the driver from the equation.
Although Alphabet's Waymo already has a pilot autonomous taxi service in Phoenix, Arizona, and Dublin-based ­Aptiv, which controls nuTonomy, has its own AV taxi pilot service in Las Vegas, clearly, we are still several years away from seeing commercial autonomous taxi services in San Francisco, Sydney or Singapore.  
Ride hailing's penetration is low currently, about 1% of total miles travelled, but is forecast to increase significantly when autonomous taxi platforms proliferate. The biggest beneficiaries will be companies that own the autonomous technology stack, such as Tesla. "Lyft does not have a credible autonomous strategy," notes Tasha Keeney, buy-side analyst at ARK Invest, a tech-focused fund manager in New York. Lyft's share of gross revenues is roughly 27%, up from 18% three years ago. "Compared to companies like ­Tesla, General Motors' Cruise Automation and Waymo, neither Lyft nor Uber is very far along in the development pipeline for autonomous cars," she says. Keeney estimates that a ride in an autonomous or robo taxi will cost consumers 26 US cents per mile, less than half the cost of a personal car and less than one tenth the cost of a manually driven taxi.
The way she sees it, autonomous taxis will submit to natural geographic monopolies, giving first movers an advantage, as highly utilised taxi fleets will collect data and use deep learning to improve driving performance. Without a clear path to autonomous commercialisation, Lyft will probably continue to partner companies like Aptiv that are developing the tech stack and, as such, its share of the platform fee is likely to drop from the mid-20% range for rides today to 5%. That means autonomous taxis will make Lyft even more vulnerable than it is today.
So, should investors hitch a ride on ­Lyft's newly listed stock or other upcoming ride hailing IPOs? Even if regulation delays the debut of autonomous taxi platforms, Lyft's large insurance liabilities is likely to be one big concern. Indeed, analysts say insurance costs could skyrocket if Lyft continues to pursue the business of scooters since they are nearly 220 times more dangerous than cars. Investors in Uber's upcoming IPO, like those in Lyft, will see more pain than gain as would other ride hailing IPOs, be it Grab, Ola or Didi. They might not be able to withstand the heat and beating in the public markets or the bumpy ride until autonomous taxis finally arrive.
Assif Shameen is a technology writer based in North America