This article first appeared in The Edge Malaysia Weekly, on August 7, 2017 - August 13, 2017.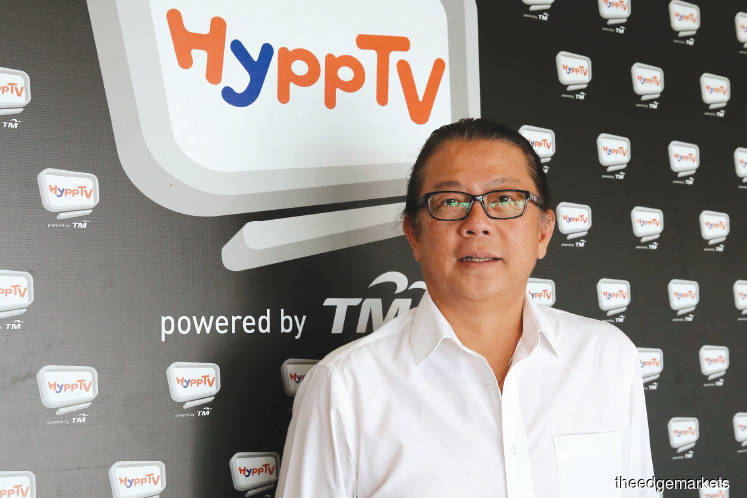 WITH intense competition for viewers among pay-TV operators, Telekom Malaysia Bhd's (TM) Internet Protocol television (IPTV) service HyppTV is expanding its offering of over-the-top (OTT) services.
TM executive vice-president of new media Jeremy Kung Eng Chuang says HyppTV welcomes OTT providers to its TV platform as it looks to respond to growing consumer demand for flexible, on-demand services.
Already, HyppTV has partnerships with iflix and Viu, and has signed agreements with Yupptv and Lebara to carry their Indian channels and movies on its pay-TV service. It will also add Media Prima Bhd's OTT service tonton and Star Media Group Bhd's dimsum to its own content packages soon.
"We see OTT services as complementing our pay-TV offerings to our subscribers. Take Viu — about 75% to 80% of its content is Korean programmes that we don't have. Today, we have only two Korean channels, that is, tvN and tvN Movies," Kung tells The Edge.
On the partnership with iflix, he says its library content complements HyppTV's existing linear TV and video-on-demand (VOD) channels that offer the latest movies from Hollywood. "That's why we work with people like iflix and there's a lot more to come. Once we see the needs … that they can complement our offerings, we will work with them."
Of HyppTV's existing 110 channels, 53 are premium, 26 free, two radio, seven VOD and 22 interactive.
Allowing OTT providers to deploy their premium content on set-top boxes also offers HyppTV revenue-sharing opportunities, notes Kung.
"Most consumers are already watching OTT video via broadband connections like UniFi as opposed to the more expensive mobile data plans. If that is the case and the OTT providers have content that we don't, then let's work together.
"And now we get a percentage of their revenue. That is a better formula. As more and more OTT players come into the market, our [fixed broadband] network will be used even more," says the 53-year-old.
In a July 5 report, Hong Leong Investment Bank Research media analyst Sia Ket Ee notes that the market has caught up really quickly with advanced alternatives such as internet, streaming and on-demand entertainment. "Hence, people are generally cutting cords and waving goodbye to traditional TV, which explains the 2.4% year-on-year fall in Astro Malaysia Holdings Bhd's subscription revenue in the first quarter of 2017," he says.
While TM does not disclose standalone numbers for HyppTV, Kung says it saw a 58% year-on-year increase in pay-TV subscription revenue last year. "We saw good take-up, especially in the vernacular channels. We have also seen an increase in airtime revenue as more viewers come on board."
However, he says, HyppTV has been impacted by the weaker ringgit, which has fallen 6% against the greenback over the past year. "Definitely. A lot of our international content is paid for in US dollars but we try to manage the situation by getting our content partners to share 5% to 10% of the risk with us."
TM's financial results for the first quarter ended March 31, 2017 (1QFY2017), show that its internet revenue rose 8.4% year on year to RM969.1 million due to higher UniFi and IPTV content revenue. UniFi's average revenue per user (ARPU) improved 4.7% year on year to RM201 in line with the increase in its customer base to 978,769 as at 1QFY2017 from 877,000 a year ago.
Still, when dominant rival Astro faces challenges in retaining subscribers amid poor consumer sentiment and another pay-TV counterpart, Asian Broadcasting Network (M) Sdn Bhd, is in the process of being wound up, HyppTV is seeing good numbers as the IPTV service is bundled with TM's other services, such as fixed voice, broadband, and mobility with webe.
To date, HyppTV has more than 1.4 million subscribers, representing a 10% household penetration. Of the total, 60% are subscribers who pay for HyppTV's content, says Kung.
In comparison, Astro's subscriptions stand at 5.15 million, representing a 71% household penetration.
Kung concedes that HyppTV trails incumbent Astro significantly as the latter had a first-mover advantage, having been around for over two decades. However, he stresses that HyppTV is more than just a complementary service to TM.
"If the [pay-TV] service is not core to TM, there is no reason for TM to do the business. To the group, all these [broadband, voice, content and mobility] are core businesses, although our 'hero' product may be broadband. Still, the other products are part and parcel of the whole service," he says.
"Broadband is now being commoditised. So, how do we maintain if not increase our ARPU? We look at it (HyppTV) as a service that will help us grow the group's revenue and ARPU."
Recognising that it is vital for media companies to develop content that can travel across various platforms, HyppTV also partners mobile phone operators like webe, Digi.Com Bhd and U Mobile Sdn Bhd to offer its content on their customers' smartphones.
So far, the response has been tepid due to the expensive data plans, says Kung. "The average top-up for these mobile users is RM10 to RM15 a month in the prepaid market. The average price for the content is also RM10 to RM15 a month, and their top-up finishes very quickly. But it is okay as long as they are consuming."
So, does the surge in digital platforms mean the death of television? Certainly not, says Kung.
"I think Malaysians should be given options to choose from. That's where we (pay-TV operators) come in. It's also interesting to see OTT players coming in and complementing the market. The pie has grown in size. OTT players haven't replaced pay TV. It becomes a complement to the pay-TV service," he adds.
In fact, Kung believes the biggest challenge faced by the traditional pay-TV industry is piracy. "You feel happy that people are pirating your content because they want to watch. But you feel sad because you don't get any revenue from it. How would you continue to invest? Where are you going to get money to invest if you don't get your returns back from your previous content investment?" he says, adding that the industry and the Ministry of Home Affairs have formed a group to fight piracy in Malaysia.
"It is not just a Malaysian problem but a global one. It sounds like we're fighting a losing battle but this is something that we must continue to fight. Respect for intellectual property rights must start in early education."
According to Kung, HyppTV does not introduce a fixed number of channels per year. "We introduce what we think will work for us and within our budget. Last year, for example, we added 10 to 12 new channels. But we also terminated channels that did not perform. I strongly believe that when we pay a certain amount of money, we expect certain content to work and if it doesn't, we will terminate it."
Thus, whether or not TM bids for the next round of rights to televise matches from the widely followed English Barclays Premier League (BPL) via HyppTV will depend on whether it "makes sense", says Kung. Astro has retained exclusive rights to BPL until the 2018/2019 season.
"We don't know. It (next round of BPL broadcast rights bid) is still two years away. If the cost is, say, US$300 million to US$400 million, we have to ask ourselves whether that is something that we want to spend. We will do it if it makes sense to us.
"But TM's business is not just content. As a group, we have to weigh whether we get more returns by putting money into the Premier League or from investing in a brand-new data centre, for example," says Kung, adding that TM ended its tie-up with Astro to air 6 out of the 10 BPL matches on HyppTV in August last year.
"Sport is very different from the other genres, especially live sport. For the two hours of that match, your viewership will be very high. Once it becomes a repeat, it goes down. Because the live Premier League football matches take place only on Saturdays and Sundays, you need to populate the channel with other content from Monday to Friday. So that involves additional cost.
"I think it will only work if we have the exclusive broadcasting rights."
HyppTV's best-performing content is that which caters for children, general entertainment, movies and the vernacular channels.