This article first appeared in The Edge Malaysia Weekly, on August 5, 2019 - August 11, 2019.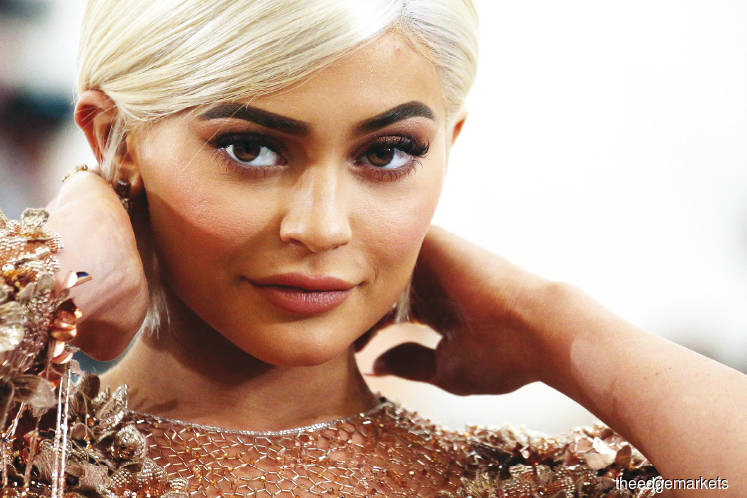 With Shopify handling the back end of the business, Kylie can focus on being an influencer on social media. Photo by Reuters
WHO was the youngest person ever to become a billionaire? Here's a clue: Forget Silicon Valley tech entrepreneurs who started software or internet firms from their university dorm room or their parents' garage. Last year, Kylie Jenner, the youngest of the Kardashian-Jenner reality TV star brood that includes her famous half-sisters Kourtney, Kim and Khloé, and sister Kendall, became a billionaire in her own right at the ripe old age of 20.
Behind every successful young entrepreneur these days is a software or an idea to sell something online. It is not a surprise, then, that a key enabler of Kylie's spectacular success story was a software that helped achieve her goal of selling affordable cosmetics. With just five full-time employees, no sales staff, factories, warehouses or even a marketing budget, Kylie turned a simple idea into a billion-dollar business that she founded at 17 with a capital of US$250,000. She did not borrow money from banks, pitch her start-up to venture capital firms, tap her wealthy family for capital or woo private equity partners to help her venture grow. She funded it entirely from her own earnings made from modelling.
Kylie Cosmetics' entire first batch of US$29 LipKits — liquid lipsticks and lip pencils — literally sold out just one minute after Kylie announced the launch to her 140 million Instagram followers and 13 million who followed her Twitter feed in November 2015. The Bloomberg Billionaires Index currently estimates her net worth at over US$1.02 billion, far more than all her "famous for being famous" half-siblings and their respective partners combined.
So, how did Kylie do it? The secret sauce in her ascendancy was Shopify, a Canadian cloud-based software company that helps build online stores and businesses, handles payments, billings, shipping and logistics, or just about everything that is needed to sell goods on the internet. Essentially, Shopify simplifies the process of running an online store. All Kylie had to do was be an influencer on social media, particularly Instagram, and the cosmetics, whose manufacturing was outsourced, were so good that she racked up hundreds of millions in sales annually.
As retailers around the world struggle to ward off the humongous e-commerce machine called Amazon.com, Shopify is throwing a lifeline particularly to small and medium-sized physical stores as well as e-commerce start-ups, helping them craft a coherent digital strategy and compete head- on with giants like Amazon, and win.
Before Shopify, the only real option, even for someone as famous as Kylie, would have been to peddle her cosmetics on Amazon itself as a third-party seller and hope for the best. Yet Kylie would never have been allowed to build a great brand on a marketplace like Amazon. Indeed, if her lipsticks were wildly successful, algorithms would have helped the e-commerce giant to copy the idea and sell lookalike "white label" cosmetics at half the price, using the massive trove of data it had collected and sophisticated artificial intelligence.
Founded as online snowboarding equipment retailer, Snow­Devil, by then 24-year-old Tobias Lütke and his friends Daniel Weinand and Scott Lake in a garage 14 years ago, the company went on to build an online shopping platform on an open source web framework and renamed itself Shopify. "We could have listed our products on a number of marketplaces, but we wanted to own our brand and build relationships with our customers, along with selling our goods," Lütke recalled in an interview a few years ago. Because such a tool did not exist, he and his friends went about building it for themselves. The snowboard store was such a hit that its founders faced an avalanche of enquiries from aspiring entrepreneurs asking how they too could create a similar online store. So, Lütke and his mates built an online shopping platform for the rest of us.
Tools to sell on the internet
Shopify basically offers tools to help you sell anything on the internet. If you have something to sell online and are looking for an inexpensive solution to market it around the world, Shopify is the way to go. Sure, there are plenty of online platforms such as Wix.com, which helps you build your own website, or GoDaddy, which can help with domain names and web hosting, but you will still need to do a lot of things at the back end to make sure you can execute orders, ensure timely product delivery and take care of billing, finance, marketing and online security. Now, imagine one company that can do all that without charging an arm and a leg. "Shopify focuses on making e-commerce better for everyone, so entrepreneurs can focus on what they do best: creating and selling their products," notes Lütke.
Over 800,000 retailers in over 175 countries now use the Shopify platform. Beer giant Budweiser, Swiss consumer products behemoth Nestlé and electric car ­pioneer ­Tesla are among Shopify's clients. If you need help to peddle anything over the internet — beer, cars, packaged food or fashion accessories — Shopify is just the platform for you.
Shopify grew its gross merchandise volume from US$7.7 billion in 2015 to US$41 billion last year. Revenue grew over 59% last year to US$1.09 billion. Analysts expect revenue to grow 46% this year and about 40% next year. Shopify listed on the Toronto Stock Exchange and New York Stock Exchange four years ago at US$17 a share. One of the world's best-performing stocks since its 2015 IPO, Shopify has rocketed over 19-fold — to US$340 this past week — and now has a market capitalisation of US$38 billion. As a software-as-a-service, or SaaS, platform, Shopify handles the nitty-gritty at the back end of e-commerce, so, like Kylie, you can just do your own thing and keep conjuring up fancy new products. Let's say you want to open an online store selling T-shirts with graphic art designs. You can learn coding, how to advertise on the internet, learn web design and find out about web hosting, or you can outsource everything to Shopify, which will take care of all the details for a monthly fee plus a small cut of your revenue, typically 0.15%. (Kylie Cosmetics reportedly paid US$40,000 a month in fees plus 0.15% of US$330 million in revenue in 2017 to Shopify.)
Smaller merchants might pay just a few thousand dollars a year. If you would rather design your own website, Shopify is happy to provide you with software to do just that. It will also link your website to social media as well as online marketplaces, such as Amazon or Alibaba, and help you create the buzz you need to push your products. Its software allows you to track customer data, run email marketing campaigns, perform analytics and even helps manage inventory.
SaaS platforms such as Shopify are not the only ones that help build and scale e-commerce businesses. One problem with such SaaS platforms, however, is their cookie-cutter approach. The websites, particularly those built for smaller customers that pay it just a few thousand a year, all look fairly similar — almost as if they were created from a template.
In contrast, open source online shopping platforms such as Adobe's Magento allow large companies like Coca-Cola to build their own websites, make changes whenever they want and differentiate themselves from competitors. For that, they pay Magento fees ranging from a few thousand to millions of dollars. Among Magento's customers are sneaker giant Nike, education software firm ­Rosetta Stone, and camera maker Olympus. They pay for everything from web hosting to web design, which can cost upwards of US$10,000.
An Amazon without its own store
What's next for Shopify? A key driver of growth now is its business outside North America — Europe, Latin America and Asia — which grew 100% annually in the last quarter. Another is Shopify Unite, its new fulfilment network. Customers increasingly want their online purchases fast, with free shipping. Because Amazon is now focusing on two-day or one-day delivery for Amazon Prime customers, the only way online businesses can compete is to get their own goods to customers as promptly as possible.
"Shopify is getting to the point at which breadth of product, vibrancy of partner ecosystem, and general retail scale will enable the firm to pull away at an exponential pace," says Richard Davis, an analyst at Canaccord Genuity.  
Until now, Shopify has worked with third-party logistics companies, but to take on Amazon head on, it is building its own fulfilment centres across North America and partnering others to build centres globally using cutting-edge technology. Shopify says it has negotiated low rates with a growing network of warehouse and logistic providers and will pass on those savings to its customers. It will do custom packaging, branding and take care of the returns and exchanges, and even handle after-sales customer care, just as Amazon does for its third-party sellers.
Shopify increasingly resembles Amazon.com. "At first glance, Shopify isn't an Amazon competitor at all," notes Ben Thompson, a tech strategist who writes the Stratechery blog. "After all, there is nothing to buy on Shopify.com."
Yet, 218 million people bought products from Shopify last year without even knowing the company existed because the Kylie Cosmetics, Nestlé and Tesla websites are created and powered by Shopify's platform. "Instead of interfacing with customers directly, 820,000 third-party merchants sit on top of Shopify and are responsible for acquiring all of those customers on their own," Thompson notes. That means they have to stand out not in a search result on Amazon.com, or offer the lowest price, but rather earn customers' attention through differentiated product and social media advertising. "Amazon is pursuing customers and bringing suppliers and merchants onto its platform on its own terms while Shopify is giving merchants an opportunity to differentiate themselves while bearing no risk if they fail," he says.
In the long run, it is the young entrepreneurs in emerging markets with great ideas but lacking in inexpensive tools to market their goods regionally and globally who would benefit most from Shopify's software, its fast-growing platform and its fulfilment network. To set up a successful online business, all you need is the right tools. If a 17-year-old can build a business worth a billion dollars from scratch in three years, anybody can.
Assif Shameen is a technology writer based in North America