This article first appeared in The Edge Malaysia Weekly, on May 11, 2020 - May 17, 2020.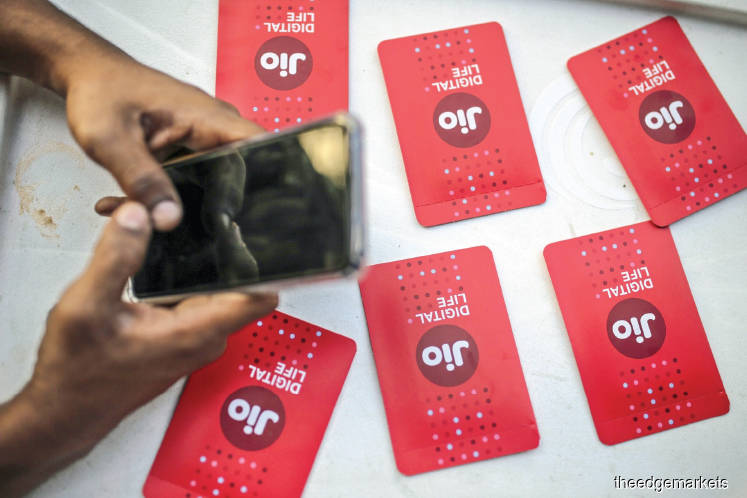 Jio's e-commerce platform could be integrated with WhatsApp to create a Chinese-style super app. Bloomberg
LATE last year, I wrote in this column about ByteDance, the company behind the video-clip app Douyin, news app Jinri Toutiao and TikTok. Byte­Dance, with a valuation of US$75 billion (RM324.3 billion), as I noted, was the world's biggest unicorn — a venture-capital (VC) funded private firm valued at over US$1 billion. Close on ByteDance's heels is Mumbai-based Jio Platforms, a subsidiary of India's largest listed firm, oil-and-petrochemicals behemoth Reliance Industries. Jio combines all of Reliance's digital and mobility businesses, including India's No 1 cellular services provider Reliance Jio Infocomm, the country's biggest broadband provider, as well as an array of digital firms. On April 22, US social media giant Facebook bought a 9.99% stake in Jio for US$5.7 billion. Eleven days later, Silicon Valley VC firm Silver Lake Partners purchased a 1.15% stake in Jio for US$750 million.
To be sure, Jio's sudden emergence as one of the world's biggest and most watched unicorns has something to do with Reliance's hugely leveraged balance sheet. The Indian oil giant had piled up huge debts by diversifying into consumer businesses such as cellular, broadband and digital services, including the streaming of movies and music. It had spent nearly US$50 billion on its telecom and digital strategy over the past decade.
Facebook's acquisition of a stake in Jio is all about monetising WhatsApp and expanding Facebook's reach. The Messenger app is already being used by nearly 450 million Indians. Facebook CEO Mark Zuckerberg has long wanted Facebook to emulate WeChat, which has 1.1 billion users. Facebook makes money from collecting as much data on its users as possible and then selling ads against that data. The best way to collect a ton of data from users is to keep them engaged for a prolonged period of time on your platform. Better still, do not let them leave your platform. Instagram, owned by Facebook, is already morphing into a super app of sorts.
Linked to the messaging app, the digital payments platform WhatsApp Pay could help Facebook expand into e-commerce. This is where JioMart, Reliance's e-commerce platform, comes in. The deal will provide Facebook with direct access to Jio's 375 million subscribers and a strong foothold in the world's fastest-growing mobile market.
Founded in 1973 as a textile firm by Dhirubhai Ambani, Reliance grew by vertically integrating its operations, moving upstream into petrochemicals and eventually, oil and gas. It democratised India's stock market by creating an army of millions of shareholders and still holds its annual general meeting in a sports stadium. After the founder's death in 2002, his sons Mukesh and Anil duelled over control for years until their mother forced a truce. Elder brother Mukesh inherited the main textile and petrochemical business while Anil ventured into new businesses such as telecoms. But within five years, Anil had run the capital-intensive telco aground, having piled it with huge debts.
Mukesh then bailed him out and entered the lucrative telecom business himself, investing US$33 billion to build a 4G network. His marketing playbook was simple: offer cheap data rates and free domestic calls to build a huge subscriber base. Over the past five years, it has lured 375 million subscribers, driving smaller telcos such as Reliance Communications, controlled by Anil, and Aircel, owned by Malaysian billionaire Ananda Krish­nan, to the ground and severely denting the prospects of former leaders Bharti Airtel, in which Singapore Telecommunications has a substantial stake, and Vodafone India.
Two years ago, the Indian petroleum giant articulated its e-commerce strategy, taking on global retailing giants Amazon.com, Alibaba Group Holding and Walmart in India. But plunging oil prices and tepid demand for petrochemical products meant its debts had become an albatross around its neck. Debts within its telecom-related units are reportedly more than US$25 billion. Now it is implementing an audacious deleveraging strategy to cut its net debts to zero by end-2020. It has already announced US$14.5 billion worth of deals, including Facebook's and Silver Lake's purchase of Jio, the sale of a 49% stake in a fuel retailing venture to UK oil giant BP for US$920 million, and a rights issue that will see it raise US$7 billion.
Reliance is also awaiting the completion of the US$3.31 billion sale of its cellular tower assets to Canada's Brookfield Infrastructure Partners. A deal to monetise its fibre assets — Jio Digital Fibre — was abandoned in October when Singapore's GIC, Abu Dhabi Investment Authority and I Squared Capital, an infrastructure fund, withdrew from the negotiations following differences on operating terms. Reliance is still seeking to sell 20% of its oil and petrochemical business to Saudi Aramco for over US$15 billion. The entire deleveraging process will provide US$32.8 billion in cash to Reliance, allowing it to retire all of its debts and have plenty of money left over to fund current and new ventures.
E-commerce strategy
Reliance brought in Facebook as a shareholder in Jio because it needed cash to cut its burgeoning debt load and help fast-track its JioMart e-commerce platform. India's e-commerce market is dominated by three foreign players — Amazon.com; Walmart, which two years ago bought Indian e-commerce firm Flipkart for US$20 billion; and Chinese e-commerce giant Alibaba. The market, which was merely US$14 billion in 2014, is forecast to grow to US$188 billion by 2025 and over US$200 billion by 2027. A growing digital population that is expanding beyond the country's urban centres and the increasing use of smartphones has been helping to drive the growth of e-commerce in Asia's third largest economy behind China and Japan.
For its part, Facebook is trying to capture India's burgeoning e-commerce market by combining Jio's connection to the country's 30 million small businesses with its own user network. Jio's e-commerce platform, when integrated with WhatsApp, will create a Chinese-style "super app" akin to Tencent Holdings' WeChat, offering a variety of products and services, including digital payments and local delivery.
To compete head on with Amazon and Walmart's digital offerings in India, JioMart is betting on connecting India's 6.6 million kiranas, small family-owned neighbourhood shops selling groceries and other sundries, with WhatsApp. "JioMart combines the retail capabilities of Reliance with the messaging and payment strengths of WhatsApp," notes Rahul Malhotra, an analyst for Bernstein & Co in Mumbai. "JioMart empowers the kiranas by bringing incremental customers and better control on supply chain," he argues. Its tie-up with WhatsApp will also help resolve issues like "frequent stock outs, inability to predict demand and accept digital payments", he notes. Kirana stores lose up to 15% of their sales every month to those issues.
The way Malhotra sees it, Reliance is already India's top offline retailer with 50,000 grocery products on JioMart. With WhatsApp integration, it will become a one-stop shop for all kirana needs as their key sourcing partner. And WhatsApp is the No 1 consumer app in India. Already, WhatsApp Business helps customers order groceries on its platform as well as brings in new kirana stores as merchants. The platform already has one million small business users in India. "Payments could be the missing link, with WhatsApp emerging as a preferred digital payments partner on JioMart" with the new partnership, the Bernstein analyst notes.  
Here is how JioMart's WhatsApp integration works: As a customer, you send a "Hi" message on WhatsApp chat to JioMart. You then receive a link — valid for 30 minutes — to order from JioMart. You can order items from the inventory available at your neighbourhood stores. Although delivery is currently not available due to the lockdown, once India is open for business in a few weeks, customers will receive a notification once their orders are ready and they can pick it up from the store. Eventually, home delivery will be available as well. The service is currently available in select neighbourhoods of Mumbai and is expected to be launched in other cities and regions over the next year or two.
Facebook's Jio investment is its largest since its purchase of WhatsApp for US$19 billion in 2014. "The deal signals Facebook's ambition to capture India's fledgling US$64 billion e-commerce market," says James Wang, analyst for ARK Invest in New York. Facing a saturation in most developed markets and blocked from China, Facebook has turned to India for growth, Wang notes. With 450 million users, India is Facebook's largest market by reach. But the analyst believes despite its size, India's advertising market is anaemic and, as such, Jio would be difficult to monetise with Facebook's existing business model.
Facebook in India
Facebook's US$5.7 billion investment is not the first time it has poured billions into India. In 2016, it launched Free Basics, offering Indians no-fee access to a text-only mobile version of the Facebook social network, as well as some news, health, jobs and other services. Instead of subscribing to a data plan with a local telco, poorer Indians could just use Free Basics to access Facebook's social network, messaging and other services for free. What Facebook got in return was a trove of data from users. But its efforts were stymied when Indian regulators banned free mobile data plans that favoured some internet services over others.
Last year, WhatsApp won permission from the National Payments Corporation of India to expand WhatsApp Pay using India's Unified Payments Interface, a platform that enables mobile bank-to-bank transactions. WhatsApp Pay's expansion in India has had plenty of stops and starts over the past two years. It was blocked because Facebook initially refused to guarantee that WhatsApp would only store Indian consumers' data in India. Though that has been resolved, Facebook has since run into other roadblocks. "If nothing else, the alliance with Jio could help Facebook curry favour with the local governments and, thereby, the regulators," says Wang.
Regulatory obstacles aside, WhatsApp faced a bunch of other hurdles. Google Pay has been ramping and now has over 80 million Indian users. There is also local Indian player PayTM, with 150 million users, in which Alibaba's Ant Financial has a substantial stake. Last year, Facebook launched Libra, its own digital currency, which has met with strong resistance from regulators around the world.
What's next? If Reliance can sell another 10% of the firm at a slight premium to the recent valuations, it may not need to have an IPO anytime soon, say analysts. In a recent report on Reliance, Bank of America Securities noted that Jio could easily raise up to US$17 billion through the IPO of a 25% minimum free float at the present valuation of US$65 billion. "By getting financial investors who could own an additional 10% of the company, Reliance could reduce dependence on a future IPO for major cash infusions," the report says.
Given the fierce competition in e-commerce in India and the enormity of the task ahead, New Street Research's telco analyst Chris Hoare predicts a Jio IPO by the end of this year or in early 2021. The Indian digital powerhouse's Wall Street debut will mark its arrival on the global digital centre stage alongside giants like Amazon, Alphabet and Alibaba.
Assif Shameen is a technology writer based in North America