This article first appeared in The Edge Malaysia Weekly, on February 17, 2020 - February 23, 2020.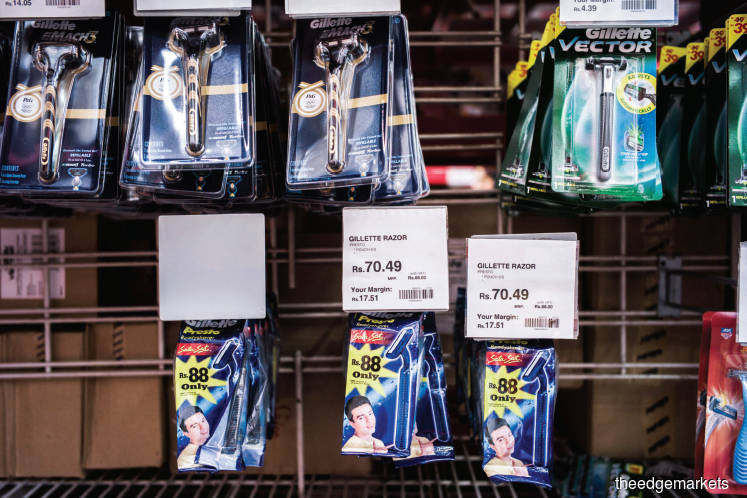 Gillette has lost more than 10% of market share to D2C disruptors
Photo by Bloomberg
ON Feb 10, Edgewell Personal Care, the world's No 2 shaving product firm, which owns razor blade makers Wilkinson Sword and Schick, called off its US$1.4 billion (RM5.79 billion) deal to buy Harry's, a challenger that sold low-priced razors and shaving accessories over the internet. The move followed the US Federal Trade Commission's lawsuit claiming the combination would eliminate competition. Although Edgewell claimed FTC's lawsuit had no merit, it decided that fighting the decision would be too costly and time-consuming.
Harry's and Dollar Shave Club (now part of Anglo-Dutch conglomerate Unilever) shook up the shaving oligopoly of Gillette (part of conglomerate Procter & Gamble [P&G]) and Edgewell by selling cheaper razors and blades online and, in some ways, forever changed the consumer product industry. The online razor makers are part of a bunch of direct-to-consumer (D2C) unicorns, including eyeglass maker Warby Parker, recently listed mattress disruptor Casper Sleep, online menswear retailer Bonobos (now part of Walmart), cult-like make-up and skincare firm Glossier, actress Jessica Alba's ethical household product outfit The Honest Company, online bra firm ThirdLove and travel accessories maker Away Luggage.
The upstart D2C "Davids" have mustered enough bravado to take on the multinational consumer "Goliaths" such as L'Oréal and Estée Lauder in cosmetics, Victoria's Secret in bras, Tempur-Sealy International in mattresses, LensCrafters (part of Luxxotica Group) in eyeglasses, Samsonite in luggage and P&G in razor blades — and chalked up big wins.
Last year, I wrote a column about how Canadian cloud-based e-commerce software-and-services firm Shopify helped reality TV star Kylie Jenner, the youngest of the Kadashian-Jenner brood, become a billionaire in her own right at the ripe old age of 20. Shopify helps build online stores and businesses, handles payments, billings, shipping and logistics, or just about everything that is needed to sell goods on the internet. Add in a manufacturer in China, and you have a business model even long-standing consumer goods brand giants might struggle to beat. (Coty International bought a 51% stake in Jenner's Kylie Cosmetics last November for US$600 million.)
Disruptive D2C unicorns were born, and indeed have grown and prospered, on internet platforms such as Amazon.com, Facebook, Google and Instagram. Lean and mean D2C firms generally outsource most of their manufacturing but market and sell their products themselves, bypassing traditional stores or other middlemen. That allows them to sell their products at cost, which is far lower than that of traditional consumer brands, and to maintain end-to-end control over the making, marketing and distribution of their products. Moreover, notes a recent report from New York-based venture capital research firm CB Insights, "unlike their traditional retail competitors, direct-to-consumer brands can experiment with distribution models, from shipping directly to consumers, to partnerships with physical retailers, to opening pop-up stores in unused parts of the malls. They don't need to rely on traditional retail stores for exposure".
Boost from the internet
So, what is behind this D2C phenomenon? For one thing, technology has levelled the playing field, making it easier to market products and build and grow a business online. Barriers to entry in what were once impenetrable businesses have fallen precipitously. Another key has been the rise and rise of manufacturing outsourcing and the emergence of China as the factory to the world. Chinese contract manufacturers are now so sophisticated, cheap and scalable that you can take the concept of any product to China and find a manufacturer willing to design, build and start shipping it for you within weeks. As you grow your business, your manufacturing partner in China is able to scale up quickly, which, in turn, enables you to further reduce costs and pass on those savings to your customers, with lower mark-ups.
It is not just making things. Selling stuff is easier as well. Ten years ago, if you were an upstart firm trying to sell razors, you would have had to go to a chain like Walmart, which routinely refuses to talk to new or small suppliers, and literally beg for some shelf space right beside razors made by Gillette. Clearly, there is little upside for a giant retailer such as Walmart to take the risk of selling goods made by an upstart luggage maker or cosmetics or razors or bras that do not have a well-known label on them and have never sold in volumes before. Indeed, the likes of Walmart have long benefited from big suppliers such as P&G and Unilever, which pay them to get premium shelf space for things like razors or cosmetics. That incentivises retailers to stock only the most popular items and remove underperforming ones.
Thanks to the internet, the world of retailing has fundamentally changed over the past decade. If Walmart or Target will not buy your cosmetics, bras or razors, or demand that you pay big bucks for premium shelf space, alongside Unilever, P&G or Victoria's Secret products, you can always sell it on the internet. You see, internet has unlimited shelf space, and you do not have to pay an arm and a leg for it. In the past, to create a brand in North America such as Kylie Cosmetics, Away Luggage, Dollar Shave Club or Casper Sleep, you would have to spend tens of millions of US dollars. A global brand could set you back several times that much in advertising and promotion. You need marketing gurus, ad agencies, media buying strategy and pay millions to TV slots and magazine inserts. Even then, you would be like a blind person throwing darts. It would be a hit or a wild miss. These days, with a bunch of Instagram posts, targeted ads on Facebook and Google, a few homemade YouTube videos and some influencers, you can run a fairly effective campaign for a fraction of the cost — bypassing the traditional media.
Taking on the giants
So, how were the disruptors able to take on the giants? Take, for example, Michael Dubin, an out-of-work internet marketing executive, who founded the Dollar Shave Club. Gillette had more than 70% of the razor market for decades. It was such a stable and lucrative high-dividend-paying franchise that it attracted billionaire Warren Buffett's Berkshire Hathaway as an investor. In 2005, Buffett sold his 9% stake in Gillette to P&G for US$4.95 billion, or a profit of US$4.45 billion. Buffett called the P&G purchase "a dream deal".
Because he was not growing a beard, Dubin knew razors cost a lot of money, and Gillette had huge margins giving its razors away virtually for free but charging a ton of money for the blades. There is another thing about blades: In most supermarkets or convenience stores, they are often locked behind the counter or stored in a glass case and you have to ask for them. So, buying a blade is not convenient. When he started out selling razors on the internet, Dubin knew he could easily undercut Gillette and just make it convenient for anyone to buy them online. He set out making a video. "Our blades are f***ing great," he screamed, and posted it on YouTube. The video was hilarious and became the key to Dollar Shave Club's viral marketing. Within weeks, it had millions of hits; Dubin had sold out his inventory and had a billion-dollar business on his hands.
A key differentiating factor aside from price and convenience of buying online was Dollar Shave Club's subscription model. Most men shave every day. They know how many blades they need. Buy a monthly or annual subscription, and you will get an even bigger discount and blades mailed to you every month. Dubin sold his business to Unilever for more than US$1 billion. Dollar Shave Club now has a near-10% share of the market, whereas Gillette's market share has fallen below 60%, from more than 70%. And, oh, Gillette has had to cut prices and sell blades on the internet as well.
Eyeglass maker Warby Parker was born out of a Wharton MBA class project. If you wear glasses, you are probably aware that a good pair can cost a lot of money. No wonder, margins in the eyeglass business are huge. Warby Parker came up with its own subscription model, where they mail you five pairs of prescription glasses or sunglasses to choose from for just US$95. It gets its glasses made in China and shipped to your home anywhere in the world within a week. Glossier started as a blog by a young journalist intern, Emily Weiss, a decade ago. Weiss wanted to write about celebrities and their make-up rituals. It became so popu­lar that she quit her day job as a journalist at Vogue and launched make-up products.
So, what is the secret sauce in D2C's success story? These businesses have thrived because, by nature, they are close to their end-customer. Take razors as an example. Gillette's actual customers were the likes of Walmart. It unloaded its blades on supermarkets not knowing or caring who the end-customers were or what the users of razors wanted. D2C businesses, on the other hand, focus on selling directly to customers constantly, using data as well as any feedback to deliver better products. All of the D2C disruptors saw a problem that needed to be solved. Long-standing incumbents such as P&G, Unilever and Victoria's Secret just became too complacent and overconfident, which made them easy targets for disruptors.
Not all D2C firms are going gangbusters and growing at warp speed, though. Last week, Brandless, a fledgling D2C personal care and packaged goods firm pulled down its shutters and laid off 70 staffers, less than two years after Japan's SoftBank Group's Vision Fund announced it would invest US$240 million in the start-up. Days before Brandless went belly up, Caspar Sleep's initial public offering bombed. The online mattress retailer, which was last valued at just under US$1.2 billion in a private funding round last year, has seen its stock plummet 35%. A week after its IPO, its market capitalisation is now just over US$400 million, or a third of its last private valuation. Just because a company sells directly to consumers does not mean it deserves an outlandish valuation. But D2C, which makes up 12% of retail spending in North America, is now a business model that even the incumbents are trying to embrace or incorporate.
Assif Shameen is a technology writer based in North America