This article first appeared in The Edge Malaysia Weekly, on October 8, 2018 - October 14, 2018.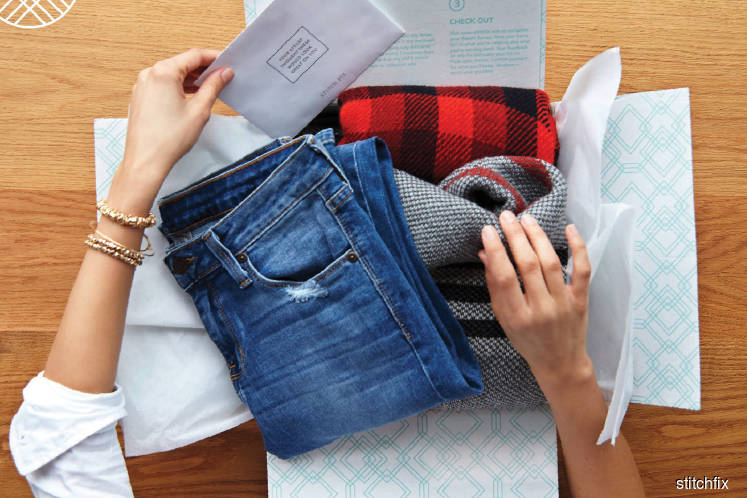 IMAGINE that shopping for clothes is simple and convenient. You can choose whatever colour, fabric and style you want, at affordable prices. Imagine that you have access to an affordable expert stylist who is obsessed with making you look and feel good. Imagine that instead of mall hopping and queuing outside a fitting room, you can do it all from your home.
In many ways, the future of shopping is here. Retailing has been in a challenging environment since the advent of the internet. Increasingly, shoppers are buying things by googling for them on their smartphones, or more likely, searching on e-commerce ­giant Amazon.com's site, where an algorithm helps give them an instant price comparison rather than spending a day in malls comparing prices or looking for the size, colour, fabric or style they like.  
Like cars or music, apparel too is now slowly undergoing its own shift from owning to sharing, or renting with a subscription model. More than a decade ago, the big shift in apparel towards fast fashion was led by retailers such as Sweden's Hennes & Mauritz, or H&M, Spanish giant Inditex's Zara and Japan's Fast Retailing, which owns Uniqlo.
To understand what is happening in the fast fashion world, look no further than the share prices of the three major players. Over the past year, H&M shares are down 25% and Inditex 19% in what has been a bull market for global consumer stocks. Fast Retailing shares have rebounded 46% since December after declining 53% between late 2015 and late last year. Fast fashion, once one of the key growth drivers of the apparel sector, is now a slow-growing business with shrinking margins.
US$1 trillion market
The global apparel and fashion accessories market is likely to top US$1 trillion (RM4.14  trillion) in sales this year and is growing by mid to high single digits, higher than global GDP growth of 4% this year. Amazon recently overtook Walmart to become the largest apparel retailer in the US by gross merchandise value, according to Morgan Stanley. Amazon's total sales of apparel are likely to top US$30 billion this year, compared with US$27 billion for Walmart. Over the next five years, Amazon could control 6% to 8% of the global apparel market, from under 4% currently.
The new holy grail of apparel is online personal styling services at affordable prices. The poster child of the segment is Stitch Fix, a seven-year-old San Francisco-based unicorn that was listed on Nasdaq a year ago. Dubbed the "Netflix of Fashion", Stitch Fix uses a combination of data science and personal stylists to help customers discover and buy what they love through personalised shipments of apparel, shoes and accessories, hand-selected by its stylists and delivered to customers' homes in a box by courier. Customers share personal information, including style, size, fit, favourite colours or fabrics they like and price preferences, as well as how often they dress up for certain occasions, which helps Stitch Fix determine the best items to send to them. Customers typically order a few pieces, try them on and send the ones they do not like back. "We are transforming  the way people find what they love to wear," says CEO Katrina Lake.
What separates Stitch Fix from rivals is its reliance on its data science capabilities and proprietary algorithms, which fuel business by enhancing the customer experience and driving business model efficiencies. Stitch Fix employs a team of nearly 100 data scientists who oversee an array of machine-learning algorithms underpinning its operations — from client styling and logistics to inventory management and product design. Stitch Fix offers apparel and accessories across multiple price points and styles from more than 700 brands, including both established and emerging brands, as well as its own private labels. Stitch Fix is no pie-in-the-sky dotcom. It reported a profit of US$44.9 million on sales of US$1.2 billion for the fiscal year ended July 2018. It has more than 2.7 million active users in the US and recently announced plans to expand to the UK next year.
Unfortunately, in recent weeks, Stitch Fix has made headlines for its volatile stock price than for its personalised styling platform. Stitch Fix was listed on Nasdaq at US$15 just 12 months ago. The stock nearly doubled in its first seven weeks, only to fall back close to its IPO price. Then, in late June, just before its quarterly results, it soared from about US$18 to US$52.44, or over 190%, two weeks ago. Since then, it has been on a slippery slope, falling more than 44% over 10 trading days. The biggest plunge — 35.1% on Oct 2 — came after it reported its latest results, with revenues and profits barely meeting analysts' expectations, but falling well short of the exceedingly high "whisper numbers". Stitch Fix stock took a hammering because it guided lower profits on higher spending on infrastructure and expansion.
The pioneer of personal styling services is US department store giant Nordstrom's Trunk Club. Nordstrom stores sell an array of apparel ranging from high-end fashion from its in-store boutiques to mass-market fare. There is also Wantable, a personal styling website that sends up to seven dresses for the customer to choose from. Wantable has made a name for itself in the athleisure market, where it competes with the likes of Lululemon Athletica. Another player is Gwynnie Bee, an online clothing subscription service that allows women to access an unlimited wardrobe. Gwynnie not only sells and rents clothes but it also has a wholesale business helping established apparel retailers offer a subscription clothing rental business alongside their existing channels. Its platform, CaaStle, is a partial acronym for "clothing as a service", which is a play on "subscription as a service". Among some of the other online clothing box rental and subscription services are Frank And Oak, Loot Wear For Her, Rent the Runway — which raised US$20 million from Alibaba Holding founders Jack Ma and Joe Tsai earlier this year — and Le Tote.
Amazon's Prime Wardrobe
Now Amazon, which has grown from selling books online to electronics, household goods, furniture and groceries, upending new sectors with each expansion, is entering the personal styling and fashion business. Although the e-commerce behemoth has been in the apparel business for 15 years, the fashion business is so notoriously difficult and costly that even a juggernaut such as Amazon has been forced to tread carefully. Selling clothes is far harder than selling books. Fashion changes. What is hip in Seattle is frowned upon in New York or Singapore. Moreover, return rates are often between 15% and 20% and indeed, for some items, as high as 40%.
In June last year, Amazon announced Prime Wardrobe. Initially, Amazon had a few thousand members on "invite only" ­trial. Three months ago, it opened up Prime Wardrobe to all its 100 million or so Prime members in the US. Prime Wardrobe lets you try on ­anything you want — from workout pants to a date-night dress — in the comfort of your own home.
Here is how Prime Wardrobe works: Let's say you need a new pair of jeans in faded black that fits you perfectly and you need several shirts to go with it. Maybe you want to try the jeans in three different shades. You can choose between three and eight items of clothing, shoes or accessories. And you can chose from different designers or labels as well as different styles. The website shows an array of colours and fabrics. Within a couple of days, the Amazon box arrives and you have seven days to try on everything in the privacy of your own home. Once you are done, you just return the pieces you do not like in a separate resealable box with prepaid label and you get billed only for what you keep.
The key competitive advantage of Amazon is not that it has the biggest selection of books, electronic gadgets, household goods, toys and apparel for customers to choose from, or "everyday low prices" like Walmart, but that it has the ability to deliver what you want, whenever you want — within a day or even on the same day — in many locations across North America, or within two days anywhere on earth. Its Prime customers get most of their urgent shipping for free.
Why is Amazon pursuing the fiercely competitive high fashion business? Because it offers a chance to make a lot more money. Whether it is selling a $50 book or a $500 handbag or an $800 dress, all the costs other than the item itself are the same. Its foray into fashion allows Amazon to take advantage of its core competency in logistics, running an e-commerce platform and sheer scale to compete with rival apparel retailers.
Body-scanning technology
Amazon is not just relying on data science and algorithms to pick dresses or shoes or belts for customers, but it is also investing heavily in 3D body-scanning technology to understand the body size of customers. It recently began inviting people to its ­offices to measure changes in their sizes and shapes over time. It will use deep-learning algorithms to understand body shapes and sizes to deliver dresses that will fit perfectly. Last year, Amazon introduced Echo Show devices that work with its Alexa personal assistant. The devices, which have a camera and screen, allow customers to take photos and compare their looks side by side for a critique.
Lake says Amazon is not a real threat to her business for now because Stitch Fix understands its customers far better using the right mix of personal styling and algorithms. Machines provide the initial filters for ­stylists by optimising and conducting rote calculations that would require an immense amount of human time. But the human ­stylists are key to understanding the nuances of customer requests and making sure their experiences are personalised. Yet, Amazon's founder Jeff Bezos is determined to win the race in artificial intelligence and machine learning because he wants his firm to be the leader in everything from selling groceries to apparel. Whoever wins the battle to dress us, it looks like technology will enable all of us to have a more stylish wardrobe and make us feel good in whatever we wear.
Assif Shameen is a technology writer based in North America
Save by subscribing to us for your print and/or digital copy.
P/S: The Edge is also available on Apple's AppStore and Androids' Google Play.