This article first appeared in The Edge Malaysia Weekly, on July 15, 2019 - July 21, 2019.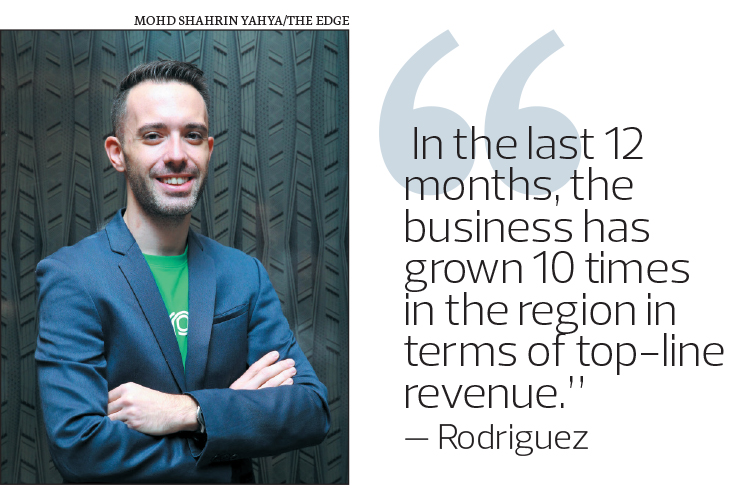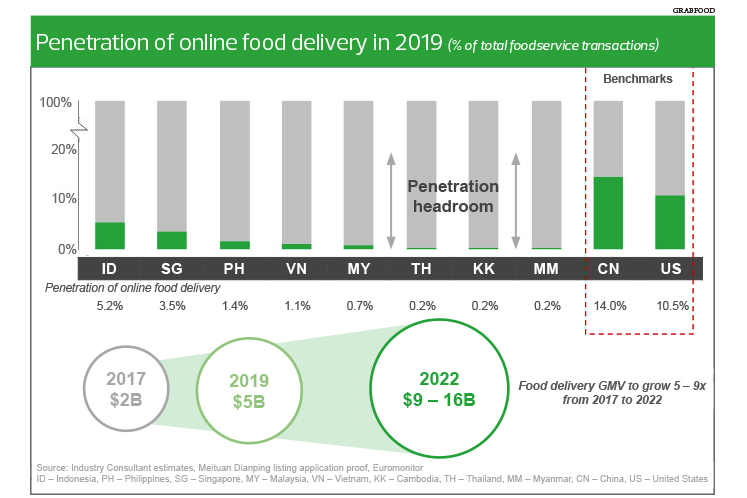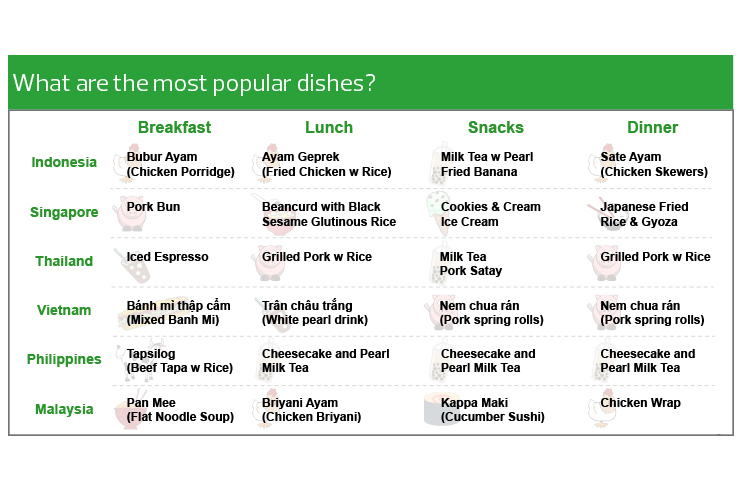 SINCE it started operations two years ago, GrabFood has expanded to 204 cities from just two, and is now in six countries.
"We're not slowing down and we actually see our growth to be exponential rather than linear. Food is a super high priority for Grab and it is an area of big growth for our overall business. The market is under-penetrated right now and it is among the business lines where we see one of the biggest opportunities for the next [few] years," Grabfood head Tomaso Rodriguez tells The Edge.
"In the last 12 months, the business has grown 10 times in the region in terms of top-line revenue," he says but declines to reveal its bottom line numbers or timeline to turn a profit.
The food delivery business involves sending food from shops to customers in exchange for a fee. And as with the ride-hailing business, food delivery companies subsidise promotions to build on the stickiness of their clients and expand their user base.
Growth has been rapid and is projected to continue at an impressive rate.
"It was a US$2 billion market for Southeast Asia just two years ago and now, it is a US$5 billion market. We estimate it to be US$9 billion to US$16 billion by 2022," Rodriquez says.
"The reason we say that is because looking at total online food transactions compared to everything that is not eating at home, such as dine in and take out — that percentage in Southeast Asia is much smaller compared with developed markets like the US and China. It ranges from 0.5% to 3% in our markets, whereas for China and the US, it is 10% to 14%. So the penetration headroom is very big. We expect it to expand a lot for the next few years."
He believes the key to win the food delivery game is to "go local".
"Our aim is not about winning market share but really crafting a product that is hyper local and around customer needs. That is really the only way to win a market.
"In Malaysia and Singapore, we have the durian offering. We buy durians from local farmers and we collect them in a place and sell to customers. The approach is to be super hyper local, market by market, and focus on what customers want," he says, adding that GrabFood has different business models for different countries.
Is this differentiation sufficient?
Grab's arch rival Go-Jek also has a food delivery service called Go-Food that is four times larger than GrabFood, according to a recent media interview by the latter. In the region, Go-Food registers 30 million orders per month.
While Rodriguez declines to disclose GrabFood's statistics for competitive reasons, he maintains that in every single market it is in, it is either the No 1 player — in Vietnam, Thailand and the Philippines — or a "close No 2 for the other markets".
Its merger with Uber Eats in 2018 enlarged the delivery service business and today it operates in Malaysia, Singapore, Thailand, Indonesia, Vietnam and the Philippines.
GrabFood is a later entrant to the sector than competitors FoodPanda and Go-Food. But Rodriguez believes it can gain ground by "leveraging on the Grab ecosystem".
"Grab is well positioned to be that leader of this market across all countries in Southeast Asia just because we have the infrastructure to enable that. For example, combined as a region, our fleet is twice as big as all our competitors. One out of five people in Southeast Asia has the Grab app installed on his of her phone so by offering food delivery on this scale, I think we have locked in the market right and we can grow fast and quick," he explains.
"We are the fastest food delivery platform in the region. So, we make sure we have the largest fleet on the ground so customers get the food faster because there is always a driver around."
In terms of the Grab ecosystem, Rodriguez points out that GrabFood has existing relationships with a lot of merchants because of GrabPay service — the group's financial mobile wallet payment solution.
"We have hundreds and thousands of merchants regionally," he says, being vague on the exact numbers. Even so, he contends that GrabFood merchants have seen incremental sales.
"For merchants, they can easily get a 10% to 30% uplift in sales. The best merchants on GrabFood can get almost double the revenues… This is because they reach a wider audience despite not having to expand physically. The fee they pay us is much smaller than opening a new restaurant," says Rodriquez.
GrabFood also focuses on working closely with its merchant partners. "We now have 15 to 18 exclusive merchants," says JJ Tan, acting head of GrabFood Malaysia.
"We have expanded in five new cities in Malaysia and we will continue to increase the area of coverage in the cities we are in. We are expanding smartly as we go along in Malaysia and will leverage on data to expand," says Tan, adding that he believes the demand for food delivery is a structural shift rather than a fad.
In one year of operations, GrabFood Malaysia has completed more than two million deliveries, Tan says.
"Our merchant base has grown by eight times and our delivery partner base by 16 times. More than 85% of our delivery partners are supplementing their income by being GrabFood delivery partners and are able to earn up to one-third of the average Malaysian household income.
"Typically, we have noticed our merchants have seen an uplift in sales of 10% to 20%, but with the merging of GrabFood into the Grab App, we anticipate they may be able to increase by another two times. In our recent #PekSenangRaya promo where we worked with our merchants to offer up to RM600 worth of discounts [including on GrabFood], merchants saw an increase of sales of almost 37%," Tan adds.
Going beyond delivery and into Kitchens by GrabFood
The GrabFood team is aware that it cannot stay still for long in the fast-moving segment where it is a regional player, and is now looking to go beyond food delivery and into the setting up of kitchens.
"Kitchens by GrabFood is a big bold bet that we are placing now," says Rodriguez.
"In big cities, 70% of restaurants fail in one to two years because of the rent. Our value proposition is that one gets into our kitchens at zero rent cost. It is a delivery-only location with a number of merchants in the same location so overheads are cheaper. How do we know the merchants will be successful in the kitchen? That is because before opening the kitchen, we will look at the data and we know it is going to be a hit because we are going to analyse the data before they sell. So there is a huge untapped opportunity in that area," he says.
For now, GrabFood is testing out its kitchen concept in Indonesia. "We are planning to expand the kitchen model across Southeast Asia. We have six in Indonesia and they are doing extremely well. Customers love it because they find exclusive offerings they couldn't find in that location before, drivers love it because they always hang around the kitchen as they know a lot of orders will come from there, and restaurants love it because they can expand risk-free.
"We believe this [food delivery business] can be a sustainable business. We are in a heavy growth phase. No one expects it to make money right now but absolutely, it is going to definitely make profits," he says, adding that the timeline would depend on individual markets and factors that include dynamics and market penetration.
Can GrabFood endure the cash burn before it turns profitable? Only time will tell.