This article first appeared in The Edge Malaysia Weekly, on June 10, 2019 - June 16, 2019.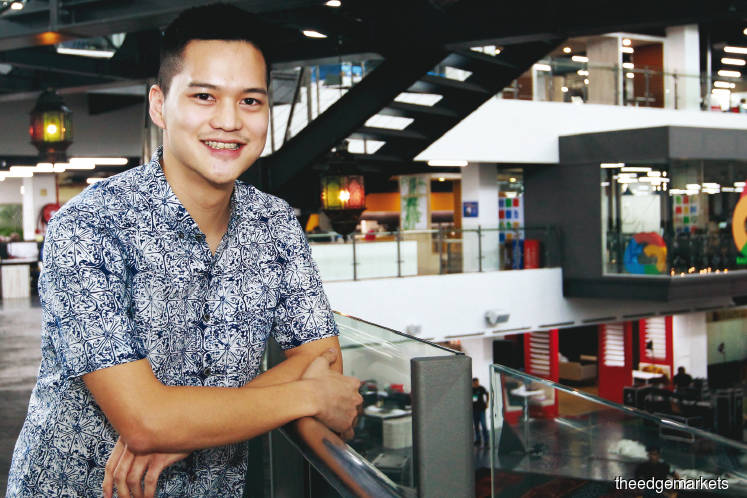 Chareonwongsak: Cross-border, I think, is the next battleground for logistics over the next five years. Photo by Mohd Shahrin Yahya/The Edge
SELLING freight belly space is big business.
Established in March last year solely for that purpose, Teleport Commerce Malaysia hit the runway running and, last year alone, chalked up revenue of RM200 million.
Even more impressive, the logistics arm of AirAsia Group Bhd has been profitable since its first year of operations. "Our net profit is roughly about 5% to 10%," Teleport's CEO Pete Chareonwongsak tells The Edge.
This year, AirAsia has publicly announced that Teleport expects to double or better last year's bottom line. But that is mostly from the contract air freight business, which is only one aspect of what Teleport aspires to do.
Teleport's endgame is to disrupt the logistics sector by making the infrastructure directly accessible to the masses, including consumer-to-consumer (C2C) deliveries.
"These are individual consumers that do not use air freight because, essentially, they do not have [the] access. The access is controlled by freight forwarders," says Chareonwongsak.
"So, we want to enable this by opening up the space that we have for the people who sell on social media, for small businesses and individual merchants on marketplaces, to essentially fulfil [by] themselves."
However, there is an even larger goal: to enable this on a cross-border scale.
"Cross-border, I think, is the next battleground for logistics over the next five years," he adds.
In a nutshell, Teleport aims to enable individuals and small business owners to ship their parcels and products cross-border in 24 hours or less eventually.
Chareonwongsak describes it as comparable to a Grab Delivery service that delivers across countries.
It is not easy as parcels are subjected to rigorous, time-consuming checks, as well as other procedures before crossing borders and sometimes, undergo similar controls twice at both the origin and destination.
This is an area where Teleport is actively engaging stakeholders, including airport operators.
Chareonwongsak says the next step is to launch its social commerce portal, teleport.social. However, it is not as simple as building a website where people can book small-scale belly space for their parcels and track their shipments.
The vision is to have an integrated solution that includes cross-border payment capability and support in managing legal requirements, such as customs clearance and other paperwork.
"When you talk to C2C, you can't just say, 'Hey, here's some space', and you book it. That is not how it works. You've got to build an integrated solution for them and that is what we're trying to do on the social side."
If Teleport can roll out a "meaningful product" in that vein by the end of the year, the next hurdle will be to scale the offering up regionally, he adds. The key will be RedBox, AirAsia's door-to-door logistics solution, also held under Teleport.
"We won't want to be a Malaysian trick pony; we want to be a regional-trick pony."
For now, the company's five-year target is to achieve 300,000 parcels on a daily basis from the C2C segment.
It is an ambitious plan to ride on Southeast Asia's strong e-commerce growth trajectory, driven by a growing middle-class population with increasing levels of disposable income.
Last year, the e-commerce pie in the region — measured by gross merchandise value (GMV) — broke past US$23 billion (RM95.57 billion), according to the "e-Conomy SEA 2018 — Southeast Asia's Internet economy hits an inflection point" report jointly released by Google and Singapore's Temasek.
"On the back of the increased consumer trust in e-commerce demonstrated by Southeast Asian Internet users, we have revised our projections and now estimate that the e-commerce sector will exceed US$100 billion by 2025," the report says.
On a wider perspective, Teleport is a manifestation of AirAsia's digital business that is more than just Asia's largest budget airline group.
In a nutshell, AirAsia is looking to leverage its passenger data to create new businesses that include revamping its online duty-free store and rolling out a cross-border e-wallet called BigPay.
The data is sizeable — last year, AirAsia Group flew 44.4 million passengers while AirAsia X flew 6.2 million. For Teleport, the available passenger data will aid its C2C push by providing a ready-made base of potential buyers.
In other words, over time, Teleport can use its data to suggest new products to its passenger base based on known preferences.
"Product discovery is the holy grail of where we want to go. That's the endgame," says Chareonwongsak.
Utilisation rate at only 15% at present, time to leverage data
Despite a long-term strategy based on disrupting the logistics industry, Teleport's short-term growth will rely on the sector's traditional players.
Its 2018 top line was driven by partnerships with 10 freight forwarders, including Tasco Bhd and GD Express Carrier Bhd — basically business-to-business (B2B) activity. But that is just the tip of the runway for Teleport.
According to Chareonwongsak, the air freight market in Southeast Asia is worth US$4 billion while the global average air freight utilisation is around 44%.
In comparison, its RM200 million revenue last year — about 1.9% of AirAsia Group's full-year revenue — amounts to slightly more than 1% of the regional pie.
"We're about 7% [of the] capacity in Southeast Asia, so we're under index," he says.
Last year, Teleport carried 150,000 tonnes of cargo. That adds up to a utilisation rate of just 15% of AirAsia Group's entire network capacity.
As at end-2018, the group had 226 planes. Half the tonnage carried was on its wide-body planes and the rest on narrow-bodies.
"The reason why we're at 15% utilisation is because our existing customers today can only find a business for 15% of our space."
Teleport can carry cargo on any AirAsia flight to any destination within the group's network, essentially covering 110 airports.
In a nutshell, Teleport acts as a commission-based single sales agent for available cargo space on AirAsia planes and pays each airline a share of the income for space sold.
While measuring the available capacity has been a constant challenge for the company, a rule of thumb is that a narrow-body plane can carry an average of three tonnes of cargo while a wide-body plane can carry an average of 10 tonnes. As a snapshot, last year, Teleport paid AirAsia X Bhd about RM88 million as its share of the business. The utilisation of AirAsia X's available belly space is at about 40%, says Chareonwongsak.
But having built a sizeable business quickly based on the traditional consolidated nature of the logistics sector, why does Teleport even need to tap the C2C segment?
"Today, if you look at our current market, we've got two extremes: Extremely consolidated B2B and extremely unconsolidated C2C."
"So by targeting the two bookends, you have the infrastructure to, essentially, target anyone in between because you've built the infrastructure for two extremes in the market," he adds.
The key is the size. While the B2B cargo volume, consolidated in a handful of players, is easier to pursue, it is also why everyone has jumped in.
In comparison, individual customers are very large as an aggregate but the extreme fragmentation poses a steep challenge to amassing meaningful volumes. "That's hard, [and] that's why everyone avoids it. But eventually, that's the market that we think has the most opportunity."
Teleport has already moved to capitalise on the space. For starters, in November last year, RedBox was selected as the East Malaysia logistics partner for Singapore-based e-commerce platform Shopee. The partnership took effect from Dec 1, 2018.
In addition, Teleport is currently preparing to carry limited types of items classified as "dangerous goods" (DG) by regulators — basically, the lowest category of items, such as batteries, power banks and other electronic equipment.
"If you think about e-commerce, 50% of it is electronics. So, if we can't carry electronics, that's a problem for our vision of the future," says Chareonwongsak.
He estimates that by the third quarter of 2019, AirAsia X will be ready to carry the so-called dangerous goods, and AirAsia Malaysia by year-end. India is already DG-certified, he adds.
"We want the Philippines to come online soon. Thailand is the second largest in terms of our network reach so we also want it to come online as soon as possible. Let's see how fast the regulators and we can work it out. But these things take time," Chareonwongsak says.