This article first appeared in The Edge Malaysia Weekly, on September 20, 2021 - September 26, 2021.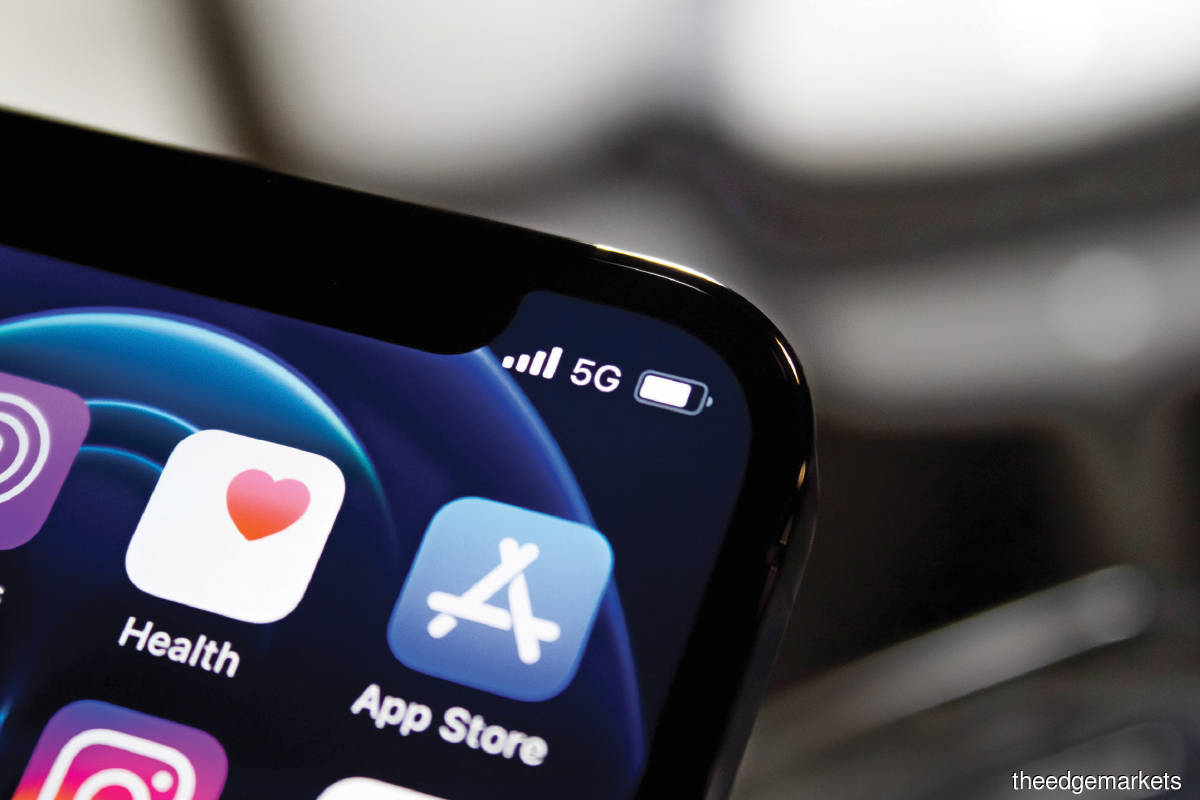 CONSUMER electronics giant Apple may have updated its formidable line-up of 5G smartphones with faster processors and state-of-the-art cameras with low-light functionality as it launched the iPhone 13 this past week, but the biggest update yet to its line-up is likely to be in its iOS App Store.
Just days before the unveiling of the iPhone maker's latest gadgets, the long-drawn-out courtroom showdown between Apple Inc and addictive video game Fortnite reached an epic ending on Sept 10. Though the knockout winner was Apple, which won on nine of the 10 counts, Fortnite's maker Epic Games won the last one on points. The case is being appealed and, unless the two sides reach an out-of-court settlement, more drama in courtrooms and subsequent appeals could take years.
Federal Judge Yvonne Gonzalez Rogers, in her 185-page ruling, declared Apple was not a monopoly either as a distributor of smartphone apps or within its in-app purchase (IAP) solutions. She ruled that smartphone users have a viable alternative to games consumed through Apple's iOS apps, switching costs are low, barriers to entry are not high, its IAP requirements are legal, and nearly all of its App Store policies are valid. Apple's requirement for developers to use the App Store to distribute iOS games and apps makes iOS more competitive against Android and gives consumers a choice in the marketplace, the judge noted.
She also issued a permanent injunction, however, telling Apple that it could no longer prohibit developers from including external links that direct customers to purchasing mechanisms in their apps in addition to in-app purchasing within an iOS app. She ruled that Apple's longstanding anti-steering policy, which prevents developers from steering customers away from IAPs to their own site to avoid Apple's high commission rates, was "anti-competitive" since it hurt consumers by limiting information about pricing.
Much ado about tax app
What is all this app fuss about? Apple is probably one of the most important e-commerce platforms on earth. Its App Store chalked up profits of US$20 billion (RM83.2 billion) on revenues of US$72 billion last year — way more than what Amazon.com Inc makes from its entire e-commerce business. By the way, the bulk of Amazon's profits is from its web service AWS, not from e-commerce.
The iPhone made up just over 21% of new global smartphone sales last year, with phones on Google's Android operating system controlling most of the rest. Where Apple, with a more affluent user base, does far better than Android is the money it makes from smartphone apps as well as IAPs. About two-thirds of all global app revenues are through Apple's App Store, with a third going through Google Play Store.
Developers call it the app tax. Every time you download something and pay for it on your App Store, Apple collects a percentage of the sales. It takes 15% commission from all payments of apps that generate less than US$1 million and 30% for apps that generate more than US$1 million. Google Play Store users pay similar commissions. Indeed, whether you are downloading games from Microsoft store or indeed any other store selling digital goods, you are probably paying up to 30% to the store operator.
No wonder, then, that the App Store is huge. At US$72 billion, revenues over the last four quarters exceeded those of The Walt Disney Co, Boeing Co, Goldman Sachs Group Inc, Best Buy Co Inc, Pfizer Inc and Cisco Systems Inc for the same period. If the App Store were a standalone company, it would be the 15th most profitable firm in the US and probably the 20th most profitable company on earth.
The difference between Apple's and Google's app stores is their distinct business models. Google monetises its apps by selling ads on its Play Store as well as in-app ads in addition to charging a 30% commission, whereas Apple charges only commission on its App Store.
Epic Games, one of the US' biggest game developers and founded by billionaire Tim Sweeney, tried to set a payment system that was a clever workaround Apple's strict App Store in-app payment system. Apple quickly shut it down. Epic then sued Apple. For its part, Apple said Epic had agreed to adhere to the App Store's rules and was in clear breach of contract by steering users away to alternative payment platforms. Sweeney had actually taken a page from music streaming service Spotify's playbook. Six years ago, Spotify made a similar ruckus against the App Store, demanding that Apple cut its commission or allow users to pay directly to Spotify. Apple removed Spotify's app from the store. In her ruling, Judge Rogers said Epic was in breach of its contract with Apple when it implemented the alternative payment system in the Fortnite app. As a result, she ordered Epic to pay Apple 30% of all revenue collected through the new system since it was implemented.
The judge reasoned that Apple's hefty 30% revenue share stemmed from its burgeoning market power. If you read through her judgement, it is clear that she is bothered by the arbitrariness of the 30% take rate, though Google, Microsoft and others are collecting a similar commission. Yet, she ruled that Apple does not have to reduce the fees that it charges but must allow firms such as Epic to steer users away from their own apps to alternative payment methods such as their websites.
Apple was going in that direction anyway. Over the past several months, it has made incremental changes to open up its App Store. On Sept 1, the company agreed to allow outside signup links for "reader" apps such as TV streaming service Netflix and music streamer Spotify, following a regulatory investigation in Japan. Last month, Apple agreed to a US$100 million settlement, following a class action suit by some US app developers. Under the settlement, developers can now email app users about different payment options that bypass Apple's 30% cut.
Convenience comes first
Giving users the ability to pay somewhere else does not necessarily mean they will actually pay there and not where it is most convenient and hassle-free. When it comes to the crunch, most app users will use Apple's own in-app payment system. People are essentially lazy. They want the convenience of Apple's one-click app downloads on their iPhones, iPads or Macs. If you tell them that it would take 15 steps and up to 10 minutes to make the same payment by first quitting the app, then opening a browser, filling a form as well as credit card details, most of them will stay within the iOS app even if that costs them a few dollars more. Sure, 25% to 30% of app users might prefer a cheaper option even if takes them a lot of time, but an overwhelming number of Apple's affluent users just cannot be bothered.
Apple App Store revenues grew 22% in the first half of this year and analysts were, until recently, projecting 20% to 25% revenue growth next year. Much of the growth is coming from switchers — Android users who are crossing over to Apple's ecosystem. Apple is projected to sell 240 million iPhones in its current financial year ending this month. Over the next 12 months, it is projected to sell nearly 260 million iPhones. If 10% of new users are switchers from Android, Apple is adding more than 25 million new users each year who need to load up their phones with new apps. Add in new users of iPads and AppleWatch, and you get 30 million new users downloading an array of apps.
If Apple cuts its 30% app commission to just 15%, and only a third of the users flee to alternate payment platforms, Apple's app revenues might dip slightly for two or three quarters and then recover, long-time Apple analyst Gene Munster of Loup Ventures told me recently. He believes most people will stick to Apple's IAP system as a default. In a worst-case scenario, he believes Apple could take a 1%-to-4% hit to its revenues and profits in the first year after it slashes app commission.
Clearly, users would prefer the money they pay for the apps to go to the creator of the app rather than a middleman like Apple. But even Judge Rogers acknowledged that Apple built the infrastructure or the rail tracks on which the app trains run. Epic, Spotify and Netflix are happy for Apple to charge a small commission for the first-time download of an app but insist it cannot keep charging for subsequent IAPs or monthly subscriptions.
Should a company that builds a toll road be paid only the first time you drive on it or a train operator pay the builder and owner of rail tracks only once or each time they use the road or tracks? Detractors argue that while Apple built the infrastructure, it does not cost much to maintain and upgrade and, therefore, they should have free access. Apple's contention is that, in a free market, its success should not be penalised.
In the mid-1990s, Apple was merely weeks away from bankruptcy. Banks were no longer willing to lend to it. So, it pivoted to music player iPods, reimagined the smartphone as iPhones and tablets as iPads, and introduced AppleWatches, which helped catapult it to become the world's largest listed firm with a market capitalisation of US$2.5 trillion. Why should it now not be allowed to reap the fruits of its hard work and infrastructure that it so painstakingly built?
Bringing take rates down
As for its dominant position, being a monopoly is not illegal; in most jurisdictions, however, abusing monopoly power clearly is. Search giant Google, social media powerhouse Facebook Inc and e-commerce behemoth Amazon.com Inc are all monopolies in some way, just like Microsoft Corp was when it was sued for violating anti-trust laws in 2000. Yet, when the Seattle-based software giant crossed swords with anti-trust lawyers from the US Department of Justice two decades ago, the court found that Microsoft was not abusing its monopoly powers.
Why, then, is everyone going after the App Store right now? The digital goods and services business around the world is about to explode over the next five years. It is no longer just digital filmed entertainment from Netflix, digital music from Spotify or cloud-based digital games from Google and Microsoft or digital books from Amazon, but also non-fungible tokens (NFTs) as well as an array of other digital assets that are not even being sold yet.
The trouble is that Apple owns the toll roads and rail tracks. Regulators and Apple's competitors are focused on slashing its total take rate on the App Store down to the bare minimum so that digital goods creators get a bigger slice of the cake.
As long as the global digital economy continues to grow exponentially, Apple will happily take just 15% of a bigger pie rather than insisting on 30% of the current smaller pie. Even Epic, which has vowed to sue Apple until it can succeed in slashing the take rate on the App Store, has admitted that 12.5% might be a fair rate for a toll collector. In a burgeoning digital economy, even at that reduced take rate, the iOS App Store is likely to be among the most profitable enterprises on earth.
Assif Shameen is a technology and business writer based in North America