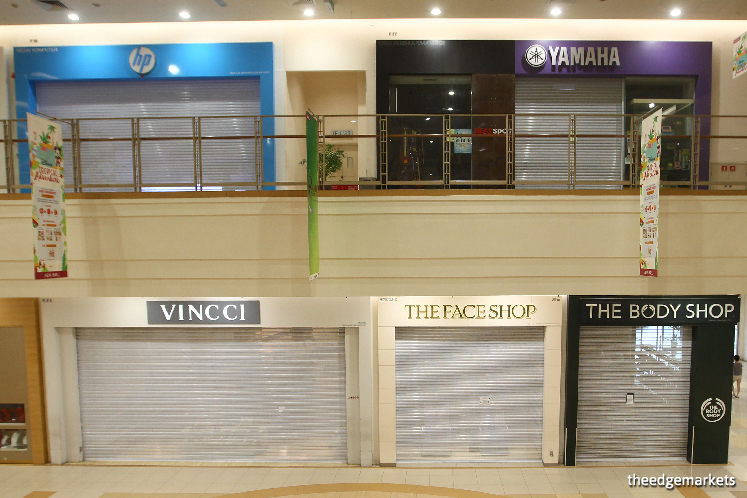 As the government tries to limit the spread of the coronavirus, many dine-in establishments and retailers have had to change their business models overnight or close down completely. 
For the few that have chosen to stay open after the Movement Control Order (MCO) was imposed on March 18 for two weeks, which was subsequently extended by another two weeks to April 14, delivery services have become a quintessential part of their business operations. 
But seeing that the logistic partners charge commissions that could work out to as much as 30% of the total bill, which does not take into account the additional delivery charges, small-time vendors were in a lurch.
To alleviate the burden on these businesses, Grab Malaysia has introduced the Small-Biz Relief programme by providing financial relief of up to RM3,000 to each GrabFood small business in the form of rebates for every order. 
"Since most of the commissions paid by restaurants are used to compensate our delivery partners, this rebate structure will avoid any impact to our delivery partners' income," says Grab Malaysia country head Sean Goh.
The tech company has also committed to imposing 0% commission on all digital payments made via WhatsApp, Facebook and phone orders. "First, we will send a customised GrabPay link to each eligible merchant, so that they can receive direct payments via chat, free of charge, for orders made via WhatsApp, Facebook or phone," says Goh.
"Customers, in turn, will be able to earn GrabRewards points as well. Second, for GrabFood orders, we will waive all commissions if customers choose to pick up the food themselves." 
Grab has also embarked on a campaign to boost visibility and awareness of restaurants across various digital channels, starting April 1. "Hopefully [this will] generate more awareness for our small, independent restaurants," says Goh.
Fave Malaysia, a popular go-to loyalty site for deals and discounts is rallying support to help more than 300,000 merchants — restaurants and retailers — that have been affected by the MCO. 
The company's managing director, Datuk Jake Abdullah, told Fave members in an email that vendors that were open were experiencing a decline of up to 95% in revenue. "With an average of 30 days cash flow, merchants struggle to stay afloat and could face difficulty staying open.
"We will see many permanent closures in the coming months if nothing is done to help them out. This impacts not just the business owners but also the livelihood of their employees and their families as well. Our favourite restaurants and retailers need us now more than ever."
So, Fave has launched a campaign called SaveOurFave.com in the hope of helping all restaurants and retail partners keep their businesses standing through this period. Via SaveOurFave.com, customers can buy eCards from their favourite restaurants or shops and benefit from an additional saving of up to 30%. 
The eCards are valid for six months. Fave has waived all transaction fees and commissions until April 30. 
Axiata Group Bhd — together with its subsidiaries Celcom Axiata Bhd, edotco Group and Axiata Digital — has announced the launch of a RM150 million cash fund to provide financial assistance to micro, small and medium enterprises (MSMEs). Axiata's Covid-19 Assistance Programme includes an initial contribution of RM20 million from the Ministry of Finance.
Boost, a subsidiary of Axiata Digital, has been growing its database of MSMEs to get them to be a part of the formal economy since launching its e-wallet in 2017. Micro-enterprises are believed to make up more than 50% of MSMEs in Malaysia and, falling mostly within the B40 segment of society, tend to have minimal savings and cash flow to buffer unpredictable circumstances. 
The cash fund will be offered as shariah-compliant micro-financing of between RM1,000 and RM10,000 via its subsidiary Axiata Digital, on favourable terms. Interest and payment terms include suspended payment requirements and concessional interest rates.
This is targeted at an estimated 150,000 MSMEs in Axiata's ecosystem and externally. The MSME proprietors and merchants will also be given microinsurance coverage encompassing emergency income, accidental death and Covid-19 assistance.
Proprietors applying for the cash funds will only be required to undergo a quick three-minute online process. If approved, funding will be made available in their bank accounts within 48 hours. For more information on the programme, visit www.aspirasi.co.