This article first appeared in The Edge Malaysia Weekly, on October 28, 2019 - November 03, 2019.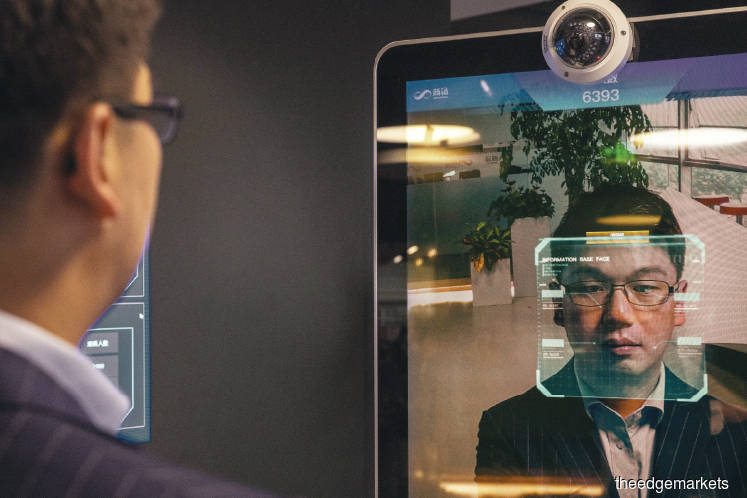 SenseTime CEO Xu Li is identified on a showroom screen in Beijing
Photo by Bloomberg
A fortnight after Beijing and Washington agreed to de-escalate trade tensions, the focus is shifting away from skirmishes on the trade deficit and intellectual property theft to China's use of its vast security apparatus, including its top artificial intelligence (AI)-powered surveillance unicorns or venture capital (VC)-funded private firms valued at over US$1 billion (RM4.2 billion). The new narrative is that the real war is not just about trade but national security.
On Oct 7, Washington put 28 Chinese technology firms and public security bureaus, including facial recognition camera giant Hangzhou Hikvision Digital Technology Co and Zhejiang Dahua Technology Co as well as three facial recognition software powerhouses — Hong Kong-based AI giant SenseTime, Beijing-based Megvii Technology and Shanghai Yitu Technology — on a blacklist, accusing them of being implicated in human rights violations and high-technology surveillance against Uighur Muslim minorities in Xinjiang. By placing them on the Entity List, the Trump administration effectively barred them from doing business with American companies without a US government licence.
The move marks escalation in America's effort to contain China's technological ascendancy, which began last year after it slapped restrictions on Huawei Technologies Co, one of the largest Chinese tech players that makes networking gear, semiconductors such as 5G chips as well as smartphones. Now, China's most promising tech start-ups are being targeted.
SenseTime and Megvii were poised to be listed on Hong Kong's stock exchange within weeks. US investment banks, such as Goldman Sachs, which were leading the initial public offerings of the Chinese tech firms, have since announced that they would review their roles in the IPOs, and the listings have since been put on the back-burner.
The US and China are in a race to dominate AI, which powers robots, self-driving cars, facial recognition, fintech and other cutting-edge technologies. Earlier this year, President Donald Trump launched the US AI Initiative to expedite investments and research and development. That was a clear response to Beijing's game plan to become a world leader in AI by 2030. Although the US is still far ahead in AI, China is catching up. With fewer data-privacy rules, Chinese tech companies are able to harness big data and use AI a lot more powerfully than their counterparts around the world, which gives them a leg-up against US tech giants. Nowhere is that edge more pronounced than in facial recognition, where China's Big 5 — Hangzhou Hikvision and Zhejiang Dahua, which make cameras as well as some of the software, and SenseTime, Megvii and Shanghai Yitu, which develop the AI software — dominate.
All about face
Although there are all sorts of biometric data that can be, and is being, collected about you, facial image is the easiest because as soon as you walk out of your home, you expose your face to cameras covertly collecting your image in the streets, malls, train stations, airports and office buildings. It is difficult to hide your face when you walk around. That is what Hong Kong's recent ban on masks was all about. Masks had allowed protesters to hide their faces and avoid recognition by the police, who are using sophisticated surveillance equipment and software from companies such as SenseTime to help end demonstrations.
Over the years, China has built the world's biggest surveillance apparatus using some of the most sophisticated technology — literally hundreds of millions of cameras and other carefully networked surveillance infrastructure backed by state-of-the-art AI-powered software to watch 1.4 billion people in the country. By some estimates, China currently has nearly 220 million installed cameras in operation, or one camera for every six people. That's just cameras installed by the state. Add in all the cameras installed by private Chinese firms for their own use, particularly in offices, apartments and malls, and you get the big picture.
We all use iPhones or Android smartphones, many of which have Face ID features, which allow the handset to recognise us. Facial recognition technology is not only ubiquitous in private settings for consumers but also becoming fairly common in public settings. All around us, cameras can scan faces and AI-powered software in the background analyses our faces. Over the past few months, I have been at airports, train stations, malls and busy shopping streets in Europe and North America and have just been astounded at the ubiquitousness of facial recognition cameras. They were not the closed-circuit TV cameras of yesteryear but much more sophisticated facial recognition cameras. They are taking a measure of what you are up to by the way you walk. Your images are being matched against a huge database — your identity card, passport and driving licence as well as travel and even financial data.
Chinese camera surveillance technology analyses faces, car licence plates, vehicle types and public events. Cameras installed by Hangzhou Hikvision, Zhejiang Dahua and Uniview Technologies are constantly recording people at street crossings and public places such as sidewalks and parks, in addition to train stations, bus stops and airports. So, if someone is jaywalking, trying to scribble graffiti, littering or attempting to break into a home, office or shop, chances are his or her face can be matched against a vast database and he or she will be nabbed. "China's surveillance state assigns a score to every individual based on their social behaviour, which can impact their credit rating and even their ability to buy train tickets," notes Rebecca Fannin, author of Tech Titans of China.
Beijing's new Daxing International Airport is a key test bed for facial recognition technology. SenseTime's software lets passengers match their ID cards with their tickets and luggage. Want to know which gate you are boarding your flight from? Just stand in front of a camera-mounted smart terminal that recognises you and it will direct you to your boarding gate. WeWork, the beleaguered co-working firm that is being bailed out by SoftBank, was testing SenseTime technology to recognise staff members as they walked towards the office door just before the US placed a ban on the surveillance firm.
SenseTime Group, the world's largest AI start-up, which was valued at over US$7.5 billion at its last funding round, is backed by investors such as Japan's SoftBank Group, US mutual fund powerhouse Fidelity International, private equity firm Tiger Global, VC giant Silver Lake and Singapore's Temasek Holdings. One-third of its revenues are from public security clients such as police bureaus in southern China.
Megvii, known for its facial recognition platform Face++, was valued at more than US$4 billion in May, counts Alibaba Group Holding, VC firms Qiming Venture Partners and GGV Capital as well as the sovereign wealth funds of Abu Dhabi and Kuwait as key investors. Megvii has so far raised over US$1.3 billion and was set to raise more than US$1 billion in the IPO. Another investor in Megvii is Sinovation Ventures, which is run by Chinese-American AI guru Lee Kai-Fu, author of a recent book titled AI Super-Powers: China, Silicon Valley, and the New World Order. Lee was CEO of Google China before it pulled out of the country.
Shanghai Yitu is backed by Sequoia Capital China and was valued at over US$2.37 billion. Founded seven years ago by Leo Zhu, a graduate of the Massachusetts Institute of Technology, Shanghai Yitu is seeking to list on the Shanghai-based tech-focused STAR Market, China's equivalent of Nasdaq. Shanghai Yitu focuses on security solutions that leverage face, image and voice recognition technology that can be deployed at airports, bus stops and malls as well as residential complexes.
Among the other firms on the US' Entity List are Xiamen Meiya Pico Information Co and Yixin Science and Technology Co, key suppliers and solution providers for China's police bureaus. Xiamen Meiya's servers and software are used for data gathering and analysis. Its digital data forensics products, which extract evidence from computer hard drives, mobile phones and media storage cards, are used by the police and security services. Yixin also provides big-data analysis for the Chinese authorities. Yixin and Xiamen Meiya are the Chinese equivalent of Palantir Technologies, the Silicon Valley-based big-data analytics firm that counts the Central Intelligence Agency among its shareholders.
Balkanisation of technology
Hangzhou Hikvision, Zhejiang Dahua, SenseTime, Megvii and, indeed, Huawei are all dependent on critical equipment and chips from US suppliers such as Nvidia, Qualcomm, Broadcom, Micron Technology and Advanced Micro Devices. SenseTime and Megvii are trying to reduce their reliance on American software and semiconductor firms such as Nvidia by developing their own chips. They have also built up huge chip inventories, but it will take years before they can develop chips as sophisticated as those made by the likes of Nvidia. Washington is making it harder for US tech firms to export sensitive technologies such as encryption software, semiconductors and drones to China. It also wants Hangzhou Hikvision and SenseTime, whose cameras are used in large cities like New York, to stop exporting to the US and its allies. The concern is that data is siphoned back to China, enabling Beijing to use facial recognition tech to increase its power and, ultimately, the Chinese Communist Party's influence abroad.
The risk is that the Trump administration, in its attempt to achieve the twin goals of getting China to accept a trade deal and containing its tech ascendancy, will overreach itself and, ironically, hurt the American tech sector. By cutting off Chinese tech firms' access to US technology, Washington risks making its own companies less competitive in the global market. Huawei and others are likely to turn to companies in South Korea and Japan to buy similar chips. Eventually, it would lead to the Balkanisation of technology with the development of two separate ecosystems — one based in China and the other in Silicon Valley. The world will be the loser if there were indeed two competing technologies for robotics, driverless cars or facial recognition. If recent talks are any guide, the gap between the US and China remains as wide as it has ever been.
Assif Shameen is a technology writer based in North America