This article first appeared in The Edge Malaysia Weekly, on July 1, 2019 - July 07, 2019.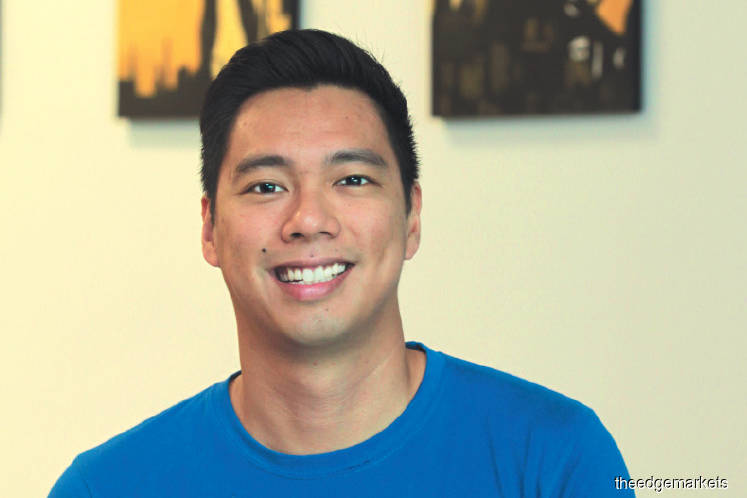 Tan: Given how industries are changing rapidly — everyone needs to upscale and reskill. Mentoring helps with this. Photo by Suhaimi Yusuf/The Edge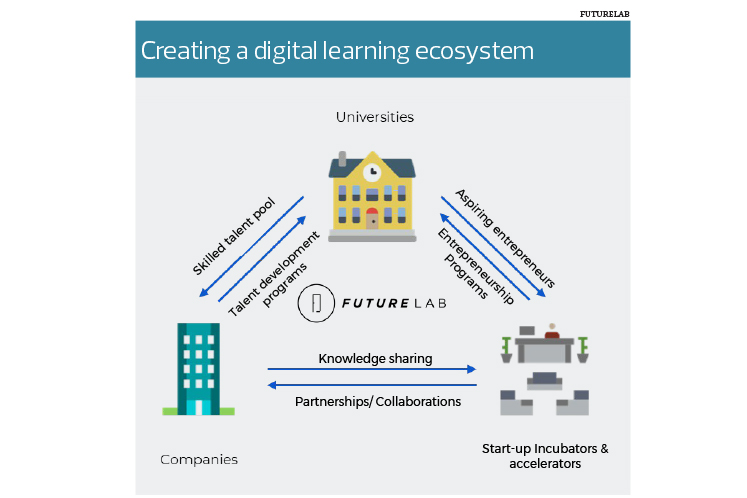 SOCIAL learning tech platform FutureLab believes that its recent diversification into the business enterprise solutions segment will help bring it on the path to profitability. Co-founder and CEO Brian Tan says it aims to ring in a profit by next year.
"Profitability is the main goal for us. I don't believe in all that non-stop fundraising culture," he tells The Edge, referring to the fast-paced, capital-raising culture that is so ingrained in the tech world.
"We will be profitable first and only then will we raise more capital to expand and make more money," he says, adding that the start-up is on track to be profitable in the next seven months and intends to venture into two new markets — Singapore and Australia — in the next 18 months.
"We plan to keep a very lean team. We have doubled [our workforce] in the last eight months, adding six people. Today, we have 13 people … from a team of three when we first started three years ago."
Tan reveals that the team has a revenue target of RM300,000 to RM600,000 per month for next year after its pre-A investment comes in. "We raised RM1.3 million in total in the past three years and we are now in talks with investors for our pre-A round to raise US$500,000 … [to be used in] three markets — Malaysia, Singapore and Australia. We plan to hit our Series A in 2021 when we are looking to raise US$5 million to US$10 million."
According to Investopedia, Series A financing refers to an investment in a privately held start-up company after it has shown progress in building its business model and has demonstrated the potential to grow and generate revenue.
Interestingly, the FutureLab team stumbled on this new revenue stream by chance.
"This was not part of our business plan at first. In 2017, Lean In requested to use our mentoring futurelab.my platform but not the mentors and users on it. They wanted to use their own mentors but needed our platform. So, we repackaged it for them in two weeks and realised that it was an interesting concept where we could build and customise community mentoring platforms for individual business clients," Tan says, admitting that the enterprise platform that FutureLab first built was not perfect and the team had to continuously improve the product.
FutureLab first started off as a mentor marketplace for the public to connect experienced mentors to mentees looking for help at a fee — RM25 per session. The team vets all the mentors.
While futurelab.my is the company's original product, Tan sees more potential in the business enterprise solutions segment when it comes to scaling the business and building a sustainable business model for the team.
"The individual mentoring platform is like our 'give back' to society … where we can help match mentees with mentors. When it comes to the business enterprise solutions, we have a pipeline of projects lined up. We just signed an education group and it has over 15,000 students nationwide. The thing for us is, with an SaaS (software as a service) platform and a small-sized team, our cost is very low," says Tan.
"The SaaS model is the way to go for us. They pay us a monthly subscription fee ranging from RM2,000 to RM5,000 per month for up to 3,000 people," he adds.
When asked why FutureLab is not charging more since the clients for this service are corporates, Tan says there are no plans to do so as it wants to keep its services "affordable" to allow more high schools, universities and companies to come on board to join the digital learning ecosystem.
"There are additional benefits of FutureLab working with enterprise clients such as building our data sets and providing targeted recommendations to our clients.
"Our system is integrated. That is what makes us different. FutureLab's enterprise solutions integrate educational institutions with companies and start-up incubators to create a digital learning ecosystem. This allows our mentees to create connections, such as high school students being able to connect to their school alumni to help them decide what degree and where to study, or university students connecting with a variety of industry mentors to help them land a job. Meanwhile, corporate clients can tap the new talents entering the market," he adds.
Of mentoring and lifelong learning
The FutureLab team has been working on business enterprise solutions for the past year.
"We launched it eight months ago but we haven't told anyone because it is a new product and we don't want to build too much hype on it yet. So far, our customers have come to us by word of mouth. In the last six months, we have signed over 14 enterprise clients, including MDeC (Malaysia Digital Economy Corp Sdn Bhd), MaGIC (Malaysian Global Innovation & Creativity Centre), Axiata Young Talent Programme, United Nations, Sarawak Multimedia Authority's Digital Village, Garden International School and three universities," Tan says, adding that as part of the MDeC project, FutureLab will be connecting 400 high schools to 13 tech universities in the country to develop Malaysia's tech talent.
For the business enterprise solutions segment, FutureLab has built a platform for its clients to introduce mentorship internally and to ensure that there is succession planning.
"Companies can organise management training programmes through the platform and add their own internal mentors and mentees. HR (human resources) can track interactions and there is also an event tool to create workshops and community events. We also have our own FutureLab drives for companies to store resources like pitch decks. And lastly, we have a recruitment tool where mentors can recruit the students," says Tan.
FutureLab's clients include universities. "We integrate and help the alumni reengage their universities' graduates. We provide that platform. So, the universities would be able to get their alumni to mentor their students and recruit their students.
"Look at all the big countries like the US — they tap their alumni network massively. When you think of the likes of Harvard and Stanford, you don't think of the school, you think of the alumni. Why don't we do the same here with the local universities?" he points out.
Tan is a great believer in mentorship.
"Given how industries are changing rapidly — everyone needs to upscale and reskill. Mentoring helps with this — to pass on the experience learnt and foster creative thinking in the workplace. There's a need for a lot of learning in the world now. We have to become lifelong learners. So, we make sure companies have this system in place for employees to learn and be mentored as well as for fresh graduates coming into the system," he says.
The company has 20,000 to 30,000 mentee users, which it aims to grow to 200,000 to 300,000 by next year. It is also looking to launch an app to increase ease of use and stickiness.
"There's a lot of things we have to do but we have to be patiently impatient — if that makes sense? You have to be fast but you cannot move so fast that you don't execute well," says Tan, a biochemist by training who worked as a management consultant before starting FutureLab.