This article first appeared in The Edge Malaysia Weekly, on October 26, 2020 - November 01, 2020.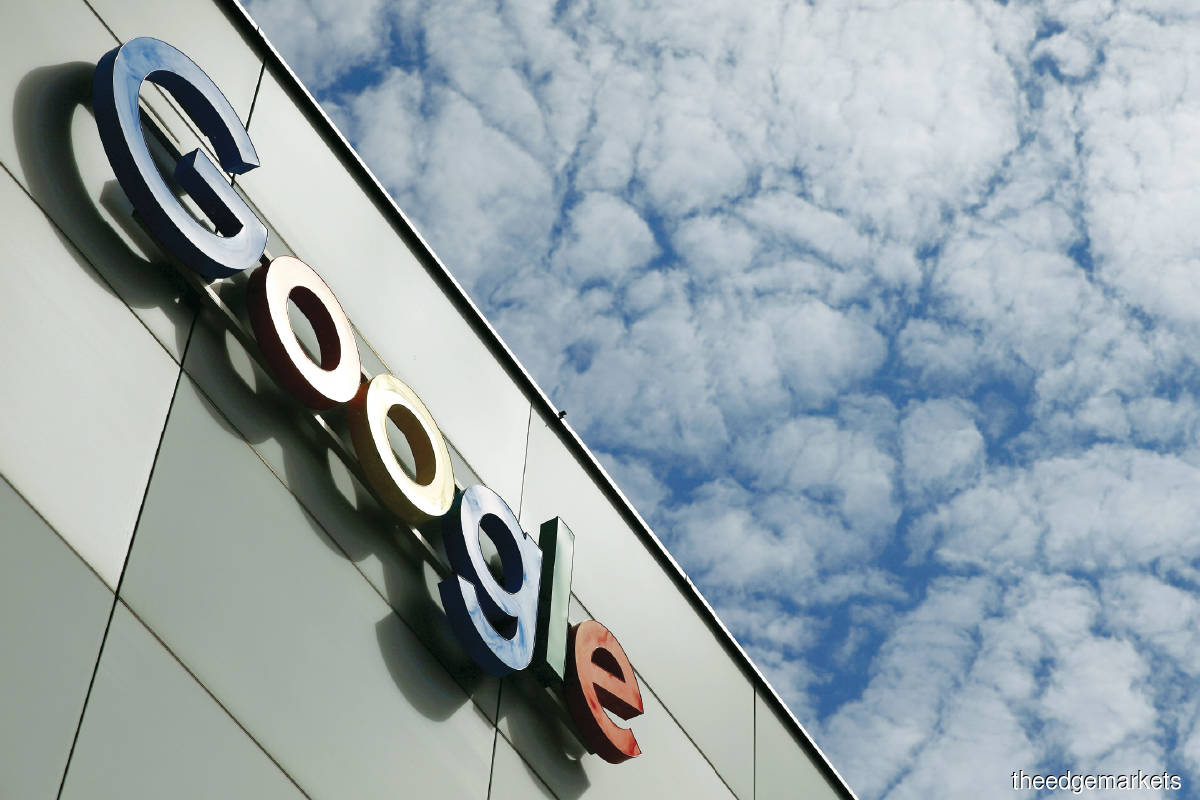 OVER the past 110 years, only four monopolistic US companies have had antitrust suits brought against them. Antitrust laws protect consumers from predatory business practices and ensure fair competition. Energy behemoth Standard Oil Co was broken up into 34 companies in 1911. The suit against computer giant IBM Corp first filed in 1969 was eventually withdrawn in 1982. Telecom colossus AT&T Inc was splintered into seven "Baby Bells" in 1984. In 1998, the US Department of Justice (DOJ) sued software powerhouse Microsoft Corp only to settle it three years later. Last week, search engine Google — one of the five players alongside Amazon.com, Inc, Apple Inc, Microsoft and Facebook Inc that have long dominated the global tech sector — was sued by the DOJ for being a big, bad tech giant. The suit represents the first anti-monopoly case since 1998 and only the fifth in history.
The US government accuses Google of harnessing its role as internet gatekeeper to enrich its vast business empire, stifling competitors and hurting consumers through exclusionary agreements. It alleges that Google spent the profits it made from its powerful position to buy special treatment for its search engine on devices and web browsers, creating a "self-reinforcing cycle" of monopoly power abuse.
"If the government does not enforce the antitrust laws to enable competition, we could lose the next wave of innovation," noted deputy attorney general Jeffrey Rosen. "If that happens, Americans may never get to see the next Google."
To be sure, being a monopoly is not a crime. Free market economies do not, and indeed should not, punish companies for being incredibly successful and becoming dominant in their segment. What is illegal, however, is engaging in anti-competitive and exclusionary practices or using their dominant position in the marketplace to stifle competition.
For all its faults, Google's products have a great user experience. They are everywhere and you just cannot avoid using them. Since this morning, I have used Gmail, Google Search, Waze, Google Maps, YouTube and probably countless other Google services on my smartphone, tablet and desktop that I do not even recall using. Google has over 75% of the global search advertising market. In the US, it had an 88.1% share of search last year, followed by Microsoft's Bing with a mere 6.7% share, Yahoo with 3.2% and DuckDuckGo with just 1.7%. If you narrow it down to just search on mobile devices, Google's current market share in the US is over 95%! However, its share of the US search engine advertising market is just 58% because only a portion of those searches — generally, the ones for products — yield ads.
Google dominates the global digital advertising market, way ahead of Facebook and Amazon. In search advertising last year, it chalked up annual revenues of US$31.8 billion (RM131.8 billion), though Amazon, which now has a 17% market share in search, has been gaining ground in recent years. Though it has a ton of businesses aside from search — including its adtech business, Chrome browser, mobile operating system Android, YouTube and Google Cloud as well as its ­"other bets" such as its driverless cars unit Waymo or its healthcare unit Verily — Google's parent Alphabet is not as well diversified as it might appear to be. Search still accounts for a lion's share of its revenues. A dent in search advertising in the wake of an antitrust suit could be a huge drag. Alphabet's stock has perennially been the laggard of Big Tech. It is up just 43% over the past two years compared with 80% for Facebook's stock, 81% for Amazon, 98% for Microsoft and 110% for Apple.
Monopolistic behaviour
Here is what the regulators say Google has been doing that warrants the antitrust law suit: It has been using its humongous size to buy out competitors to preserve its dominant position. Google's main completion in search is YouTube, which it acquired in 2006 for US$1.65 billion (YouTube now rakes in US$15 billion in ad revenues every year and billions more in revenues from subscription videos). And, by the way, its biggest online ad competitor is DoubleClick, which it also owns, having acquired it in 2007 for US$3.7 billion. The DOJ alleges Google has also used its dominance to become the default internet search engine on just about every device —smartphone, tablet, laptop, desktop — that you use.
It controls the world's largest smartphone operating system Android, which powers 82% of smartphones globally. "On Android devices, we have promotional agreements with carriers and device makers to feature Google services," notes a recent Google blog post. "These agreements enable us to distribute Android for free, so they directly reduce the price that people pay for their phones." Yet, Google is not happy with its own Android's controlling 82% share of the mobile search market. It also wants the other 18% and is willing to pay big bucks for it. Google pays Apple, which controls most of the remaining 18% of the smartphone search market, about US$11 billion annually — or nearly one-third of Alphabet's annual profits — to be the default search engine on ­iPhones and iPads. It gets more than its money's worth. Apple-originated search traffic makes up about half of Google's total search volume in the US. That is monopolistic behaviour. And yes, it is illegal.
For its part, Google says the DOJ's lawsuit is "deeply flawed". The search giant claims it is not a monopoly and is unlike other monopolies because, not only is it free, it actually saves us money. Consumers use Google, it claims, because they choose to, not because they cannot find an alternative. The DOJ needs to prove that Google as a monopoly is harming consumers. With a cartel like Standard Oil back in the day or giant telco AT&T in the 1980s, it was clear that consumers were being harmed by higher prices. Since consumers are not paying to use Google, it will be hard to prove that it uses its dominance to harm consumers. The lack of innovation in online search hinders competition, which means online advertisers pay higher prices for their ads on Google. But try arguing that in court when businesses that advertise on Google essentially cannot be discovered without their using the search engine.
Through deft use of innocuous cookies that sit in whatever computing device you use, Google tracks you every day, everywhere, collecting an incredible amount of data by learning what you click on when you do a particular search. Let's say you are searching for a repairman to fix your air conditioner that is not working. You might type "air-conditioner repair" and Google will send the results of repairmen who paid it to the top of the page, making it more likely that you will click on them. Google's technology is very good at predicting what other users searching for something will click on. If you are searching for a dentist near your home, it figures out where you are and then lists the dentists nearest to you. It even tells you how long it would take to walk or drive to the dentist or whether he or she is less busy on a Thursday afternoon.  Just about everyone in your neighbourhood who has ever searched for a dentist has used Google. That makes it incredibly difficult for a competitor to build a competing search engine. The bigger Google gets, the harder it is to compete with it because no repairman or dentist would go to another search engine. Google got there because it started with things like exclusive deals with all the dentists in your area. They signed up and advertised because Google promised them it would not give default position to competing dentists.
Detractors say the case against Google is weak. The DOJ hesitated to throw the kitchen sink at the search giant because it was in a hurry to file the suit before the Nov 3 presidential elections. The government left out any mention of advertising technology or adtech, where Google is a dominant force. Google is a big player in display advertising. It represents the publishers or websites where display ads appear. It also represents advertisers. And, oh, by the way, it owns the auction marketplace, or the technology platform where publishers and advertisers are bidding and making decisions over which ads to run around the clock. You could not possibly find a bigger conflict of interest in any other business.
Deal-making down
One reason the DOJ chose to focus on a very narrow range of charges against Google could be that it wanted a simple case that it could win or at least force Google to reach a settlement and agree to a hefty fine. Prosecutors hate shooting too high and missing a big target. They are focused on winning cases rather than making political points in the courtroom. If other US state AGs file a separate suit targeting Google's dominance in adtech, it is likely that the DOJ too will eventually sign up for it, particularly if Joe Biden wins the presidential contest next month and appoints a more liberal AG at the federal level.
We are likely to see years of legal back and forth before the case is decided. What happens if the government wins? The DOJ in its filing against Google last week hinted at "structural remedies" — a euphemism for breaking up the search giant. If it does prevail, analysts say Washington is likely to demand that Google divest YouTube and Chrome browser. That could allow mini Googles to emerge.
Whatever happens, Silicon Valley will never be the same again. The antitrust case against Microsoft bogged down the software powerhouse, allowing competition to flourish and giving rise to new tech giants such as Google in search, Facebook in social media, and Apple and Google in smartphones. As Google navigates federal courtrooms in Washington, DC, the next generation of internet platforms is likely to emerge.  
With the biggest hoard of cash in the world (more than US$100 billion as at June), Google has been one of the most prolific dealmakers in the Silicon Valley, buying up small companies as well as making investments through its venture capital arm. Its parent, Alphabet, closed 24 deals in 2015, but that figure has dropped to just five so far in 2020, according to research firm PitchBook. Increased regulatory scrutiny will make it even more difficult for Google or Alphabet to do any deals in the foreseeable future. There is at least one big deal pending, though. The European Commission is currently reviewing Google's US$2.1 billion takeover of smartwatch maker, Fitbit. Over the past three years Google has paid €8.25 billion, or US$9.8 billion, in EU antitrust penalties. If the polls are right and Biden and his Blue Wave sweeps America on Nov 3, tech giants could find themselves adjusting to a whole new regulated world.
Assif Shameen is a technology writer based in North America