This article first appeared in The Edge Malaysia Weekly, on February 4, 2019 - February 10, 2019.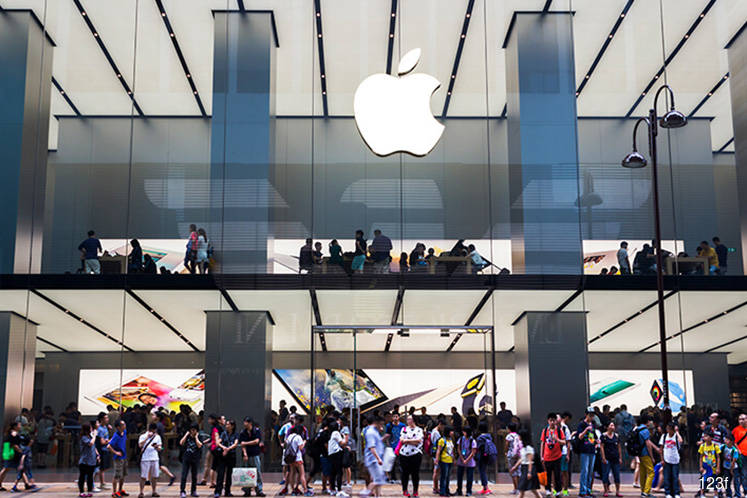 THE headlines around Apple, until recently the world's largest company, have been focused on a saturated market for its smartphones and falling sales of its high-end phones in China. While Apple's earnings per share are still growing, mainly owing to a massive US$75 billion annual share buyback plan, its revenues fell 5% year on year in the December quarter because of lower sales of the iPhone and a stronger US dollar. 
CEO Tim Cook, who took over from legendary co-founder Steve Jobs in August 2011, is trying to remake Apple from a firm reliant on iPhones, which make up 61% of revenues, to a more diversified one with profits coming from multiple segments, including services.  Of Apple's total revenues, services makes up 13%,  Macs account for 10%, iPads 7% and Apple Watches, HomePods and AirPods make up the rest. 
 
Cross-selling products and services
As they grow, companies often tweak their business models and transition from selling products to solutions or from hardware to software or services. International Business Machines has tried just that, with limited success. In Apple's case, there is a sense of urgency. The recent slowdown in iPhone sales in China has forced the company to look at alternative revenue streams as new growth drivers. Overall gross margins at Apple in recent years have hovered around 38%. For services alone, gross margins are as high as 62.8%, up from 58% a year ago. Gross margins on hardware are around 34%. "Its move towards more reliance on services will dramatically lift Apple's margins," says Timothy O'Shea, analyst for Jefferies in New York.
The tech giant has for years focused on enlarging its sticky ecosystem, which allows it to cross-sell products and ­services to a loyal customer base, rather than just growing sales of its iconic hardware such as iPhones, iPads or Apple Watches. Apple's mobile operating system, iOS, provides users with an integrated and seamless experience across multiple devices, such as accessing their documents, music, movies, apps and digital books from anywhere, which is more difficult for competitors to replicate because they might be using a Samsung smartphone, Dell laptop, Huawei tablet, Spotify music account and Amazon Prime account for movies or books. Because Apple makes its own hardware, operating software and, increasingly, an array of services, it can integrate them all to provide the sort of experience that most of its competitors are unable to. 
Services such as iCloud storage, apps sold on its App Store, AppleCare warranties, Apple Pay and Apple Music are among the fastest-growing segments of Apple's revenues alongside iTunes movie rentals. Two years ago, Cook set an ambitious goal of doubling Apple's paid services business to US$50 billion annually by 2020. Services revenues accounted for US$39.75 billion in FY2018 ended September and are expected to top US$48 billion by this September.  
To sell a lot of services, a big base of ­users or subscribers is needed. Apple has more than a billion unique users, an installed base of 1.4 billion products — including 900 million iPhones — currently in use that is growing by over 100 million a year. The huge scale of users helps attracts more application developers, which in turn further boosts the number of users. Even though Google's Android has an installed base that is three times that of the iPhone, developers make more apps for the iPhone, with annual sales almost twice the revenue of Android apps. Indeed, Apple has paid out US$120 billion to app developers since mid-2008. Apple's own take from the thriving app economy over the past decade has been about US$50 billion. It takes 30% of total gross sales on app downloads or in-app payments, and recently cut to 15% for repeat in-app payments. 
 
New subscription businesses
Apple has more than 350 million paid subscriptions on its platform, up 50% over the past year. It is expected to unveil a number of new subscription businesses, including filmed entertainment, gaming and news as it seeks to grow its services revenues. Apple expects to have half a billion subscriptions by next year.
Apple will introduce a new subscription service for online gaming that has been dubbed the "Netflix for games" later this year. Games are by far the bestselling category on Apple's App Store — both in terms of total downloads as well as revenues. But why would anyone buy a monthly subscription to access a library of games when there are lots of free-to-play games on the App Store? For one thing, free games are just one part of the expansive and growing gaming inventory on the App Store. A subscription would give users access to paid games and include free coins and perks for the free-to-play games. Apple could also act like a game publisher for new games, helping entice developers to create exclusive games for the service by removing the fees they would normally pay to an outside firm for user acquisition, marketing and other distribution-related costs. ­Amazon.com and Google are readying similar services that will focus on streaming games from the cloud, the way Netflix and Spotify Technology stream videos and music.
Among the most successful of Apple's services is Apple Music, which costs US$9.99 a month and has more than 62 million paying subscribers compared with rival Spotify's over 90 million subscribers. Apple claims it has more subscribers in North America than Spotify and makes more money per subscriber worldwide and is catching up in its rival's main turf of Europe. 
Another area of focus for Apple is news, through its Apple News app, which has emerged as the go-to app for most iPhone users. Apple has been working on a magazine subscription service since it acquired Texture last March to help build on its news app. For US$9.99, Texture subscribers can access more than 200 magazines, including TIME, Bloomberg Businessweek, Vanity Fair, Architectural Digest and Vogue. Apple News, which is currently only available in the US, Canada, the UK and Australia, is now being rolled out globally.
Apple is also pouring money into original movie and TV content. It has inked deals with TV producers and stars such as Oprah Winfrey, Reese Witherspoon and Jennifer Aniston to put together a streaming service. It wants to compete with Netflix and other streaming platforms such as Amazon. Apple spent over US$1 billion last year on the production of filmed entertainment that will be released as part of a video subscription service later this year. RBC Capital Markets believes a combination of music and original movies and TV content could be a US$12 billion-a-year business for Apple in three years. 
Can Apple replicate its success in music subscriptions with games, news and magazines and videos and movies? It is reportedly considering an all-in-one subscription model with magazines, games, TV shows and music. Indeed, the Cupertino-based tech giant recently released the first beta of iOS 12.2 for its developers, which includes a news service as part of a subscription bundle. It is unclear whether investors will view such a service as something that absorbs massive capital or as a recurring revenue stream.
What else will drive the services business apart from apps, music and soon, games and movies? Think healthcare, through Apple Watch, and payments as Apple Pay becomes more widely available. Apple has signed deals with insurance firms and healthcare providers to give away its watches to track their customers' physical fitness, including data on their heart, blood sugar and level of activity. There is also Alphabet, which pays Apple US$9 billion a year to make Google the default search engine on the iPhone. Analysts expect annual payments by Alphabet to exceed US$12 billion this year.  
RBC's Amit Daryanani argues that Apple could offer leasing for its bestselling hardware, something he describes as "iPhone as a service". Investment bank Goldman Sachs recently suggested that Apple may be considering an Amazon Prime-like subscription plan priced at over US$30 a month that would combine Apple Music, iCloud storage, Apple Care, movies and gaming services bundled together for customers who want a new iPhone every year. Customers may not be willing to fork out US$800 for a phone, US$10 for a TV and movie subscription, US$10 for a music service and another US$10 for a mobile game service, but may happily pay US$30 to US$40 a month for a phone and bundled services. Microsoft already offers Xbox customers in the US the option of either buying the gaming console or a 24-month subscription. By bundling the phone and services together, Apple could get a boost in revenues and earnings and shorten the replacement cycle of the 
iPhone from nearly three years currently to 24 months. Apple currently derives US$28 a year in services revenue from every device in use and US$44 from every iPhone in use. 
 
Razor-and-blades model 
If it could make such a service work, Apple will transition to a razor-and-blades model, where makers of razors — in the case of Apple, iPhones, iPads and Apple Watches — have a recurring revenue stream selling blades or services necessary to enhance the functionality of their devices. If Apple can get investors to recognise that it is selling blades, they might be more willing to look beyond the quarterly growth of smartphone handset sales and give it the sort of valuation multiples other recurring-revenue companies command rather than the low multiples that hardware makers currently get. It is clearly a Herculean task that would take years, but not an impossible one. After all, just 20 years ago, Apple, a fledgling maker of PCs with a small and diminishing market share, was a few weeks from bankruptcy. It remade itself into the world's most successful consumer product company by thinking differently and branching out into new products such as iPods, iPhones and iPads and becoming the world's first company with a trillion-dollar valuation. Whether it can do it again remains to be seen.
Assif Shameen is a technology writer based in North America
 
Save by subscribing to us for your print and/or digital copy.
P/S: The Edge is also available on Apple's AppStore and Androids' Google Play.