This article first appeared in Capital, The Edge Malaysia Weekly, on December 21, 2020 - December 27, 2020.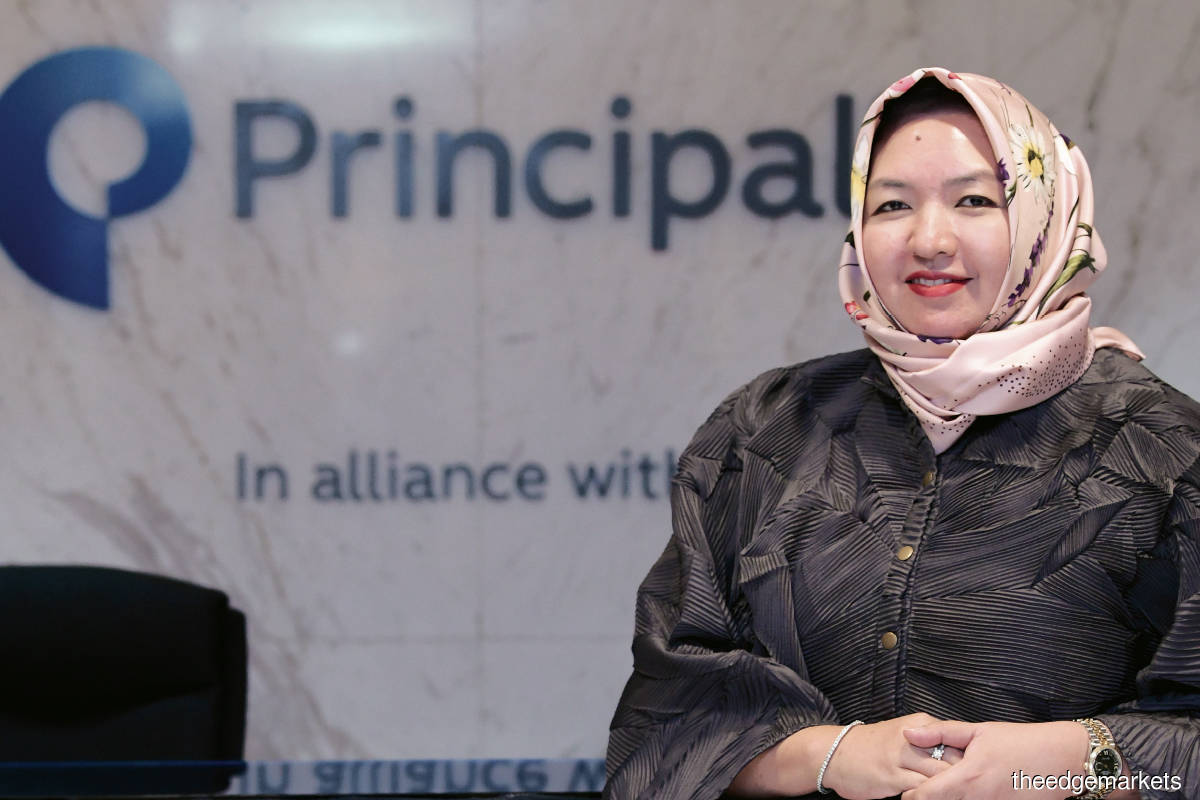 TECH and global healthcare stocks are expected to lead Malaysian equities in next year's anticipated recovery of the global and local economy.
The market has seen a meaningful rally this year, supported by ample liquidity mainly fixated on glove stocks.
More recently, news of Covid-19 vaccines has widened the focus to include other sectors such as banking and oil and gas. Despite the volatility that has arisen from political uncertainties and the rise in coronavirus infections in recent months, Principal Asset Management Bhd anticipates an exciting year ahead for the stock market.
"We cannot underestimate that growth may be patchy as recovery will take a while. But central banks are taking cognisance of the improved sentiment with the rollout of the vaccines; they will not be aggressively hiking rates in order for recovery to be on track," its CEO Munirah Khairuddin tells The Edge in an interview at the company's headquarters in Kuala Lumpur last Wednesday.
Principal Asset Management pegs gross domestic product growth next year at 6.5% to 7.5% from a contraction of 4.5% in 2020.
"From that low base and the pump-priming on transport, you can see the economy will be infrastructure-led, followed by a focus on education and healthcare," Munirah says.
She explains that it will be necessary for the government to buy back debt and that amid the administration and distribution of Covid-19 vaccines, recovery will be sporadic as it will take some time before the vaccines become widely available.
"Also, as there was no clean sweep by the Democrats in the US, that is likely to cause delays in economic recovery there," Munirah opines.
Closer to home, she points to political stability as a key caveat in 2021 given that Malaysia's market performance would be dependent on international investments and how investors perceive the country.
Although the third wave of Covid-19 infections is due to specific clusters, the high numbers — averaging 1,000-plus a day — are a matter of grave concern, she says. "[The numbers] need to start showing signs of slowing. If we don't take control of the Covid-19 situation, recovery will be prolonged."
While some degree of volatility in the equity market is expected, it could attract an inflow of investments capitalising on the volatility, reasons Munirah, as volatility is better than stagnation.
Bullish on tech, healthcare and biotech
With the government's pump-priming of industries such as transport and healthcare, these are key sectors to look out for, according to Munirah.
"If you look at the Bursa Malaysia constituents, it is a different scenario from many years ago. It is no longer a defensive play but one of growth. Although Malaysia still lacks tech stocks, the play on this category will continue and prices can still go up as companies embark on their digitalisation (and) transformation journey. We're [just] at the beginning of a meaningful circular trend as innovation rises to the fore."
She is convinced that it is only a matter of time before small- and mid-cap tech stocks in China emerge as major players in equity markets.
"We need to be more welcoming of tech players setting up in Malaysia as we need that big push. Imagine the businesses and talent we would attract if Amazon were to set up here," she says.
While glove stocks currently command a significant percentage of transactions in the stock market, Principal Asset Management is neutral on the sector. "That sector is stretched as the situation has been such that you can't afford to sit out from investing in gloves. But we would prefer to be more diverse in our portfolio allocation."
Healthcare and tech are her sectors of choice as "these will be here to stay for a while".
Strong retail participation in 2020 points to money on the sidelines waiting to enter the market.
"Retail investors these days are no longer just the moms and pops. A younger generation of investors is interested in the financial market, and they are here to stay. Their strong participation comes through clearly in their coming forward for financial advice in our webinars and other activities," Munirah says.
She foresees the re-emergence of foreign funds in the form of smart money in Asia. "It will return to certain markets as smart money these days is specific. It will definitely return as people are hungry for yield."
Corporate earnings target in 2021 raised
Principal Asset Management expects corporate earnings in 2021 to be in line with the overall economic recovery.
"We will continue to see digital growth such as the expansion of e-wallets and digital banking. Malaysia, as one of the fastest-growing countries in e-commerce, is expected to end this year with a 25% growth rate and to reach RM51.6 billion in 2024," Munirah says. "Key funds' returns have been fantastic, coming in at 20% to 40%."
On the outlook for the ringgit, she attributes its stability to the dollar's weakness. "If the stock market continues to support trade flows, the ringgit could look quite stable. Dollar weakness could be premised on multiple factors such as the US' political dilemma since it has yet to conclude its presidential election [President Donald Trump is still challenging the results of the election, which Joe Biden won]. Until then, people will be cautious on the US. The ringgit is expected to benefit from the volatility there."
Property players need to be more digital-savvy
Munirah is of the view that the property market needs to correct further and transform towards a more digital-savvy framework.
"Real estate stocks in Malaysia are relatively cheap but we like to buy into companies that have changed their business model to a technology-based one, where, for instance, their inventory translates into an e-commerce format," she says.
Meanwhile, the tourism industry will not see a turnaround as long as borders remain closed. Even for countries that have lifted their bans, weeks-long quarantines are a deterrent to any form of travel.
"I'm not bullish on it as it is still too early for tourism," says Munirah.
Key events to monitor in 2021
The actual economy needs to show real signs of improvement, supported by ongoing company investments.
Much of that economic recovery will be dependent on the widespread administration of the Covid-19 vaccine, for one.
Secondly, the US' resolution of its policies and expansionary measures is a thing to note and will depend on how President Joe Biden sees them through, Munirah opines.
"Thirdly, watch out for China's ambitious charge as it typically reacts with a counter-deal following launches by the US. Whatever the US does, China will follow suit with something better and cheaper."
Take the abrupt suspension of fintech ­giant Ant Group's initial public offering. "The Chinese government is watching for frothy and overvalued deals, which is a clear sign that regulators are making sure that things do not get out of control," Munirah says.
The pandemic has also highlighted the importance of environmental, social and corporate governance (ESG) issues to investors, putting pressure on companies to buck up in this respect.
"As these ESG elements exist in shariah compliance, Malaysia has an advantage in the eyes of investors," Munirah says.
This year, Principal Asset Management recorded regional sales of RM85 billion, with Malaysia's assets under management (AUM) accounting for RM64.24 billion.
For 2021, the asset management firm is targeting national and regional sales of at least RM70 billion and RM90 billion respectively.
"The key isn't just to go after AUM. We are more focused on expanding our customer base as that indicates growth potential. Hence, we are looking to aggressively acquire new platforms and roll out our new digital agenda next year. The launches will be in the areas of tech, healthcare, ESG and digital," says Munirah.
Currently, Principal Asset Management has a customer base of more than one million across the region, with Malaysia comprising more than 300,000 accounts, excluding banking customers.