This article first appeared in The Edge Malaysia Weekly, on August 19, 2019 - August 25, 2019.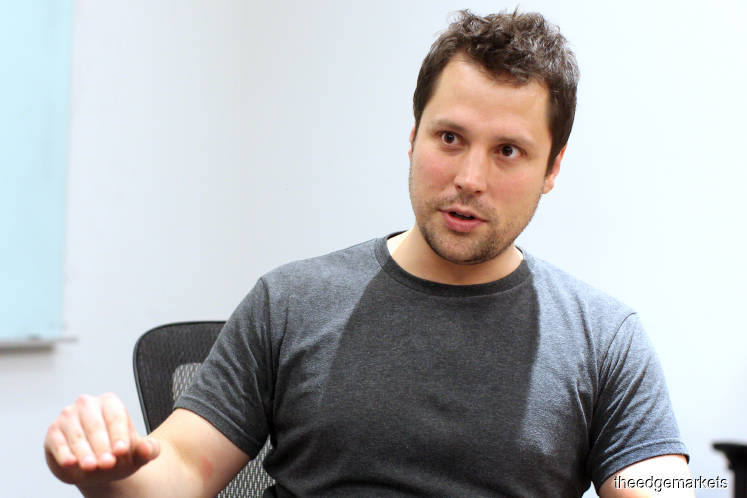 Davison: Our strategy is to become the largest financial institution operating on a challenger bank model in Southeast Asia model. photo by Mohd Izwan Mohd Nazam/The Edge
AIRASIA's financial services venture, BigPay, will soon increase its offerings to include loans and remittances in its maiden step towards becoming the region's largest financial institution operating on a challenger bank model.
BigPay already has the regulatory go-ahead to offer these services in Malaysia, says group CEO and co-founder Chris Davison in an interview. The rollout will come amidst plans to launch its services in Singapore by year-end.
"We already have a lending licence and we're working on operationalising it ... by the end of the year, we'll be offering loans. Remittance is coming soon ... in the next few months," Davison tells The Edge.
"At that point, we'll be very similar to a bank, except we have no branches and (are) built entirely on your smartphone," he adds. "This means we can ship faster, better, more secure and customer-friendly products at a lower cost."
The wider range of offerings is a much-anticipated next step for BigPay, which has grown rapidly since its Malaysian launch in January last year. The launch came less than a year after its beta trial of under 1,000 users, says Davison.
AirAsia Group Bhd (AAGB), the flagship listed vehicle of the budget airline group, became BigPay's largest investor after the start-up pitched and presented its idea to the board in 2016.
"We saw the early emergence of challenger or new banks in London, with many people disenfranchised from access to banks, and saw the opportunity to bring this model to Southeast Asia," says Davison, who hails from London where he previously worked in financial services.
Last Thursday, Bursa Malaysia-listed AAGB closed at RM1.83, declining 5.35% over the past 12 months. Its market capitalisation was roughly RM6.12 billion.
AAGB's management has long decried the market's zero value pegging of its non-airline businesses — ranging from BigPay to logistics venture Teleport — which seek to leverage its trove of passenger data. Last year, AAGB decided to reorganise its non-airline businesses into a single entity called RedBeat Ventures.
"We [BigPay] are probably worth about a third of AirAsia's market capitalisation right now," Davison muses, citing enquiries from private investors interested in the company, but was tight-lipped on other financial details.
"If we wanted, we could be profitable by the end of this year," he replies when asked if BigPay is in the black — an indication that the company is still investing heavily in scaling up its operations.
As with any other tech company seeking a dominant position in Southeast Asia, large upfront investment to create a product that fits the market is a prerequisite.
"Bluntly, we're not spending a lot of money on marketing discounts and promotions compared with other companies. We have a lot of customers and a lot of transaction volume and we've managed to achieve this with relatively little marketing, but due to a focus on product and customer experience," he states.
BigPay began operating as essentially an e-wallet for users to store their cash. A key differentiator, however, is its tie-up with MasterCard for payment solutions, which grants access to over 35 million merchants globally.
New users sign up to use BigPay by downloading its mobile app, then going through a registration process that includes recording a short video for verification purposes.
A BigPay card is later mailed to the user, although transactions can take place via the app or the card. Up to July this year, sign-ups had exceeded 750,000 and transactional volume has been growing 20% month on month.
For perspective, there were 9.2 million principal credit cards in circulation as at May 31 , according to Bank Negara Malaysia data. In the same month, 41.9 million credit card transactions were recorded with total domestic purchases by local cardholders amounting to RM10.32 billion, and purchases abroad, RM1.48 billion.
Davison declines to disclose the number of transactions undertaken by BigPay so far, or the total value.
According to the central bank's website, BigPay is one of 41 non-bank e-money issuers — essentially a stored-value facility provider. Twenty-five banks are listed as credit card issuers, and 29 banks for issuance of debit cards.
"Practically, prepaid and debit are relatively similar. What really makes the difference is what you do with it," says Davison.
The group CEO feels the one million threshold for signups could be reached by December. According to him, the number of signups thus far puts BigPay well ahead of competing offerings by major conventional banks. "The majority of our volume is domestic and non-travel related, highlighting that we are a top e-wallet of choice for everyday use for many Malaysians."
A key factor in attracting signups has been word of its relatively cheaper foreign exchange rates. Davison explains, "We do not charge any mark-up fees on currency exchange rates, unlike banks that charge from 2% to 3%."
Similarly, BigPay does not charge its users fees, except for ATM withdrawals. Its income is derived from a proportion of the transaction fee charged to merchants, plus interest of about 2% gained by parking users' money in repurchase agreements or repo.
"Money from our customers sits in a segregated trust account and we're allowed to put it in an overnight repo. We are trying to reduce or remove fees where we can, and where we cannot, be upfront and transparent on what we charge for, and why," he adds.
Approximately two-thirds of BigPay transactions come from domestic spending while the rest is international. Most of its users are under 35 years of age.
Surprisingly, AirAsia-related transactions only represent roughly a tenth of its overall transaction volume, Davison discloses. This is despite anecdotal accounts of AirAsia imposing an additional charge on passengers who make booking payments online without using BigPay, which could have been expected to push many passengers to sign up for the service.
With a Singapore expansion looming and more offerings for Malaysian users, what is the endgame for BigPay?
For starters, BigPay is planning to roll out its services in other Asean markets by early 2020, even though plans remain fluid at this juncture.
It is also keeping an eye on the virtual banking framework currently being developed by Bank Negara, which was about 50% completed as at June. Reports say the central bank is aiming to release the requirements for a virtual banking licence by year end.
Davison confirms that BigPay will "definitely" seek to apply for a virtual banking licence once the framework is ready, and it meets the requirements. "Our strategy is to become the largest financial institution operating on a challenger bank model in Southeast Asia, where there's a population of 700 million people, of which more than half are under 30."