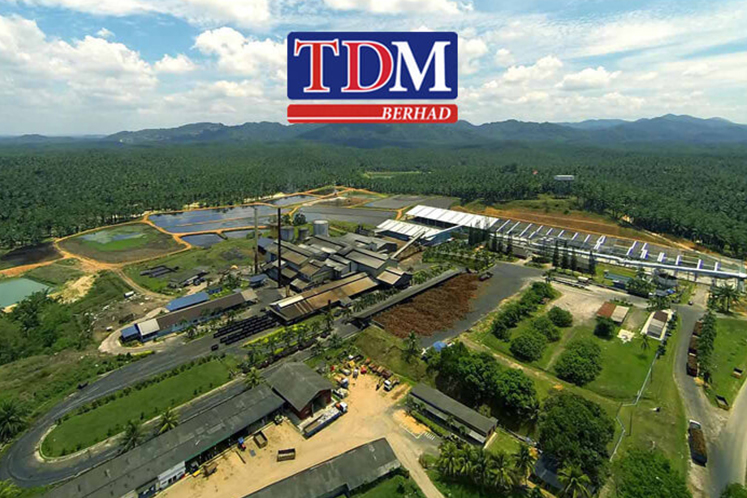 KUALA TERENGGANU (May 28): TDM Bhd has registered revenue of RM104.8 million for the first quarter ended March 31, 2019 (1Q 2019), down 10 percent from RM115.8 million posted in the same period last year.
The decline in revenue was due to the decrease in the production and sales from the oil palm division.
In a filing with Bursa Malaysia today, the company said it incurred a net loss of RM4.91 million in 1Q 2019 compared with a net loss of RM2.87 million in 1Q 2018.
Meanwhile, in a separate statement chairman Raja Datuk Idris Raja Kamarudin said, however, the lower revenue from oil palm division was offset by the healthcare division which registered a 14 percent increase in revenue in the current quarter.
"Healthcare division showed a solid performance in 1Q 2019 with revenue increasing to RM58.1 million from RM51.1 million in 1Q 2018, driven by higher inpatient and outpatient numbers in our four specialist hospitals," he said in a statement here today.
To boost the company's revenue, Raja Idris said TDM will create centres of excellence in the four hospitals, besides introducing new services.
These include an eyecare centre at the Kuala Terengganu Specialist Hospital, endovascular services at TMDC Kuala Lumpur Hospital and angioplasty at the Kuantan Medical Centre.
As for oil palm plantation, the company is considering shifting its focus on the downstream business to reduce its dependence on the commodity plantation sector amid the uncertain price movements in the market.
He said small-scale mini refining centres were being considered and studies on this matter were being undertaken.
"Besides increasing the company's revenue, we are targeting the refining centres to also assist the oil palm smallholders who are most affected by the uncertainty in commodity prices," he said.