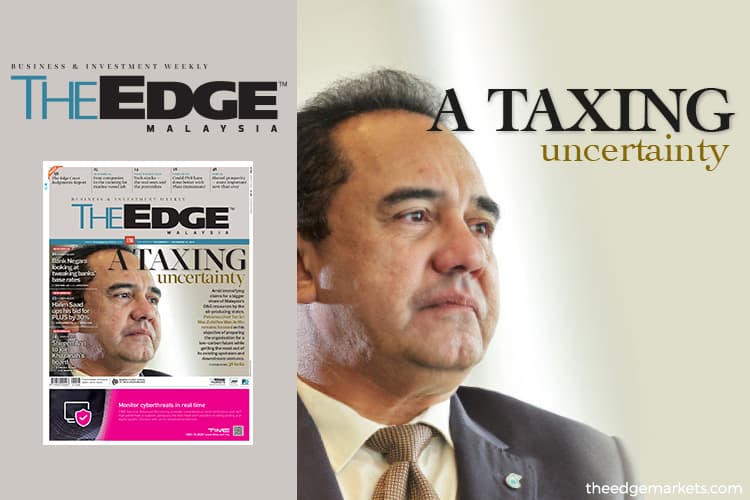 KUALA LUMPUR (Dec 7): Sarawak's legal pursuit for a higher share of proceeds from its hydrocarbon resources – the biggest among Malaysia's oil and gas producing states – has once again put the national oil company Petroliam Nasional Bhd (Petronas) in the limelight.
The matter escalated just as Tan Sri Wan Zulkiflee Wan Ariffin approaches his five-year mark as Petronas president and group chief executive officer early next year.
At the 83rd floor of Petronas Twin Tower 1, The Edge speaks with Wan Zulkiflee in an exclusive interview to shed more light on the matter, and other series of events involving the national oil and gas company recently.
Touching on the Sarawak conundrum – which has emerged despite ongoing talks between state and federal governments under the broader Malaysia Agreement 1963 – Wan Zulkiflee explains Petronas' position, relative to its role as the custodian of Malaysia's oil and gas reserves.
"I think for Petronas, our role is to increase the value pie. So we will do whatever we can within our means and expertise to increase the value pie for the whole country — regardless of whether it is in Sabah, Sarawak or the Peninsula," he says.
He also explains in details on why the root of the problem – fueled demand for 20% oil royalty to all producing states – is simply not feasible.
Through the interview, Wan Zulkiflee was his usual, smiling self, but he becomes serious when he expanded on what lies in store for the national oil corporation — Malaysia's only Fortune 500 Company.
Wan Zulkiflee was careful, but clear on matters from Petronas' non-participation in the Saudi Aramco IPO, to renewed talks about a possible IPO of Petronas Carigali Sdn Bhd – and how Petronas' approach fits into its greater, long term agenda.
"We have got a new statement of purpose for the company — to be a progressive energy and solutions partner, enriching lives for a sustainable future.
"In our new statement of purpose, the word O&G (oil and gas) is not there. I am preparing this organisation for a transition … at the right time, at the right pace, to be that energy and solutions partner," he says.
Grab a copy of The Edge Weekly this week (Dec 9-13, 2019) to get an insight on the reality of Malaysia's oil revenue distribution, Petronas' way forward and its role in Malaysia's oil and gas industry – and beyond.
Save by subscribing to us for your print and/or digital copy.
P/S: The Edge is also available on Apple's AppStore and Androids' Google Play.
#oilandgas #oilandgaslife #Petronas #Sarawak #Sabah #PeninsularMalaysia #royalties #breakingnews #breaking #newsbreak #news #newspaper #inthenews #breakingnews #businessnews #financialnews