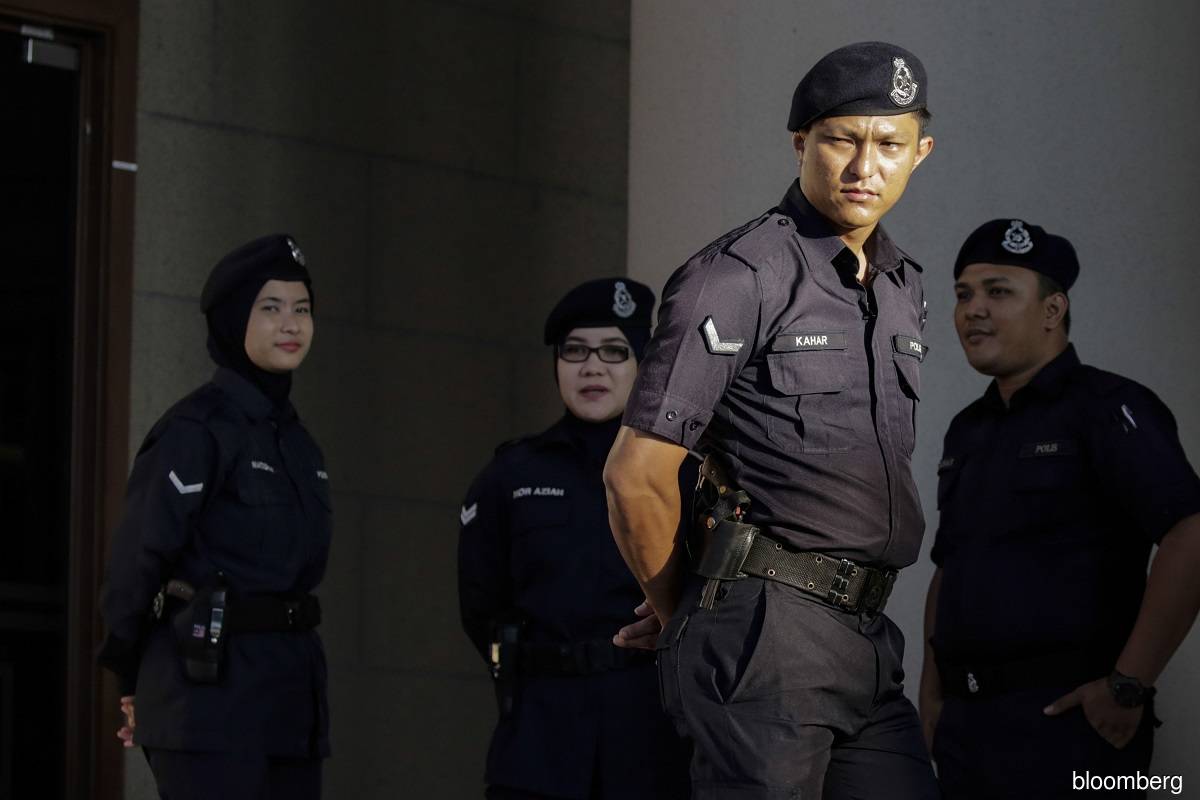 KUALA LUMPUR (April 15): Datuk Dr Tawfiq Ayman, the husband of former Bank Negara Malaysia (BNM) governor Tan Sri Dr Zeti Akhtar Aziz, was spotted at the police Commercial Crime unit here giving his statement for three hours.
Wearing a mask, he was seen waiting and talking to his lawyer at a coffee outlet at 9.50am before going into Menara KPJ in Jalan Tun Razak 10 minutes later.
Sources told theedgemarkets.com that he had his statement recorded for three hours and was seen leaving the vicinity slightly after 1pm, while being accompanied by his lawyer Datuk Jagjit Singh. It is understood he may come again next week.
A source revealed that his statement was recorded by 1Malaysia Development Bhd (1MDB) investigating officer Superintendent Foo Wei Min.
Tawfiq is believed to have been called to assist a police probe following Commercial Crime Investigation director Datuk Zainuddin Yaacob's statement last month over 1MDB funds being channelled into a company said to be controlled by Tawfiq and his son in Singapore.
Zainuddin said police had classified the case under Section 4(1)(a) of the Anti Money Laundering, Anti Terrorism Financing, and Proceeds for Unlawful Activity Act 2001.
Section 4(1)(a) concerns anyone who is involved or abetted with money laundering, where a person who is convicted can face a maximum fine of RM5 million or five years or both.
The Commercial Crime Investigation director said they were also seeking information under the Mutual Assistance in Criminal Matters Act 2002 in order to record statements overseas.
Zainuddin also asked the public not to speculate on the matter.
The Edge previously reported that a purported sum of US$16.22 million had been channelled into Iron Rhapsody Ltd, which was controlled by Tawfiq and his son.
The investigation comes amid a report by The Edge weekly, which stated that the Commercial Affairs Department of the Singapore Police Force informed BNM in 2015 and 2016 of suspicious transactions involving a UBS bank account belonging to Iron Rhapsody.
The report said Iron Rhapsody received US$16.22 million (RM65.71 million) from companies/bank accounts of fugitive financier Low Taek Jho, a central figure in the 1MDB scandal, in five separate transactions.
The inflows of money into the account that occurred in 2008 and 2009 triggered suspicious transaction report alerts.
Following this, investigators in Malaysia, Switzerland, and the US began looking into the theft and laundering of billions of dollars that belonged to 1MDB.
"The probes were triggered by exposé published from March 2015 by The Edge, Sarawak Report and The Wall Street Journal," the weekly reported.
The report added that the source of four of the transactions involved over RM600 million in profits made by Jho Low and his associates after flipping the RM5 billion 1MDB/TIA (Terengganu Investment Authority) bonds that were arranged by AmBank in May 2009.
Zeti retired as the bank's governor in April 2016 having served the central bank as governor for 16 years.
Read also:
Bukit Aman to investigate Zeti's husband for allegedly receiving 1MDB funds