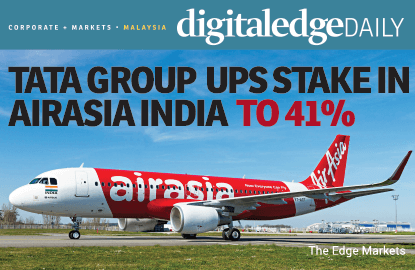 KUALA LUMPUR: After months of speculation, India's Tata Group has upped its stake in AirAsia (India) Pvt Ltd (AirAsia India) to 41% from 30%, after acquiring 11% from fellow Indian shareholder Arun Bhatia of Telestra Tradeplace Pvt Ltd, whose stake has shrunk correspondingly to 10% from 21%.
The change in shareholdings was reported in various Indian media last week and confirmed by AirAsia Bhd group chief executive officer (CEO) Tan Sri Tony Fernandes when contacted by the digitaledge DAILY yesterday. AirAsia owns 49% of AirAsia India.
However, Fernandes declined to speculate on whether Tata would continue upping its stake in the AirAsia associate to 48%, as reported by India's business daily The Economic Times (ET), quoting an anonymous source familiar with the matter.
"[I am] not sure [if Tata will increase its stake], but they love what we are doing and want to increase [its stake]," Fernandes said.
In June, Fernandes was reported as saying that Tata was considering upping its stake in AirAsia India, which began operations on May 21, 2014, and operated five Airbus A320 planes as at June, with a market share of 1%.
At the time, Fernandes revealed that Tata, headquartered in India with over 100 operating companies across the globe, was in talks with Telestra Tradeplace about raising its stake in the airline.
He also said that AirAsia India saw huge potential in the Indian market and planned to have up to 10 planes by 2016.
AirAsia India, which was formed on a joint-venture (JV) basis (AirAsia: 49%; Tata: 30%; and Arun Bhatia: 21%), was also keen to start foreign operations from India, he said then.
On the stake increase, a spokesman for Tata Sons, the holding company of Tata Group, reportedly told the ET: "We are in the process of subscribing to the capital of AirAsia India, which will take our stake to 41.06% from the current 30%. As and when we have other information to share, we will inform you."
The value of the additional stake subscription, however, was not disclosed.
Besides its interest in AirAsia India, Tata Sons is a majority promoter of Vistara, the JV airline set up last year in partnership with Singapore Airlines.
Meanwhile, the ET further reported that AirAsia India had promoted Mittu Chandilya to managing director-cum-chief executive from CEO earlier, and accepted Vijay Gopalan's resignation as chief financial officer (CFO).
The business paper further reckoned that the now vacant CFO post would likely be taken up by a Tata representative, namely P K Ghose, the current CFO of Tata Chemicals, "whose applicaton has been sent to the Civil Aviation Ministry for mandatory security clearance".
On the management changes, Fernandes did not confirm nor deny them as he had yet to reply to messages at press time.
AirAsia India posted a net loss of RM10.2 million for the first quarter ended March 31, 2015 (1QFY15), backed by a revenue of 743.87 million rupees (RM46.74 million).
Fernandes previously said AirAsia India had continued to post strong loads for 1QFY15 and recorded a 79% load factor with 240,000 passengers carried in that period.
"With the new Delhi hub launching its first flights on May 21, 2015, AirAsia India will embark on a strategic expansion plan through its two hubs covering both the southern (Bengaluru) and northern parts of India," he said in a statement then.
For FY14, AirAsia India recorded a net loss of RM45.75 million, backed by a revenue of RM45.55 million.
This article first appeared in digitaledge Daily, on August 19, 2015.