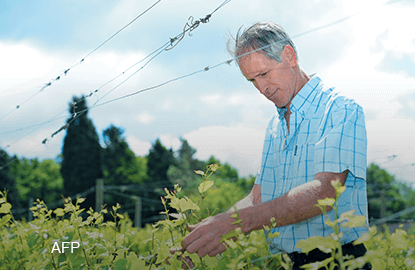 WINNING investor capital and new fans around the world, a growing number of British wineries are quickly gaining ground and breaking away from a niche home market for sparkling whites.
Barry and Joyce Tay set up the Bluebell Vineyard in 2004 on a former pig farm in Uckfield in southern England near the sea. They planted Chardonnay, Pinot Noir and Pinot Meunier vines the following year and produced their first bottles of bubbly in 2008.
The couple now have six hectares of vines producing wine and they planted 19 more hectares last year, said Kevin Sutherland, a wine expert who has been helping them from the start.
Gone is the amateurism that characterised the British wine industry in the 1950s, when it was mainly a hobby for gentleman farmers.
"Now they will look at the whole process and importantly look at the marketing as well as the production," said Julia Trustram-Eve, marketing director for English Wine Producers.
Winemakers have so far focused on sparkling wines, which represent two-thirds of Britain's national production — around four million out of the 6.3 million bottles produced in 2014.
"When I arrived from Bordeaux in 1988, they were making German-style wines, like Muller-Thurgau, which surprised me," said Chris Foss, head of the wine department at Plumpton College, which teaches Britain's only course on viticulture. "We encouraged exchanges with the Champagne region and some producers had a revelation there. It was less than 10 years ago," he said.
The southern English regions of Kent, Surrey and Sussex have the same chalky soil as Champagne in France and similar temperatures, making for ideal conditions for sparkling wines. The result has won accolades at wine fairs.
Investors looking for lucrative returns have been quick to take note, particularly since sparkling wines are traditionally popular in Britain and a bottle of premium Blanc de Blancs can sell for £25 (RM148).
The number of hectares planted has doubled in seven years, going up to more than 2,000. Britain had 135 vineyards and 500 cellars in 2014, with a turnover of £82 million.
French winemakers have reportedly shown an interest in investing in Britain's wine boom too, although no contracts have yet been signed.
The hurdles investors face include "very expensive" land cost, "quite high" wages and the need to import expensive equipment, said Sutherland.
The British wine sector is expanding nonetheless and, alongside the improvements in quality, there is also a search for a new identity.
"We're very keen for England in general to develop its own style," said Colette O'Leary from the Bluebell Vineyard.
Trustram-Eve of English Wine Producers said the fact that the grapes must be left to mature for longer means "there's an English style, an English acidity".
Jayne Powell, an Australian wine critic specialising in Champagne, remembers the early years of the sparkling wine industry in Britain. "We really had to make an effort because nobody wanted to try them," she said. But "today we can say that the British are producing very good wine".
Rivalling France would be a tall order, however.
"The size of the sector is still small and there isn't the land available. But the quality is there, the market is maturing and the research to help make it all happen is gaining momentum," said Julien Lecourt, an expert in viticulture at East Malling Research in Kent.
Some wineries have already found enthusiasts well beyond Britain, like the Bolney Wine Estate in Sussex which was founded in the 1970s and produced 120,000 bottles last year.
"We are exporting to Japan, Scandinavia, Austria, shortly Canada," said Aimee Knight, head of sales at the estate.
The British market is still the main target, though, particularly as more and more consumers are keen to "buy local".
The next stage is developing non-sparkling wines — especially Pinot Noir for reds and Chardonnay for whites — and O'Leary said global warming may just give the sector a helping hand.
"The climate is now enabling the possibility of still wine production," she said. — AFP/Relaxnews
This article first appeared in The Edge Financial Daily, on July 1, 2015.