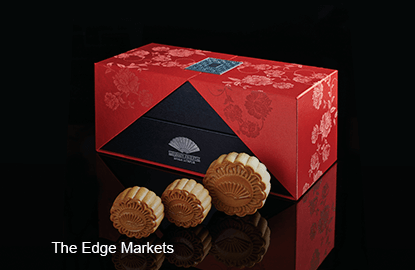 Legend has it that mooncakes were invented during the Ming Revolution in China, when revolutionaries attempting to overthrow the Mughals started hiding messages in mooncakes to coordinate a Han revolt. This revolt was supposed to have taken place on the 15th day of the eighth lunar month, which is "mid-Autumn". The mooncakes were then to be eaten, erasing any trace of evidence that they were ever used as a weapon of war.
Nowadays, mooncakes are eaten during the Mid-Autumn Festival as a delicious treat, when friends and families gather to celebrate the season. Traditional mooncakes made with red bean or lotus seed paste originated in southern China, but their popularity has soared and they are now a festive staple throughout the Chinese diaspora around the world.
In celebration of this joyous occasion, Mandarin Oriental's award-winning Lai Po Heen restaurant has created an impressive mooncake menu featuring 17 flavours, ranging from all-time favourites such as lotus paste with egg yolk, red bean and lotus paste and white lotus paste right up to innovative new flavours like dragon fruit lotus paste, chocolate and salted caramel, as well as snow skin with bird's nest and pandan paste.
Encased in a distinctively made two-tier gift box that comes with a sophisticated red and black casing, these handmade delicacies make ideal gifts for friends, family and business partners. This year, Lai Po Heen's extensive menu includes seven exotic new flavours, which include white chocolate mooncake with passion fruit, tropical mango ganache and pineapple pate de fruit, as well as homemade mini snow skin mooncake with blue pea flowers in pumpkin paste and seeds.
Chef Ricky Thein, executive Chinese chef at the restaurant is the man behind most of the mooncakes that are on offer this year; the other being chef Frank Braun, the hotel's executive pastry chef who's responsible for the creation of the chocolate varieties.
"I came up with the recipes for the various flavours of mooncake that we have — chef Braun came up with the ones made with chocolate. Certain ingredients were very hard to find, like the blue pea flowers. After searching high and low for them, I ended up asking my father to plant them in his garden, so that I could harvest them to get the nice blue colour that we have on the pea flower snow skin mooncake," said Thein.
On the other hand, Braun had to look to South Africa to import the Guanaja chocolate, which is used to make the Chocolate Palette d'or with salted caramel, bourbon vanilla and Guanaja ganache mooncake.
Although Thein's creative mind has come up with some true novelties, his favourite flavour is still the original one with lotus paste and egg yolk. According to him, that is what a real mooncake is supposed to be, which rings true, as several varieties of mooncake, particularly the ones made with chocolate, look to be mooncake-shaped chocolate instead of the real thing.
Surprisingly though, the chocolate-flavoured mooncakes are works of art in their own right — Braun has done a tremendous job with them, perfectly blending sweet, savoury and sour into smaller sized mooncakes that do not burden one's palate with heavy, thick chocolate that could quickly fill you up with its sickly sweetness.
Two limited-edition VIP mooncakes are also on the menu this year — the snow skin with bird's nest and pandan paste, and the gold coated lotus paste with single egg yolk. The former is a lovely, light snow skin mooncake stuffed with pandan paste and bird's nest, very refreshing and only mildly sweet. The latter is lotus paste and egg yolk wrapped in a 24-carat gold foil, which Thein claims has numerous health benefits. Both the VIP varieties have to be ordered in advance, as the chefs only have a limited supply of the ingredients required to make them.
Sold in a box of four or six, these enticing mooncakes are priced at RM20, while early- bird purchases (until Aug 15) are entitled to a 15% discount. Additional discounts are also available for corporate purchases, beginning from orders of 25 boxes. Elite Club members will also enjoy a 20% discount on the purchase of any mooncake from now until Sept 13. In addition, delivery services are available at RM90 per delivery within Kuala Lumpur, a fee that will be waived for larger orders. These handcrafted mooncakes are available now through Sept 27.
---
To order Lai Po Heen's handcrafted mooncakes, call (03) 2179 8885 or email [email protected]. Orders can be collected daily from 12pm to 10.30pm. Mandarin Oriental Hotel is located at Kuala Lumpur City Centre, 50088 Kuala Lumpur.
This article first appeared in The Edge Financial Daily, on July 22, 2015.