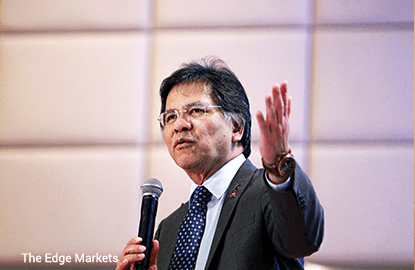 This article first appeared in The Edge Financial Daily, on April 15, 2016.
KUALA LUMPUR: A task force led by Performance Management and Delivery Unit chief executive officer (CEO) Datuk Seri Idris Jala (pic) will be responsible in monitoring the implementation and success of Proton Holdings Bhd's business recovery plan, which aims to enhance the competitiveness of the national carmaker.
This follows the announcement by the government on April 8 that it had approved Proton's request for a soft loan amounting to RM1.5 billion to enable the company to make payments to vendors that supply components to it.
In a statement yesterday, International Trade and Industry Minister Datuk Seri Mustapa Mohamed said that on Monday, he conducted a discussion with  Proton's management alongside Idris and Minister in the Prime Minister's Department Datuk Seri Abdul Wahid Omar on the next course of action following the government's approval of the loan.
Further discussions were then conducted yesterday among the three ministers and Proton during a visit to the company's headquarters, with the focal point of the talks being the role of the task force in ensuring the conditions set by the government in relation to the loan are fulfilled.
Mustapa said the task force would be responsible for a myriad of duties, which include ensuring the recovery plan's success, monitoring the strategic plans to increase Proton's local market share, as well as plans for the company to penetrate international markets.
The task force would also be responsible in identifying strategic partners from abroad in the near future to ensure the success and competitiveness of Proton.
However, the task force will not be involved in the day-to-day operations of Proton.
"That would still remain the full responsibility of Proton's management and board of directors," said Mustapa.
Other members of the task force include International Trade and Industry Ministry Deputy Secretary-General (Industry) Datuk Nik Rahmat Nik Taib, Finance Ministry Strategic Investment Division Secretary Dr Yusof Ismail and Economic Planning Unit Deputy Director-General (Macro) Datuk Yogeesvaran Kumaraguru.
Also forming part of the task force are Symphony House Bhd executive chairman and group CEO Tan Sri Azman Yahya, Celcom Axiata Bhd chief executive director Datuk Seri Shazalli Ramly and Malayan Banking Bhd community financial services head Datuk Hamirullah Borhan.