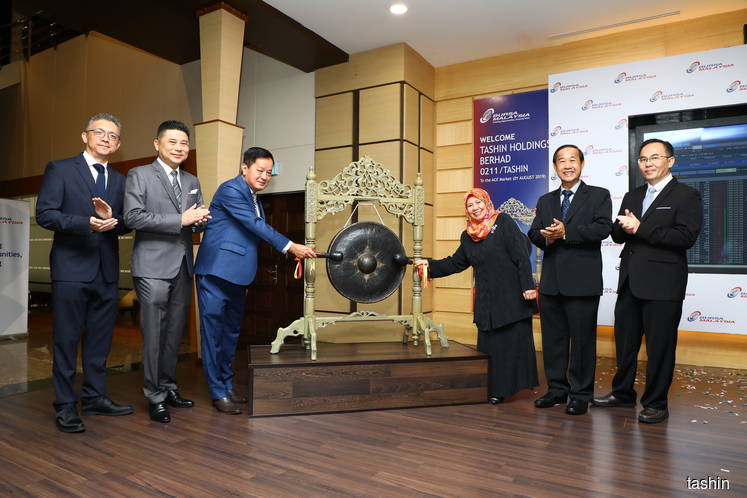 M&A Securities Sdn Bhd head of corporate finance Gary Ting, M&A Securities managing director (MD) of corporate finance Datuk Bill Tan, Tashin non-independent non-executive director Datuk Toh Yew Peng, who is also Prestar Resources Bhd group MD, Tashin independent non-executive chairperson Datuk Kalsom Abd Rahman, Tashin MD Lim Choon Teik, and Tashin executive director and chief financial officer Foong Kok Chuin. Photo by: Tashin
KUALA LUMPUR (Aug 1): Shares in steel processor and manufacturer Tashin Holdings Bhd fell on its trading debut after opening at its initial public offering (IPO) price of 58 sen earlier today.
The stock slid as much as 13.8% or eight sen to 50 sen amidst a negative market breadth this morning, and at the noon break settled at 50.5 sen apiece, bringing a market capitalisation of RM176.24 million.
A total of 44.84 million shares exchanged hands, making Tashin one of Bursa Malaysia's most active stocks at the time of writing.
Under Tashin's ACE Market listing exercise today, the company raised RM34.41 million from its public issue of 59.33 million new shares at 58 sen per share.
Its managing director Lim Choon Teik said in a statement that the company plans to use RM25.25 million from the IPO proceeds to expand its business operations after listing, which includes setting up a factory as well as upgrading its existing steel processing line in Seberang Prai, Penang.
"We believe the addition of wire mesh in our manufactured product offerings will allow us to improve our profitability and strengthen our customer base, which in turn will enhance our competitive position. Our plans to make new products will hinge on the market developments," he said.
See also:
ACE Market-bound Tashin eyes RM34m IPO to fund expansion
M&A Securities, Malacca Securities, JF Apex to underwrite Tashin's IPO
Tashin offers 59.33 mil IPO shares enroute to ACE market listing