This article first appeared in The Edge Malaysia Weekly, on April 8, 2019 - April 14, 2019.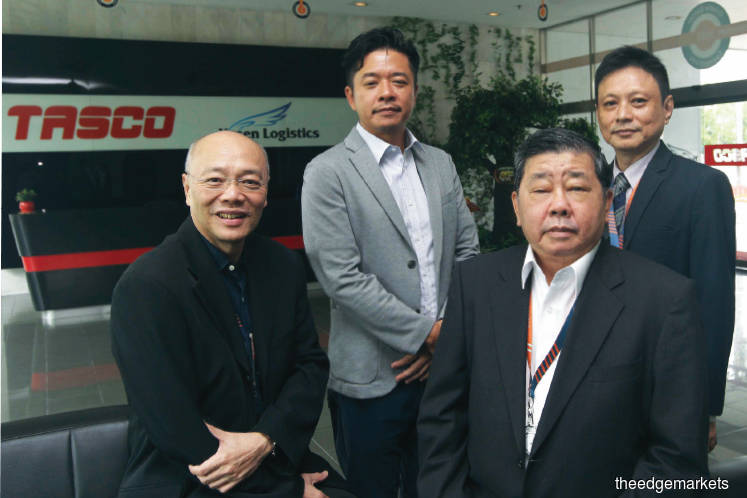 From left: Lim, Andy, Check Poh and Tan. Photo by Haris Hassan/the edge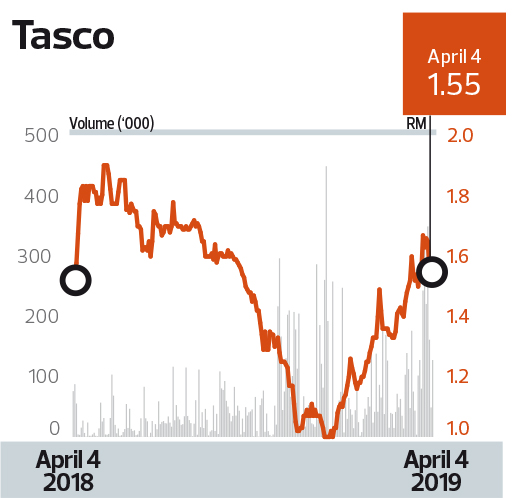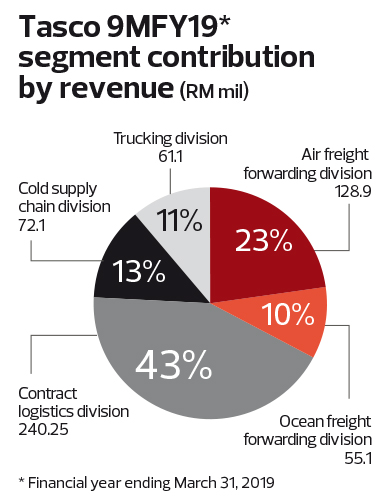 Source: Bursa Malaysia
TWO years after venturing into the cold chain logistics segment, Tasco Bhd's endeavour has reached an inflection point as it welcomes a new institutional partner.
The new partner, Japan Overseas Infrastructure Investment Corp for Transport and Urban Development (JOIN), will invest RM125 million for a 30% stake in Tasco's cold chain subsidiary, Tasco said on March 29.
The agreement is subject to shareholder approval in an upcoming general meeting. That said, Tasco is not standing still. It is already eyeing further expansion for its cold chain business, says executive chairman Lee Check Poh.
"Currently, we are operating with 37,000 pallet positions (for the cold chain business), but very soon, we will increase it to 50,000 pallet positions," he tells The Edge in an interview.
If the expansion materialises, it would entrench Tasco's market position in the cold chain segment even further.
The operations are housed under wholly owned subsidiary Tasco Yusen Gold Cold Sdn Bhd (TYGC), the holding company for the cold chain logistics operations.
Tasco estimates the entire cold chain sector at present comprises about 120,000 pallet positions nationwide, meaning TYGC has a market share of about 31% by storage capacity.
In addition to the 37,000 pallet positions at its multiple temperature-controlled storage facilities, TYGC also has a fleet of 208 temperature-controlled trucks.
According to TYGC managing director Andy Lee, the capacity expansion is likely to be via acquisition of existing storage facilities. He adds that TYGC is currently in advanced talks on that front and hopes to finalise matters in the next few months.
Recall that Tasco made its foray into the cold chain sector via multiple acquisitions announced in January 2017. It announced a RM186.09 million cash purchase of Gold Cold Transport Sdn Bhd. It also bought MILS Cold Chain Sdn Bhd (now known as Gold Cold Integrated Logistics Sdn Bhd) for RM29.9 million cash.
The acquisitions, totalling RM215.99 million, were completed on July 12, 2017, and June 1, 2018, respectively.
For Tasco, the foray into cold chain logistics marked its pursuit of better margins, albeit with more demanding logistics requirements.
At the time of its acquisitions, Tasco's dry logistics operations saw profit margins of about 8% whereas that of its new cold chain business was in the early teens.
TYGC currently services clients in the food and beverage (F&B) sector, spanning fast-food chains, manufacturing and ice-cream products.
Last Thursday, Tasco ended trading at RM1.55 per share, giving the company a market capitalisation of RM310 million.
Bottom line boost
Apart from being a "vote of confidence" in Tasco's cold chain venture, JOIN's looming entry will also have the effect of lightening Tasco's balance sheet and boosting its short-term earnings.
That is because the cold chain business acquisitions in 2017 came at a heavy cost. Tasco's borrowings shot up, increasing its interest costs and dragging down its bottom line.
Apart from the RM215.99 million cold chain logistics deals, it also acquired land in Pulau Indah for RM113.8 million to expand its dry logistics warehousing capacity.
It is worth noting that the combined RM329.79 million acquisition price tag was more than Tasco's own market capitalisation of about RM308 million at the time.
Reflecting the costs of its acquisitions, Tasco's long-term borrowings for the financial year ended March 31, 2018 (FY2018), surged nearly sevenfold from RM33.2 million to RM200.9 million — the highest it had been since Tasco listed in 2007.
The 30% divestment in TYGC to JOIN is poised to resolve Tasco's high borrowing issues. From the RM125 million expected proceeds, some RM97 million or 77.6% has been earmarked for debt repayment, according to Tasco.
That represents a reduction in net gearing from 43% to 17%, according to RHB Research on April 1.
"After the debt repayment, our finance costs savings should be around RM5 million a year," says deputy managing director Tan Kim Yong.
It is also interesting to note that JOIN's investment represents a sizeable return to Tasco's investment in TYGC. At RM215.99 million total acquisition cost, the divestment yields a return of about 48%.
The impact on its earnings will be significant. To put the savings into perspective, for the nine-month period ended Dec 31, 2018 (9MFY2019), Tasco recorded a net profit of RM11.16 million (down 54.5% y-o-y) from RM557.43 million in revenue (up 3.1% y-o-y).
In an April 1 note, RHB Research says it expects Tasco's core net profit for FY2020-FY2021 to rise by 34% to 70%. "Most of the earnings estimate increase is expected to come from interest savings annually," says the research house.
"We believe JOIN's investment is a game changer for Tasco. We expect higher business from Indonesia, Thailand and Myanmar, due to JOIN's established network," it says.
There is also "great synergy" from JOIN's knowledge and technology in cold chain logistics operations, RHB Research adds.
Set up in 2014, JOIN is a Japanese government-funded investment vehicle that is 87.19%-owned by the Minister of Finance, Japan. The remaining shareholders are from the private sector.
However, there are no specific details yet on potential synergies as the deal needs to go through the due processes, Tan clarifies.
Prowling for M&A
With a lighter balance sheet, Tasco is back on the prowl for potential mergers and acquisitions (M&A), says its managing director Freddie Lim Jew Kiat.
That is part of its long-term drive to achieve revenue of RM1 billion. While the previous target was to achieve that figure by 2019, its 9MFY2019 revenue total of RM557.43 million means Tasco looks set to miss its own deadline.
Lim acknowledges that it is "almost impossible" to bridge the gap organically in the short term. However, he adds that the company is looking at M&A possibilities to achieve the targeted growth.
"The RM1 billion revenue figure will still be our target for the mid term," says Lim, adding that Tasco has gotten multiple approaches for potential deals.
As for Tasco's cold chain operations, TYGC chief Andy Lee says its revenue contribution to the group's overall revenue is not expected to change significantly in the next 12 months from the current 15% or thereabouts.
"But one of the things we need to do is to look at the cold chain bottom line in terms of cost savings and synergy with Tasco for better margins," he says.
"So in 2019 and 2020, without any M&As for the cold chain side, I think the revenue side will remain thereabouts but it is the profit margin that will really make the difference."
Among the synergies Tasco is looking to realise is the cross-selling potential for its cold chain business among its dry-logistics clients.
"Right now, no single player can offer both dry logistics and cold chain logistics to its clients," says Andy.
Another initiative to enhance its cold chain operations is a slight restructuring to park Tasco's retail and convenience logistics operations under TYGC.
The operations, which entails cold chain logistics services for convenience stores, pharmacies and petrol stations, will add to TYGC's mainly F&B clientele.
The restructuring took place on April 1 to coincide with the FY2020's beginning. According to Check Poh, prospects in the segment is bright with evolving offerings and business models, especially in the convenience outlet sector.
"The reason why we parked (this) under the cold chain business is we can see that the convenience stores are no longer selling common goods, which cannot attract customers anymore."
"Lately, we can see that some convenience stores are selling more and more ready-to-eat chilled foodstuff that attract a lot of younger customers, so we will focus on this as well," he says.
And the entry of Japanese government-backed investment fund  JOIN as a shareholder of TYGC looks set to add significant financial muscle and open more doors for potential M&As at the TYGC level too.
That said, Andy says no discussions have been firmed up on this front as the divestment to JOIN has yet to be approved by Tasco's shareholders.