This article first appeared in Personal Wealth, The Edge Malaysia Weekly, on October 1, 2018 - October 07, 2018.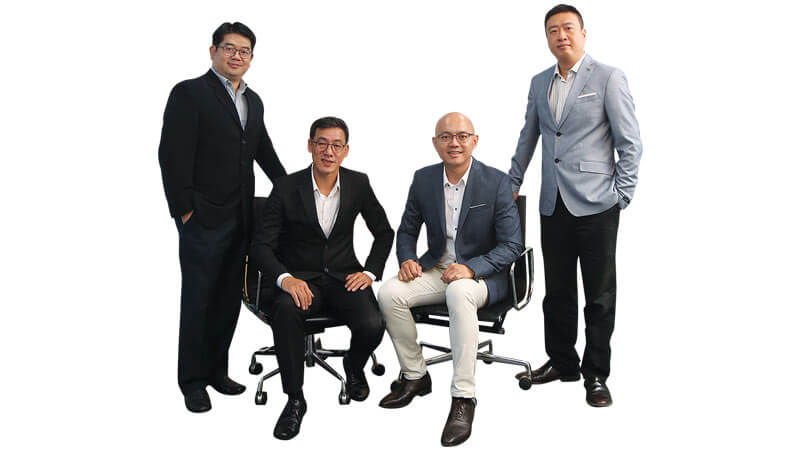 From left: Ken Ng, Beh Ah Seng, Felix Ooi, Henry Por
Those looking to invest in Southeast Asia would not want to give Indonesia, and its population of 260 million, a miss. But it is not just the large market that is of interest. The country is rich in arable land and marine resources — the perfect location for agriculture-related businesses.
Felix Ooi, CEO of Duke Capital Ltd, a private equity firm that invests in agriculture and aquaculture businesses, is excited about the prospects as there is plenty of external demand for Indonesia's lavish supply of crops and seafood, particularly from China and Japan.
China, with a population of 1.37 billion according to the World Bank, needs to source food from all over the world to feed its people. The demand is expected to increase as the government recently eliminated its two-child policy.
In May last year, Bloomberg pointed out in an article that China's protein and fertiliser consumption (proxies for gauging the country's food demand) has increased steadily from 2002 to 2014, dwarfing that of other large nations such as the US, the UK, France, Japan, India and Brazil.
The article went on to say that while the demand for food has increased, domestic supply has been affected by pollution. In fact, almost 20% of arable farmland is contaminated due to rapid industrialisation.
"Pollution has reduced the amount of arable land in China and it is reaching out to Southeast Asia for its food supply through its One Belt, One Road initiative," says Ooi.
While China is the world's largest consumer of seafood, Japan is the second largest. Kiyoshi Kimura, owner of the Sushi Zanmai restaurant and known as the "Tuna King" in Japan, has been sourcing tuna from Southeast Asia, including Indonesia. "He was surprised to find that fish, including tuna, are abundant in many of the Indonesian islands," says Ooi.
The opportunity is a huge one, if one is able to match the supply and demand for food in these large Asian countries, he adds. "And this is where Duke Capital comes in."
Partnership with the Federation of cooperatives
To understand how the private equity firm can tap into such investment opportunities, one must know about the National Federation of Rural Cooperatives in Indonesia (Induk KUD), says Ooi.
Induk KUD has 13 million members and 9,437 branches across 27 provinces, according to its official website. Since it was founded in 1973, it has been securing land from the government and distributing parcels to its members so they can grow crops, mainly cassava, to earn a living.
The organisation had allocated three million hectares to its members as at September and is looking to secure another million hectares. It also distributes raw materials, such as seeds, fertilisers and tools, to the farmers to help them increase their productivity.
In return, the members sell their crops to their respective cooperatives which, in turn, sell them to domestic and foreign buyers. The profits are reinvested to grow the organisation and help farmers to increase their yields. There are plans to extend its membership to fishermen as well.
"Induk KUD has been doing this for many years under the leadership of chairman Herman YL Wutun. An interesting fact is that he is a Christian heading one of the world's largest Muslim cooperatives," says Ooi.
Herman is assisted by secretary-general Wu Jui Lang, who is a Taiwanese. "Wu was an entrepreneur who did business in Southeast Asia. He is one of the few foreigners with a deep understanding of local issues in Indonesia and other Southeast Asian countries. This is how Induk KUD managed to bring in technologies from Taiwan and China to help Indonesian farmers and fishermen increase their crop yields and sea catches," says Ooi.
Induk KUD had been flourishing under their leadership when more opportunity knocked. In 2013, the duo were approached by China Foods Ltd, a Chinese state-owned enterprise listed on the Hong Kong Stock Exchange. In 2016, they were approached by the Tuna King himself, Kimura.
Ooi says they were in search of new food sources and talks continued for several years before they put in large purchase orders, mainly for cassava starch and tuna. Cassava starch is used in foods such as noodles and bread. It is also used as a raw material in the manufacturing of processed foods, animal feed and industrial products.
"While some of the details of these contracts are non-disclosable, I can say that Induk KUD received a preliminary order for 10 million tonnes of cassava starch annually from China, which could bring in about US$4.2 billion per annum. These are large, secured orders. Induk KUD decided to seize the opportunity because it wanted to raise funds quickly to meet the demand from China and Japan," says Ooi.
Based on these orders, Induk KUD started reaching out to investors and recently signed memoranda of understanding with two institutional investors — Russia-based Lian Hua Investment Group and China-based Beijing Zhong Shang Science & Technology Development Group. The entities have invested US$100 million each and the money will be distributed in phases.
Meanwhile, Duke Capital — which is domiciled in the Cayman Islands but runs a fund in Singapore — is looking to raise US$60 million for its Duke Agribusiness Fund 1 from retail investors in Southeast Asia to help the cooperatives meet the demand from China and Japan. Launched in June, the Duke Agribusiness Fund 1 is the first sub-fund of the Duke Trust Master Fund. The private equity firm was established in 2015.
The money raised will be injected into a joint-venture company called PT Global Agro Mitra Niaga, formed by Duke Capital and Induk KUD. The company, which has not started operating yet, will purchase cassava and fish from Induk KUD and set up a plant to process the cassava for the China market and sell raw tuna to the Japanese. It will also produce frozen fish fillets for the local and foreign markets going forward. "Wu is CEO of the joint-venture company while three of us are on the board of directors," says Duke Capital chief financial officer Ken Ng.
He adds that the fund has attracted investors from Malaysia, Indonesia, Vietnam, Taiwan and China. Meanwhile, institutional investors from Russia and China have formed separate business entities with Induk KUD that do not include Duke Capital.
According to the fund fact sheet, the minimum investment amount for the Duke Agribusiness Fund 1 is US$100,000. There is an annual management fee of 3% and a performance fee of 20% when it achieves an annual rate of return of more than 12%. "The rate of return is expected to be higher than that and it is a conservative calculation," says Ng.
He says investors' money will be locked in for three years and they can make a partial or full redemption after that, depending on the availability of funds. Or they can wait for five years, when the fund is officially closed, and receive a profit distribution. "We are aiming for a rate of return of 200% or more by the end of the five years."
Secured orders from China and Japan
Ng says investors should look at this investment opportunity because Induk KUD has secured orders from China and Japan. "This will allow it to grow quickly and give our joint-venture company the chance to become an international agriculture company. What we are doing now is funding farmers and fishermen to increase their supply so as to meet the demand."
On the supply side, Induk KUD has 13 million members and many of them are experienced farmers and fisherman, says Ng. Crop yields and fish catches could increase once the right knowledge, technology and training is provided to the members, he adds.
Induk KUD has a track record of helping its members increase their yields and productivity, says Henry Por, Duke Capital's project adviser and Induk KUD's representative in Malaysia. Por, who ran a small plantation as well as agricultural product trading businesses in Indonesia for 15 years, has been involved in some of the social work conducted by Induk KUD and its collaborators.
He says the technologies provided to farmers and fishermen are neither complicated nor costly. Instead, they are simple, practical, affordable and aimed at solving basic issues. For instance, Induk KUD has worked with other parties to bring in generators that use cassava starch and jatropha oil to produce electricity. "We plant some of these energy crops, such as jatropha plants, in these rural areas and islands to produce electricity instead of building a power plant," says Por.
The portable generator allows fishermen to freeze their catches immediately to retain their value. "You only need a small generator and a box filled with the brine immersion freezing liquid to freeze the fish at -60°C. The method has been tested and it helps retain the freshness of the catches so the fishermen can sell them at a premium," he says.
With funding provided by institutional investors, Induk KUD is building small biomass power plants on some of the isolated islands. These plants are constructed by Taiwan-listed engineering company Controlnet International Inc.
Meanwhile, the funds raised by Duke Capital will be distributed to farmers who have just acquired land from the government so they can clear it for cassava plantations. The money will also be disbursed to fishermen for the purchase of boats and fishing equipment as well as to carry out fish farming.
"Of the US$60 million, about half will be distributed to farmers while US$20 million will be given to fishermen. The remaining US$10 million will be used for agricultural products and trading activities that are not the main focus of the fund," says Ng.
He adds that the farmers and fishermen will pay back PT Global in the form of crops and fish, which it will process and sell to domestic and foreign buyers. "As the business grows, we will deploy cash to build more processing plants and factories."
Be mindful of the risks
Like all investments, there are risks involved. But Ng maintains that Duke Capital has implemented specific measures to mitigate them.
First, there is the possibility of farmers and fishermen selling their crops and fish to other buyers at a higher price. To get around this, the joint-venture company will provide them with cash advances to conduct their farming and fishing activities in return for the sole rights to their harvests and catches.
Also, the joint-venture company will pay the farmers and fishermen 3% to 5% more than the prevailing market price to keep them happy. "We have both the carrot and the stick to ensure that they sell their supply to us. Also, Induk KUD will distribute a large portion of its profits to the members at year-end. It is in their interests to sell their crops and fish to the organisation and report any members who do not," says Ng.
Another risk has to do with the inefficiencies of the cooperative system itself, he adds. For instance, when subsidies are provided but the expected results are not forthcoming, it could mean that the subsidies were misused or not utilised properly.
That is why Induk KUD is embarking on a digitalisation journey by forming a strategic partnership with Ezeelink, a one-stop loyalty platform that provides e-payment and e-loyalty solutions to banks, corporates and small and medium enterprises (SMEs), to tackle this issue.
"With Ezeelink coming in, Induk KUD has built an online system to collect relevant data and information from members across the country. This includes their personal information, the details of their family members, the activities they are involved in, the subsidies they get and what their yields are like, among others. This could enhance transparency and make the system more efficient," says Ng.
With this in place, Induk KUD is setting its sights on using big data and artificial intelligence to allocate resources more efficiently. However, the process of keying in data alone would take two years. "It just started at the beginning of this year. You can imagine how much data the organisation has," says Ng.
The joint-venture company is also tackling sustainability issues, especially in relation to marine resources. Basically, it will help fishermen build fish ponds and engage in fish farming. "This is not only in line with the Indonesian government's long-term goals but also allows the fishermen to earn an income during the monsoon season when they cannot go out to sea," says Ng.
Other risks include diseases and natural disasters that could affect crop yields and fish catches. However, Ng says this investment is less risky than, say, investing in a young technology company with excellent but unproven solutions.
"I would say the investment risk is above average, but not high for now. It is not high because you are investing in an organisation with a long history and track record and many of its members are experienced farmers and fishermen. Then, there are the secured contracts provided by buyers from China and Japan," he adds.
Ng says the risk will go down significantly when the investment is deployed for the construction of manufacturing and processing plants.
What is the fund's exit strategy? Ng says the joint-venture company is aiming for an initial public offering in five years. Investors who hold on to their investments will receive shares in the company.
Is this goal too ambitious? "It should be doable. Even if we raise half the targeted amount of US$60 million, it is sufficient for us to set up factories, cold storage warehouses, boats and machinery ... coupled with a few strong and established clients, we expect to start generating a profit in the second year. Then, we will be in a good position to list," he says.
Elements of impact investing
Duke Capital Ltd CEO Felix Ooi says the investment made by the private equity firm involves elements of impact investing as it could help alleviate the poverty of farmers and fishermen in Indonesia.
He points out that there are about 13 million members under the National Federation of Rural Cooperatives in Indonesia (Induk KUD), with each of them supporting numerous family members. "The total number of individuals involved could add up to about 60 million," he adds.
Ooi says the joint-venture company formed by Duke Capital and Induk KUD plans to build infrastructure, such as public schools, to improve the lives of the poor once it generates sufficient income.
Duke Capital's project adviser Henry Por and director Beh Ah Seng feel strongly about the fund's impact on poverty alleviation. Por has been involved in social work with Induk KUD and other parties for the last 15 years while Beh, a businessman who grew up in a fishing village, feels a connection with the people who will be impacted by the activities of the fund.
"I came from a poor family and I'm keen to help these people. Some were born wealthy, but many save their hard earn money for a better life. I understand their situation," says Beh.
Duke Capital chief financial officer Ken Ng joined the team because of the impact the fund could have on farmers and fishermen in Indonesia.
All four men were born in Penang and went to the same secondary school, Chung Ling High School, where they became friends. Their paths diverged after leaving school, but they met up again years later to set up Duke Capital.
Ooi, who studied architecture in Australia, went on to become an architect, businessman and a city councilor on the Penang Island City Council. Por and Beh started their own businesses while Ng became an investment banker, advising more than 20 companies on their initial public offerings. "It was many years later when Por brought up the idea of starting Duke Capital and we got together again, as friends and business partners," says Ooi.
The thing about cassava
Cassava, also known as ubi kayu, is one of the primary sources of protein for the world's population. Cassava starch (or tapioca) is extracted from the roots of the cassava through a process of washing and pulping.
Cassava starch is used to produce noodles, bread and other products. It is also used as a raw material in the manufacturing of processed foods, animal feed and industrial products.
Farmers harvest cassava every nine months to a year, says Oscar Tjarka, director at RaboResearch Food & Agribusiness, the research arm of Netherlands-based Rabobank, which specialises in food and agriculture financing.
He adds that the plant can be planted on almost every kind of soil, which is an upside from a commercial perspective. "However, it is a very taxing crop as its roots take a lot of nutrients from the soil. It usually requires a lot of fertiliser, decent rainfall and crop rotation."
The yields of cassava smallholders, in general, are usually lower than those of the big corporates. This is mainly due to the lack of access to financing and proper knowledge, says Tjarka.
"This situation is the same across all crops, including palm oil. The big corporates have capital expenditure, professional knowledge and scheduling in place to plant cassava more efficiently," he adds.
Looking at the productivity and prices of cassava and its starch in different countries within Southeast Asia, Tjarka says the productivity in Indonesia is about half that of Thailand, the world's largest exporter of cassava-related products, and Vietnam. This is due to the superior knowledge of and technologies employed by farmers in these countries, he adds.
Thus, the price of cassava starch is higher in Indonesia than in Thailand or Vietnam. "That is why Indonesian consumers tend to import the starch rather than buy it domestically. Indonesian cassava prices tend to be affected when the market is flooded by imported starch. As much as the Indonesian government wants to protect smallholders, it has to keep the industry running by allowing it to catch up with the productivity of Thailand and Vietnam," says Tjarka.
There is no centralised pricing or exchange across the region, he adds. However, one can refer to the Thai Tapioca Starch Association to look for the weekly prices of cassava starch. As at Sept 4, the export price of cassava starch was US$500 per tonne. The local price of cassava in Indonesia can be found in various local newspapers, says Tjarka.
The global demand for cassava starch is expected to continue growing. "For countries such as Nigeria, which consumes cassava as its main carbohydrate, the demand will continue to grow on the back of its rising population," says Tjarka.
"However, cassava starch is competing with the starch of other carbohydrate crops, such as corn. Hence, the growth of demand may be constrained. This is especially true in China, where the price of cornstarch is currently more competitive than that of cassava starch."