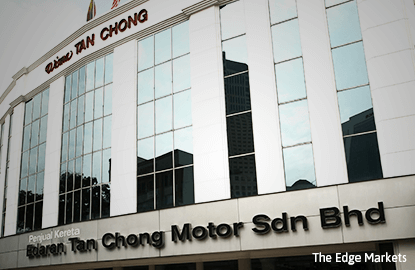 KUALA LUMPUR (Feb 23): Tan Chong Motor Holdings Bhd, which distributes Nissan and Renault vehicles, saw its net profit fall 40.3% to RM5.18 million for the fourth quarter ended Dec 31, 2015 (4QFY15), from RM8.67 million in 4QFY14, due to a declining ringgit against the US dollar and intense competition.
This is despite the group's revenue rising 19.5% to RM1.51 billion, from RM1.26 billion a year ago.
The group's net profit for full year FY15 also fell 29.3% to RM74.87 million, from RM105.85 million in FY14. Its revenue, however, went up 20.1% to RM5.72 billion, from RM4.76 billion in FY14.
In a filing with Bursa Malaysia today, Tan Chong said the challenging business environment marked by intense competition, coupled with the declining ringgit against the US dollar, had impacted its bottom-line.
"Setting aside the adjustment for a one-off write back by Nissan Vietnam Co., Ltd provision for additional import duty of RM56.27 million in FY14, the underlying operating performance managed to sustain over the 24 months period, despite these challenging conditions," it said.
The automotive division's revenue grew 20.3% year-on-year (y-o-y) to RM5,646.9 million, but earnings before interest, taxes, depreciation and amortisation (EBITDA) fell 17.8% y-o-y to RM245.5 million. This was due to higher promotion costs and higher CKD (completely knocked-down) kits cost arising from unfavourable foreign exchange rate, compared to the previous year.
Meanwhile, Tan Chong is concerned that new vehicles sales, which have been buoyant in recent years, could reverse and contract this year.
This is due to the global economy, which is expected to remain uncertain with crude oil prices; and a slowdown in China's economy, weighing down consumer spending on big-ticket purchases.
Additionally, consumers, who are weighed down by a gloomy economy and uncertain jobs prospects, are in belt-tightening mode.
Tan Chong also expects the cost of doing business to rise with a weak ringgit and tighter lending guidelines — availability of credit.
Thus, it is cautious and vigilant to control capital spending and operating expenditures to preserve value.
"We will also continue to focus on driving sales with value offerings by focusing on user experience, with after sales and other ancillary support services," it said.
Tan Chong shares closed unchanged at RM2.41 today, for a market capitalisation of RM1.57 billion. Year-to-date, the counter has fallen 6.95%.