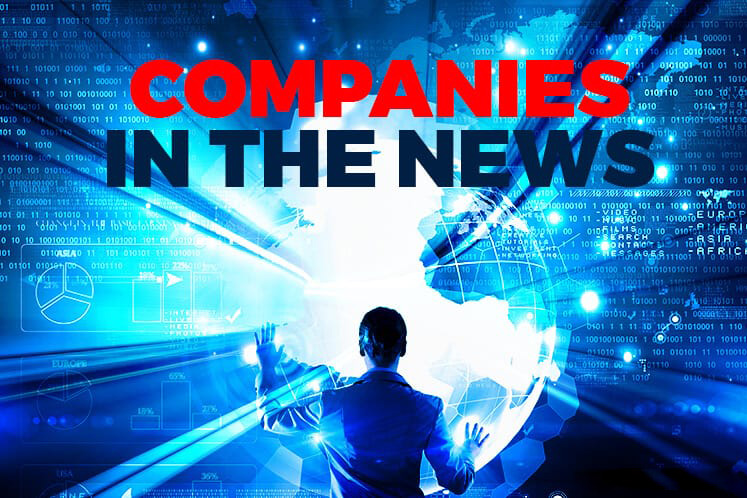 KUALA LUMPUR (July 26): Based on corporate announcements and news flow today, companies that may be in focus on Friday (July 27) may include the following: Tan Chong Motor Holdings Bhd, Utusan Melayu (Malaysia) Bhd, Versatile Creative, Pantech Group Holdings Bhd, TMC Life Sciences Bhd, Pavilion Real Estate Investment Trust, ViTrox Corp Bhd, Ajiya Bhd, Ancom Bhd and Tasek Corp Bhd
Tan Chong Motor Holdings Bhd announced the formation of a joint venture (JV) company in New York to allow the group to develop new distribution channels in the US and Canada for exports from Southeast Asia.
Tan Chong Warisan Resources Management is owned on a 51:49 basis by Tan Chong's wholly-owned unit TCMSC (Labuan) Pte Ltd and MAT (Labuan) Pte Ltd, a wholly-owned unit of Warisan TC Holdings Bhd.
The JV will also be involved in sourcing new products, ideas and technologies in the US and Canada, which can bring value to the group.
Utusan Melayu (Malaysia) Bhd today announced the resignation of Datuk Mohd Noordin Abbas as group managing director.
The group's executive director and group editor-in-chief Datuk Abdul Aziz Ishak also announced his resignation yesterday.
In a filing with Bursa Malaysia, Utusan said Mohd Noordin and Abdul Aziz's resignations were voluntary.
In a separate filing, Utusan announced the appointment of Dr Badrul Hisham Mohd Yusoff as an independent and non-executive director of the group.
Versatile Creative Bhd said it won't be able to meet the July 31 deadline to publish the group's annual report and audited financial statements for the financial year ended March 31, 2018 (FY18).
The plastic packaging manufacturer said this is due to "unforeseen delays" in the finalisation of the documents, pending the conclusion of a forensic audit.
It targets to issue and submit its annual report and audited financial statements to the exchange not later than five market days from July 31.
The US trade war against China has claimed its first local victim, with Pantech Group Holdings Bhd warning that it could see a 20% reduction in revenue for the remaining months of the current financial year ending Feb 28, 2019 (FY19).
Nevertheless, the group expects its overall performance for FY19 to remain profitable.
Pantech announced that its net profit rose by a marginal 1.1% to RM14.12 million in the first financial quarter ended May 31, 2018 (1QFY19) from RM13.96 million a year ago, mainly due to the increase in sales demand from both trading and manufacturing divisions.
Quarterly revenue also grew 17.7% to RM178.39 million from RM151.5 million.
TMC Life Sciences Bhd's net profit for the third financial quarter ended May 31, 2018, fell 5.5% to RM5.63 million, from RM5.96 million a year earlier, due to higher operating expenses that were incurred to strengthen the group's human capital.
TMC Life, which operates the Thomson Hospital in Kota Damansara, said quarterly revenue increased 9.1% to RM44.41 million from RM40.69 million previously, as a result of higher patient load and intensity of medical and surgical cases handled.
Meanwhile, TMC Life said its wholly-owned BB Waterfront Sdn Bhd had awarded a sewerage treatment plant construction and upgrading project to Dataran Tenaga Sdn Bhd to facilitate the commencement of construction work on the Thomson Iskandar Medical Hub in Johor.
The contract sum for the project is RM19.27 million, which will be funded by TMC Life through internal funds.
Pavilion Real Estate Investment Trust's (REIT) net property income (NPI) rose 18.1% to RM90.62 million in the second quarter ended June 30, 2018 (2QFY18) from RM76.72 million a year ago, mainly contributed by rental income from Elite Pavilion Mall that was acquired at the end of April 2018, higher rental income from Pavilion Kuala Lumpur Mall and higher occupancy rate at Intermark Mall.
It declared an interim income distribution per unit (DPU) of 4.34 sen for the financial year ending Dec 31, 2018 (FY18), payable on Sept 5.
For the cumulative six months ended June 30, 2018, Pavilion REIT saw its NPI grow 15.4% to RM179.63 million from RM155.69 million a year ago, while revenue rose 11.4% to RM266.57 million from RM239.2 million.
Automated machine vision inspection system developer ViTrox Corp Bhd posted a 30% increase in net profit to RM27.76 million in its second quarter ended June 30, 2018 from RM21.34 million a year ago, driven by higher revenues from the machine vision system and automated board inspection segments.
Quarterly revenue grew 35% to RM105.02 million from RM77.62 million in 2QFY17.
Ajiya Bhd said its net profit for the second quarter ended May 31, 2018, surged 201.86% to RM4.86 million from RM1.62 million a year earlier, as the revenue and margin of certain products showed improvements.
Quarterly revenue rose 14.64% to RM 103.74 million from RM90.48 million, mainly on higher demand for the group's metal products.
Driven by higher segmental profit from its agricultural and industrial chemicals, logistics, and information technology (IT) divisions, Ancom Bhd has doubled its net profit to RM8.51 million in the fourth quarter ended May 31, from RM4.2 million in the corresponding quarter a year ago.
Quarterly revenue stood at RM580.08 million, up 21.3% from RM478.23 million recorded in the same quarter last year.
For the full year, Ancom's net profit remained flattish at RM17.58 million against RM17.47 million last year. This was despite a 15% increase in revenue to RM1.95 billion from RM1.7 billion.
Tasek Corp Bhd has registered its third consecutive quarter of losses, posting a net loss of RM4.65 million for the three months ended June 30, 2018 (2QFY18), compared with a net profit of RM1.49 million a year ago, due to its loss-making cement business.
Losses at its cement segment widened to RM7.4 million in 2QFY18, from RM1.3 million last year.
Quarterly revenue was down 1.04% to RM133.57 million, from RM134.98 million in 2QFY17, as its ready-mixed concrete segment reported lower sales volume, as well as the lower average net selling price for both cement and ready-mixed concrete, it said.