This article first appeared in The Edge Financial Daily, on October 22, 2018.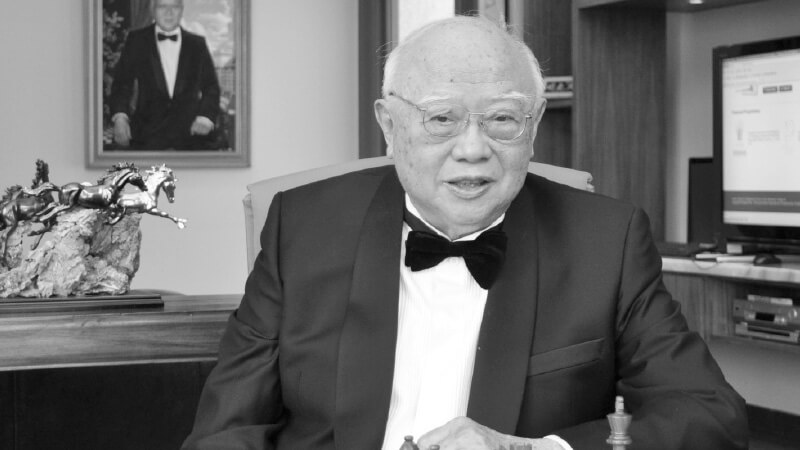 Chin Nam was a recipient of The Edge Malaysia Outstanding Property Personality Award in 2014.
KUALA LUMPUR: Datuk Tan Chin Nam, patriarch of the Tan family who founded two of Malaysia's biggest private property developers — Tan & Tan Developments Bhd and IGB Group — passed away yesterday at the age of 92.
Born on March 18, 1926 in Kuala Lumpur, he was the sixth of 12 children. Chin Nam, together with his brother — the late Datuk Tan Kim Yeow — co-founded IGB Corp in 1964 and Tan & Tan in 1971.
According to IGB Corp's Annual Report 2000, after completing his education in Victoria Institution here, Chin Nam began his career in property development in the mid-1940s in Penang.
He then moved on to large-scale developments in the property and hospitality industry in Malaysia, Singapore and Hong Kong.
According to news reports, the Tan brothers first started a trading company called Wah Seong (Malaya) Trading Co Sdn Bhd in 1955. The firm specialised in the distribution of rice, sugar and Rothmans cigarettes.
Through their alliance with Ang Toon Chew, the Ang family patriarch who founded Petaling Garden Bhd, Chin Nam had his first chance to be involved in property development by investing in Petaling Garden in 1959.
A few years later, Chin Nam led his brothers to acquire 200 acres (81ha) in Ipoh to develop a housing project. The project, driven by property developer Datuk Yap Lim Sen, became known as Ipoh Garden, and thus Ipoh Garden Sdn Bhd, the forerunner of IGB Corp Bhd, was incorporated in 1964.
It was reported that Chin Nam was instrumental in building Tan & Tan, while Kim Yeow built IGB. Chin Nam retired from the corporate world in the early 1990s, but remained a major shareholder of both companies, while Kim Yeow passed away in 1997.
According to a Nov 11, 2014 report in City & Country, The Edge Malaysia weekly, prior to his retirement, Chin Nam oversaw the development of Renaissance Kuala Lumpur Hotel, the Mid Valley Megamall and The Gardens. In 2016, Renaissance Kuala Lumpur Hotel was sold to Ventura International Sdn Bhd for RM765 million.
In Australia, he had a hand in the restoration and redevelopment projects of the Queen Victoria Building and Capitol Theatre in Sydney, and the Como Hotel in Melbourne.
He retired from active involvement in the family business at 70. Under the second-generation leadership, Tan & Tan was managed by Chin Nam's daughter Tan Lei Cheng and his son Tan Boon Lee, while IGB Corp was helmed by Kim Yeow's son Datuk Seri Robert Tan Chung Meng.
According to The Edge Malaysia weekly, Chin Nam kept himself busy with chess and horse racing.
In 2000, IGB and Tan & Tan announced a massive merger and rationalisation exercise that resulted in IGB Corp assuming the property assets of parent Tan & Tan, which then transferred its listing status to a new vehicle, Goldis Bhd, another entity controlled by the two Tan families. Last year, the Tan family consolidated Goldis and IGB Corp into a single listed company and is now known as IGB Bhd, which has a market capitalisation of RM1.67 billion.
In recognition of his career achievements and innovative contributions to the property development industry, Chin Nam, named Malaysia's 50 richest in 2017 by Forbes, was a recipient of The Edge Malaysia Outstanding Property Personality Award in 2014.
Tan & Tan and IGB have also been regular winners of The Edge Malaysia Top Property Developers Awards since the award's inception in 2003. Last year, IGB was once again named as one of The Edge's top property developers.