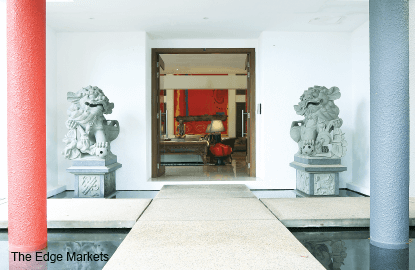 ENTREPRENEUR Tony Goh has always been enamoured of the Ukay Heights neighbourhood in Ampang. One of KL's older suburbs, it is renowned for its plus-size bungalows and lush green surroundings. So, it is small wonder that Goh and his family fell in love with it. 
It was in the late 1990s that Tony discovered the property that would eventually become his home. Living at the foot of Ukay Heights, he was keen on moving up in the neighbourhood, literally, to a house higher up in the hills. There was a mansion for sale but the price was non-negotiable. It was then that Tony set his sights on a dilapidated private five-unit condominium. 
It offered nothing aesthetically. The whitewash of the building had developed a gross, mouldy patina and structurally, it was blockish and unimaginative. At the centre was the tower housing the stairway with two "portholes"; the units covered three floors and were arranged on either side of the tower.
"I knew the people who owned this place and I knew it wasn't occupied. It was pretty rundown and needed a lot of work, but I thought, wow," Tony says. "Even the owners advised me, 'Don't do it'. I had to convince them to sell it to me." 
No 88 — as the family refers to it — has certainly come a long way from the day the Gohs moved in more than a decade ago. From the first phase of renovation completed in 2003 to the more recent refurbishment done last year, this house has been transformed, reconfigured, adjusted and tweaked many times over the years to become the Gohs' dream home. 
What will strike you just from its façade is its vastness. The phrase "living large" certainly feels like an understatement, but once inside, you will find that the layout has been altered such as to allow for cosy nooks and creative spaces. 
"One of the things we didn't realise when dad first started working on it was the scale of it — the house is big. In the initial renovations, we opened up a lot of the walls and gave all the rooms very open layouts, which in hindsight didn't work because it was just too big. It was impractical and not a good use of space. As we lived in it, we started moving things around a little more, made some readjustments," says Kym, Tony's youngest son who took the lead in the house's recent renovations, completed last year. "One of dad's passions is taking property, renovating it and reselling it. He started inviting me to sit in on meetings with the architects and soon I got involved, and we've designed some really cool houses. Then one day, Dad asked me to focus on No 88 — how could we bring it forward and modernise it? How do we make it practical and relevant to the way we live, how we live?" 
It turned out to be an exercise in taming spaces. Kym got creative with compartmentalisation, turning the bedrooms into studio-like hotel rooms with lounge areas, stylish wardrobes and beautiful yet concealed utilities. The move was smart — when a room gets too big, it loses its connection with its inhabitants. 
"The rooms make a lot more sense now and flow better with the rest of the house," Kym says happily. 
With a mix of furniture and the addition of new walls and cabinet features, the home's latest refurbishment has conquered scale. It also includes playing with furniture and colourful art and décor to inject a little cosiness and intimacy into various areas of the home. Interior decorating is the domain of Kym's mother Ming, a retired graphic designer and a gifted artist. Her touch is seen in the mix of furniture and quirky collectibles from the family's travels; remarkably, she has been able to bring it all together in the home's rather modern setting. 
The main entrance is marked by large twin Chinese dog stone sculptures with the pathway leading to it flanked by a serene pool of water on each side. Ming found the statues — complete with a loose rolling marble in each mouth — somewhere "by the side of the road in Jalan Ipoh". She's come in for a lot of flak from family and friends — "You think your house is a bank is it?" — but she loves them nonetheless and is rather proud of her find.
The home opens with a grand living room. This space was formerly the garage but now gorgeously transformed. It is the main entertainment area and the family apparently entertains a lot. It is divided into a few areas, the largest being at the centre of the hall with a long Chinese day bed and a series of sofas in muted grey upholstery and a leather love seat. At one end is a round dining table in wood and another one in stone by the indoor swimming pool. A more relaxed seating area is set closer to the sliding door, which opens up to the newly constructed wooden deck. It replaces a pebbled garden that Kym thought would better serve as a deck for barbecues. A service kitchen (for reheating food) and bar separates the grand living room from the powder rooms (including shower stall) and squash court, a feature inherited from its former manifestation. 
In one corner of the sitting room, a metal staircase spirals up to a catwalk leading to the dining hall and kitchen. The catwalk adds a little dimension to the space, by breaking up the distance between the ground floor and the ceiling, which is roughly two storeys high. 
Walk past the kitchen to the end of the corridor and you'll reach the home gym, with wooden flooring and a shower room. The space doubles as a viewing balcony overlooking the squash court below. 
On the next floor are Kym's bedroom, Tony's den, Ming's studio and the maids' private quarters. From the stairs, this floor opens with a landing, which extends into a faux courtyard where the scenic windows are lined with young bamboo and a very cosy private living room. Faux because rather than an open courtyard, the space — carpeted with AstroTurf — is covered with a sunroof and the windows are permanently open but covered with mesh screens to repel mosquitoes, a feature that occurs throughout most of the house. 
Says Tony, "I like letting the breeze into the house. We have designed the house such that it will enjoy cross-ventilation. However, I've fallen victim to dengue twice already, so no more." 
Kym wanted a bedroom that was reminiscent of a stylish hotel suite, separating his lounge space — TV, games console and sofa — from his bedroom. The view he gets from his balcony is the same as that from his Japanese bed — verdant treetops from the garden below. There have been times when he awoke to see monkeys swinging about, a novelty that hasn't lost its appeal over the years. 
Tony's den has its own living room and dining/conference table with beautiful ancestral portraits interspersed with bold art on the walls. It certainly feels like a workspace with a touch of classicism. Ming's studio is bright and cosy and a little more feminine. Her "apartment" doubles as a guest bedroom with Balinese influences, including a wicker chaise lounge and intricately carved headboard, enriched by a gorgeous view of the jungle. 
On the topmost floor are two guestrooms and the master bedroom. The latter enjoys the best view of the house and the bed takes centre stage in what looks like a glass box. There are automatic screens that can be lowered for privacy or to block out the sun if Tony and Ming want to sleep in, but on any given day, they have a magnificent view of the KL city skyline. Kym incorporated a hidden wardrobe that doubles as a wall between the bed and the bathroom and stretches across the width of the room. The initial idea was for his mother to fill this wall space with a series of small paintings. The master bedroom is also equipped with an outdoor bath and shower, which is accessible via the balcony door by the bed or from the main bathroom. 
The guest bedrooms also feature studio apartment-style layouts, each with its own mini-sitting room, balcony and en-suite bathroom. The one favoured by most guests faces a jungle ravine. 
No 88 certainly has plenty of character, enhanced by the hotchpotch of furniture collected over the years. From a classic ornately carved swing-set from India that sits on the balcony of Tony's den and the old wedding basket Ming scored in China to the collection of modern works by both established and emerging artists from Sri Lanka, Vietnam and Cambodia, both father and son are grateful to Mum, "blessed with a good eye" for aesthetic, for putting it all together.
From the exterior, the sheer size of No 88 can make your jaw drop but inside, you get that sense of cosiness — that a family lives there. Says Kym, "I grew up in this area and I've spent almost 20 years in this house. It holds a lot of sentimental value. In between, we've moved and lived in other places but we've always come back to it. Now, it's evolved to the point where it's become a part of our family, almost. For lack of a better phrase, this house and its evolution has been a labour of love." 
This article first appeared in haven,digitaledge Weekly, on Issue #74 August + September 2015.