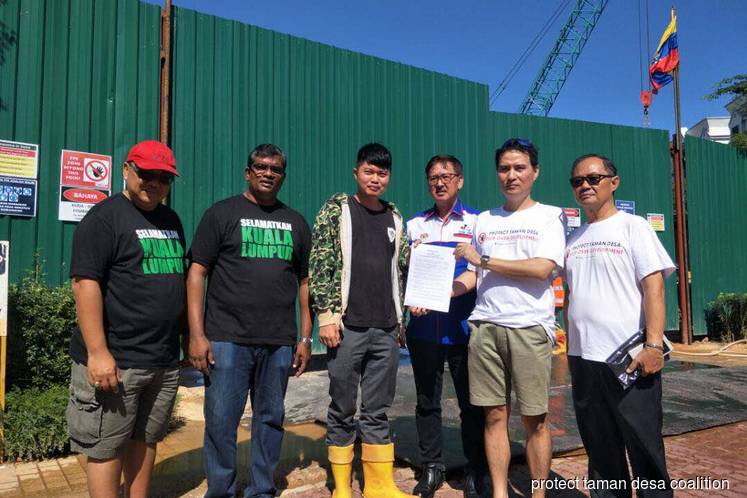 PETALING JAYA (Feb 3): About 130 residents of Tiara Faber Condominium, 1 Desa Residence, Desa 8 Condominium and the surrounding areas of Taman Desa staged a peaceful sit-in protest at the site of The Address high-rise residential development in Taman Desa this morning.
In a statement today, Protect Taman Desa Coalition said residents are frustrated that Kuala Lumpur City Hall (DBKL) has apparently failed to take serious action against the contractor and developer of the project after a crane on the site had fallen into the compound of the neighbouring Tiara Faber Condominium on Jan 23. (Read the story here.)
"The residents are now extremely disturbed by this incident. The Address is a super high-rise condo project built on a 132ft-wide TNB reserve land that is very narrow and the set-back is almost non-existent. To the residents, the site, the nature of the project and the pace of work have all the ingredients to an accident waiting to happen if due diligence and strict compliance with safety regulations are not enforced," the statement read.
The Address will comprise three towers of over 30 storeys each, and had also received DBKL approval to increase the density of the area by over 10 times – to 650 people per acre from 60 people previously – sparking protests from residents in the area.
Tiara Faber Condominium residents also complained that so far, neither the contractor nor the developer of the project had issued any formal apology or message of regret over the incident, said the statement.
During the protest, a total of 118 residents have signed a memorandum addressed to the Department of Occupational Safety and Health Malaysia (DOSH) to call for the following:
To conduct a detailed and objective investigation into the crane collapse incident which happened in January;
To issue a written stop work order on the contractor and developer at The Address project site until the investigation into the crane collapse incident is completed and the investigation findings are published;
To compel the contractor and developer to fully comply with all safety requirements for a project site; and
To take stringent action against the contractor and/or developer, and push for a deterrent punishment on those found to be guilty.
Seputeh MCA vice-chairman Datuk Banie Chin, who was present at the protest, told residents that he would bring this matter up to DBKL.