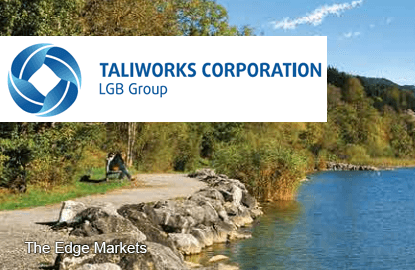 KUALA LUMPUR (May 24): Taliworks Corp Bhd slipped to a net loss of RM225,000 or 0.02 sen loss per share in the first quarter ended March 31, 2016 (1QFY16) compared with a net profit of RM15.03 million or 1.38 sen per share a year ago, primarily due to a provision for discounting on a deferred payment of RM10.8 million, based on the total amount owed by Syarikat Pengeluar Air Sungai Selangor Sdn Bhd (Splash).
As a result, it reported a lower earnings before interest, tax, depreciation and amortisation (Ebitda) from continuing operations at RM26.9 million in 1QFY16 compared with RM36 million in 1QFY15.
In a statement, Taliworks said the quantum of provision made was dependent on timing of payments from Splash.
It noted that a write-back of discounting of receivables amounting to RM3.7 million was also recognised in 1QFY15.
"Hence, excluding the two discounted effects, Taliworks' Ebitda for 1QFY16 and 1QFY15 stood at RM37.7 million and RM32.3 respectively, which translates to an increase of 16.7%," said the group.
Revenue rose 6.2% to RM75.22 million in 1QFY16, from RM70.86 million in 1QFY15, due to higher contribution from its highway and toll management business.
The group also declared a first interim dividend of two sen per share dividend amounting to RM24.2 million, for the financial year ending Dec 31, 2016 (FY16), payable on July 15.
"We are optimistic that we will be able to maintain our profitability and overall growth in the near future, as a result of our re-engineered business strategy, focusing towards mature operational cash-generating utilities/infrastructure businesses," Taliworks executive director Datuk Ronnie Lim said in a statement today.
"The completion of a 35% stake acquisition in SWM Environment Holdings Sdn Bhd will generate a new strong immediate recurring revenue and enhance cashflow for the group, which will continue to support Taliworks' dividend policy," he added.
The group's highway and toll management business segment is also expecting a revenue growth, due to a toll hike that took effect in October 2015 and the completion of the mass rapid transit groundwork, which has resulted in lesser traffic congestion.
Taliworks is also expecting compensation from the federal government for the non-toll hike for both the Cheras-Kajang Highway and the New North Klang Straits Bypass Expressway, said Lim.
Additionally, Taliworks' construction business segment was recently awarded the Sungai Selangor Water Treatment Works Phase I project, with a contract sum of RM75.9 million.
Taliworks also pointed to a plan to dispose of its entire investments in China for US$54.6 million, which will provide the group with an opportunity to realise its investments in the disposal companies and an avenue for immediate cash liquidity that can be redeployed in a manner that is consistent with its new business strategy.
In February this year, Taliworks had proposed to dispose of Taliworks International Ltd (TIL), Taliworks (Sichuan) Ltd (80% stake) and SWM Technologies (M) Sdn Bhd to LGB Group (HK) Ltd. TIL's subsidiaries, among others, operate four municipal wastewater treatment plants in Yinchuan, China for a 30-year concession period ending September 2041.
Taliworks shares closed unchanged at RM1.44 today, bringing it to a market capitalisation of RM1.73 billion.