This article first appeared in The Edge Malaysia Weekly, on October 29, 2018 - November 04, 2018.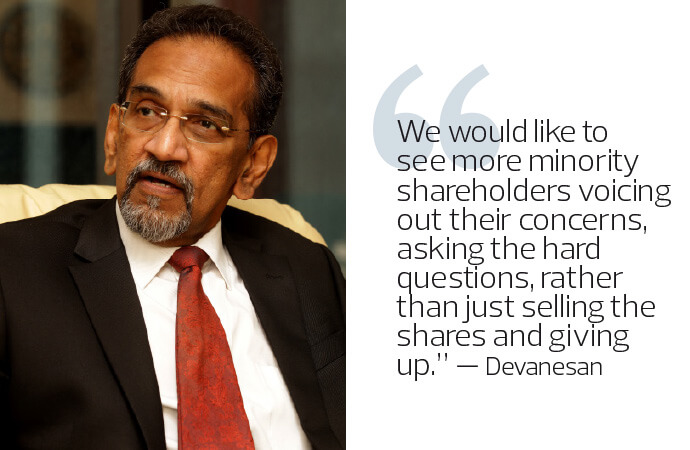 OVER the years, many minority shareholders have been attending annual general meetings (AGMs) just for the door gifts, vouchers, free food and free parking. After all, who doesn't like free stuff?
But in recent years, shareholder activism has been on the rise as more minority shareholders ask difficult questions at AGMs.
According to Minority Shareholders Watch Group (MSWG) CEO Devanesan Evanson, shareholder activism in Malaysia has been improving with minorities asking the right questions and commenting on issues, but the pace is still rather slow.
"Unfortunately, there are many shareholders who still come for the door gifts. It is a very slow climb. The thought of [getting] a free gift is simply overwhelming," he tells The Edge in his first interview after taking over from predecessor Rita Benoy Bushon last December.
"Many of them are still very passive. If they don't like something, they would just sell rather than attend the AGM to bring up the issue and stay on to fight."
A common retort of minorities is that their votes at the AGM do not matter much as "I only have so few shares, why waste my time?"
But Devanesan says this may not be the right approach because shareholder activism is about persuasion and influence.
"We would like to see more minority shareholders voicing out their concerns, asking the hard questions, rather than just selling the shares and giving up. I suppose one reason many of them are not active enough is because they feel they can't change the outcome.
 He believes that shareholders must hold company directors accountable and the only way to do that is to attend the AGMs, stand up and ask the hard questions.
"By not doing that, shareholders are letting them off the hook easily," he stresses.
MSWG was established in 2000 as a government initiative to protect the interests of minority shareholders through shareholder activism. The organisation encourages good governance among public-listed companies, with the objective of raising shareholder value over time.
Over the years, MSWG has evolved into an independent research organisation on corporate governance matters. It now provides a platform and a collective voice to both retail and institutional minority shareholders, and advises on voting at general meetings of public-listed companies.
"For us, it is not about winning the resolutions in an AGM. It is more about shareholder activism, speaking on behalf of minority shareholders and at the same time, educating them about issues and matters that they should be looking out for," says Devanesan.
With a team of about 20, including 11 analysts, MSWG can only cover about 300 listed companies on the local bourse every year.
Priority is given to the top 100 companies by market capitalisation. MSWG also monitors problematic Practice Note 17 (PN17) companies closely because this is where minority shareholders need its help the most.
"We also cover foreign incorporated companies, especially China-based companies, as well as those incorporated in the Cayman Islands or British Virgin Islands. That's because most of them have accounting problems. Again, this is where our minority shareholders are vulnerable," says Devanesan.
He points out that most of these companies have businesses in other countries apart from Malaysia. Moreover, most of their board members are foreigners.
"There is nothing wrong with all that, but jurisdiction comes into play. When you want to take enforcement or regulatory action, it gets a bit more challenging," he explains.
Before his appointment as MSWG CEO, Devanesan was the president of the Malaysian Advisory Committee of the Association of Chartered Certified Accountants (ACCA) and a past president of the Institute of Internal Auditors Malaysia (IIAM). He is an accountant by profession and University of London law graduate.
It is worth noting that Devanesan spent 18 years with Bursa Malaysia in various positions, including head of group internal audit and risk management, chief regulatory officer and chief market operations officer. He has both internal audit and external audit experience.
Like it or not, by the very definition of minority shareholders, they simply do not have the heft to outvote the major shareholders, he points out.
"To a certain extent, I think institutional investors could also play a part [in shareholder activism]. When institutional funds become very active and vocal, maybe that will spread to the minority shareholders."
He notes that the likes of Khazanah Nasional Bhd, Permodalan Nasional Bhd, Employees Provident Fund and Lembaga Tabung Angkatan Tentera (LTAT) have become very vocal in recent years.
Unfortunately, he says, most minorities are still reluctant to challenge the board and raise issues openly, possibly due to the polite and soft-spoken traits in Southeast Asian culture.
"Minority shareholders need to realise that this is their investment. They should take more interest, they should be more active. I know that many of them just want to take the easy way out. I don't like, I sell ... Again, there is nothing wrong with that, but this is not what shareholder activism is about," says Devanesan.
Below is an excerpt of the interview. 
The Edge: It's been almost a year since you were appointed CEO of MSWG. How has the journey been?
Devanesan Evanson: Very interesting. I am fortunate because Rita left a very good team for me so I just stepped in and took charge. There have been a lot of cases and developments, but basically, I just have to continue doing what she has been doing, which is pursuing shareholder activism and corporate governance as well as protecting minority shareholders' interest.
 
What are the notable cases?
Definitely, Sapura Energy Bhd (CEO remuneration) is one of the notable cases. Three of us from MSWG — Lya Rahman (general manager), Rebecca Yap (head of corporate monitoring) and I — attended the AGM. We raised some questions, we tried to encourage the minority shareholders to vote in a certain way. That was very notable.
 
What are the major challenges for MSWG?
Different minority shareholders may have different preferences in different cases. For instance, in a general offer, some minorities are happy with the offer price but some may not be. We often joke internally, 'Who are the true minorities?' Somewhere along the way, we have to sit down and decide, 'Overall, this is minority shareholders' interest, this is not.' Of course, not all minority shareholders would agree with us.
 
But every now and then, MSWG does facilitate forums to obtain the views of minorities on certain cases.
Yes, but only when there is a major issue. We will have a forum whereby we communicate with all the minority shareholders well before the general meeting so that they understand the issue better. Then, they might decide to turn up, or at least, use proxies to vote. We do that on a case-by-case basis where we find minority shareholders are in a position to influence the outcome.
In many cases, there's only so much MSWG can do.
Unlike Suruhanjaya Syarikat Malaysia, Securities Commission Malaysia (SC) and Bursa Malaysia, we have no regulatory function. It's solely persuasion, hoping that what we say will carry some weight and may influence the decision of not only minority shareholders, but also the regulators.
 
Should PN17 companies be delisted sooner than later?
My view is that if we keep these companies listed, you might be drawing in new investors. Somewhere along the way, you must delist them. After all, it is not about the number of listed companies you have, but the quality of companies that matters. Unfortunately, due process is very time-consuming. You look at the Repco case, Silver Bird Group Bhd, Transmile Group Bhd — they took such a long time because of due process. Going forward, perhaps the regulators could tighten the time frames and relook the due process.
 
A lot of companies have been changing names, but the shareholders remain the same. What's your view on that?
We find that Bursa Malaysia and the SC have rejected a lot of regularisation plans. The concept of a regularisation plan is that when you are drowning, you have to not only come to the surface, but also stay on the surface. The regulators hope to give them a second chance, but at the same time, make sure that their turnaround plans are sustainable.
 
How long is your tenure?
It is a two-year contract. I was with Bursa Malaysia for 18 years. The work of MSWG and shareholder activism is something close to my heart. When the offer came to me, I felt excited and comfortable at the same time.
 
What do you wish to accomplish during your tenure?
Obviously, to increase the level of shareholder activism. MSWG already had a very good reputation even before I joined. They had been vocal during Rita's time, so my job is just to build on that.
 
How much further can MSWG improve?
We want to invest in our analysts. They are the ones who attend the AGM, they are the ones who ask the questions. We should invest in our frontline people.
 
Any unfinished business by Rita?
Not really. I think she has taken MSWG to a very high level. But the capital market is evolving. Every other day, we have new rules, new regulations and new laws. I wouldn't put it as unfinished business but I will try to take MSWG to a higher level because of these changing circumstances.
Save by subscribing to us for your print and/or digital copy.
P/S: The Edge is also available on Apple's AppStore and Androids' Google Play.